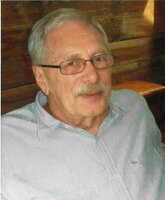 Frederick Otto Walberg
It is with deep sadness that we share the news of Fred's passing on May 2, 2022. In his 81st year and surrounded by family, Fred died peacefully following a courageous battle with cancer.
Fred was the devoted husband of Heather, his loving wife of nearly 58 years, cherished father of Peter (Sheena) and Kelly (Brian), and treasured grandpa of Senja and Ariana. He is survived by his siblings Anne (John) Holman, Carol, Jim (Josh), Eric, Bob, and Sharon and an extended family consisting of many nieces and nephews.
Fred was a uniquely kind-hearted, caring, funny, generous, loyal, wise, and loving man who valued family and friendship. Indeed, nothing brought him more joy than imparting wisdom and sharing time with his grandkids or cracking a joke with his poker buddies and former educational colleagues. Fred also derived great happiness from sports. He was a dedicated track and field coach and later took great pleasure in playing handball. In his middle years, he took-up kung fu and eventually attained the rank of black sash. Fred similarly loved reading and music and found great solace in nature.
While Fred's passing leaves a large hole in the hearts of those who knew him, his good humour, optimistic outlook on life, and compassion for others live on in the lives of his many students, family, and friends.
The family wish to thank the palliative care teams at the Grand River Regional Cancer Centre and the Freeport Campus of Grand River Hospital for their kind and compassionate care.
A private memorial gathering of family has been planned. A celebration of Fred's life will be arranged at a later date.
Condolences for the family and donations in lieu of flowers to The Food Bank of Waterloo Region, the Grand River Regional Cancer Centre, or an affordable housing provider of your choice can be arranged through the Erb & Good Family Funeral Home, 171 King St. S., Waterloo at www.erbgood.com or 519-745-8445.