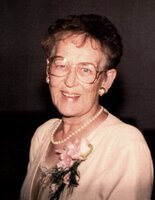 June Audrey Schwartz
To view the livestream, please click here.
"A Mom's hug lasts long after she lets go"
June Audrey Schwartz 1930-2022 of Cambridge Ontario, passed away peacefully at home after celebrating her 92nd birthday with family and friends.
June was born in Kitchener, Ontario to Viola and Louis Piatkowski on May 3, 1930. She went to high school at Kitchener Waterloo Collegiate and graduated in 1947. She worked at the Family Business: Schwartz Foods for 35 years. She enjoyed Line dancing, Nascar racing, knitting, and researching family history. June had many loving memories of the cottage in Point Clarke and the trailer at West Montrose. She was involved in the Schwaben German Club and Canadian Cancer Society.
June is survived by her sisters, Elinor and Carol; her brother-in-law, Tom; her sister-in-law, Elsi, all of Kitchener; her four children, David Schwartz (Julie), Joe Schwartz (Debbie), Christine Tobey (Keith), Pauline Wesseling (John); her eight grandchildren, Roxanne Schwartz, Tina Schwartz, Jessica Cook (Scott), Ashley Mcphee (Steve), Ryan Schwartz (Celine), Matthew Tobey (Jen), Nigel Tobey (Amanda), Amanda Lacey; her ten great-grandchildren, Maggie, Tyler, Ethan, Owen, Jayda, Fiona, Hannah, Madelyn, Ryder and Noah.
She is preceded in death by her husband, Joseph John Schwartz, 1988; her parents, Viola, 1993, Louis, 1982; her in-laws, Gertrude, 1997, Peter, 1992; her brothers, Dick, 2014, Harry, 2001; her sister, Reta, 2008; and her brother-in-law, Bill, 2008.
Cremation has taken place. The funeral service will be held at the Erb & Good Family Funeral Home, 171 King St., S., Waterloo on Friday, May 13, 2022, at 10:30 am. A luncheon reception to follow. Interment will be scheduled at a later date at Parkview Cemetery, Waterloo.
Memorial donations may be made to the Canadian Cancer Society or the Kidney Foundation and can be arranged by contacting the funeral home at 519-745-8445 or www.erbgood.com.