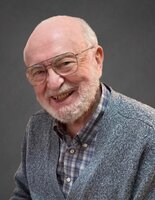 James "Jim" Chamberlain
James Edmund "Jim" Chamberlain, of Waterloo, passed away peacefully Tuesday, May 10, 2022, after a battle with cancer.
Jim was born on April 30, 1940 to Reginald and Mary Chamberlain (née Ross), in Campbellton, New Brunswick. Jim was predeceased by brother Ross, and sisters Barbara and Sheila. He is survived by his sister Sharon, and brothers Barry and Wayne.
In Montréal, Jim met and married Vina Mantha, and went on to have three children, Liane, Russell and Colin. Liane married Conroy Wuytenburg. Russell married Linda Boglis, and had one daughter, Clarissa. Colin married Candace Shyiak, and had one son, Danté. Throughout his life, Jim and his family resided in Montréal, Ottawa, London Ontario, Kitchener, and Waterloo.
Jim was a jack of all trades, working as a draughtsman, salesman, photographer, advertiser, printer, and teacher. In 1996, after 10 years teaching Advertising Art at Fanshawe College, Jim retired and spent his time gardening, woodworking and researching the family tree. During retirement, Jim and Vina enjoyed trips to Europe, China and Australia/New Zealand/Fiji.
Jim was well known for his sense of humour and love of music, particularly the guitar. He loved it when family got together for food, talk, music and fun. Photography was his lifelong passion. Jim was particularly good at organizing things and took great pride in always having the right tool in the right place. He will be dearly missed by friends and family.
A memorial reception to celebrate Jim's life will be held at the Erb & Good Family Funeral Home, 171 King St. S., Waterloo on Saturday, June 25, 2022 from 1:00 p.m. to 4:00 p.m., with remarks at 3:00 p.m.
In lieu of flowers, the family requests donations be made to Mark Preece Family House, the Canadian Cancer Society, St. Mary's Hospital, the Grand River Regional Cancer Centre, or the Juravinski Cancer Center and may be arranged through the funeral home at www.erbgood.com or 519-745-8445.