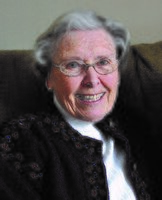 Janet Mary Panabaker
Janet Mary Panabaker (nee Dickson) passed away on Monday, May 16th, 2022 at her residence in Waterloo, Ontario. She was 98 years old.
In the last years of her life, Janet would express a desire to "go home"—home to God and her parents and siblings who were waiting for her.
Literally, home meant the village of Blair, Ontario, where she was born on April 11th, 1924. Janet later spoke of Blair as a kind of rural paradise of fields, woods, ponds, and caring neighbours—a place where the whole community was forever related "by blood or by Blair." She was the youngest (and last survivor) of David and Bessie Dickson's six children: Ed, Jean, Helen, Bob, Joe, and Janet.
Spiritually, Janet's yearning for home reflected the profound nature of her faith—a faith she realized in her early teens and which carried her through her life. Janet was an active member of St. Andrew's Presbyterian Church, Kitchener, and served in many roles including Sunday School teacher, member (and President) of the Women's Missionary Society, Elder, and Stephen Minister. Home, to Janet, was the certainty of God's embrace. People always seemed drawn to Janet's quiet confidence in her faith and her joy in living.
Throughout her life, Janet had many adventures. In 1943, after graduating high school and two years of clerical work, Janet enlisted in the RCAF where she served for three years within Ontario, though she was always modest about her service. After WWII, Janet trained as a nursery nurse at the Hospital for Sick Children before returning to clerical work. Children and family would be her life and calling, and nothing pleased Janet more than meeting a new baby.
In 1952, while working at the Mutual Life of Canada, Janet met John Harry Panabaker through carpooling from Preston to Waterloo. They married in 1954 and began a life together that revolved around family, the church, friends, community service, and John's growing career. This April marked Janet and John's 68th wedding anniversary.
In 1971, with the family continuing to grow, Janet and John bought their beloved Haliburton cottage, which became the heart of the family and a second home in their retirement. When not enjoying the serenity of summers on Horseshoe Lake (and sunsets with licorice), Janet enjoyed attending the symphony and theatre. Both avid readers, Janet and John also loved travelling together—everything from short trips to tropical holidays to European vacations.
Janet will be greatly missed by many, especially her husband John, her children, David Panabaker (Debbie), James Panabaker (Sheila), Leslie Bennett (Mike), Doran Hayes, Ian Panabaker (Helen), her five grandchildren (Tim, Rob, Kate, Jamie, and Sophie), and her five great grandchildren (Calum, Brendan, Malakai, Desmond, and Levi). She will also be missed by her three nieces, Lorna, Anne, and Janet, and her nephew, Bob.
The family would like to express our heartfelt thanks to Lorene and Jessica and their team of caregivers at Genesis Comfort Care, who were always there to support and comfort Janet in the last years of her life.
A visitation will be held on Wednesday, May 25th, 2022, from 2PM to 4PM at Erb & Good Family Funeral Home, 171 King Street South, Waterloo. The funeral service will be held Thursday, May 26th, 2022, at 11AM also at Erb & Good Family Funeral Home. In lieu of flowers, please consider donations to Plan International, or a charity of one's choice.