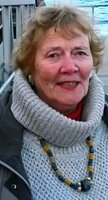 Christina Mary Weylie
It is with great sadness that the family of Christina Mary Weylie nee MacLean, 83, announce her passing that took place on 20th April 2022 in Weston-super-Mare England while visiting her daughter. Christina passed away with dignity, acceptance and humour with the support of her family and friends (both in England and virtually through the magic of Facetime). She was diagnosed with a brain tumour on February 8th 2022 and was treated with the miracle of Steroids that gave her a few weeks of well deserved respite from her symptoms. This also gave time for her Son and family to visit and friends to visit her in England and engage with tales of memories virtually.
Thoughts and prayers from Montana, Magnolia, Daniela and Donald are with Grammy.
A fond family memory shared by Donald occurred twenty three years ago, following "the storm of the century" in Ontario when we surprised Christina with a surprise sixtieth birthday party. Mom was surprised that so many of her close friends had braved the weather to celebrate her. She was truly grateful to all of us for making the effort.
Around 5 AM the next morning, we woke up Christina and Catherine who had decided to spend the night at our home after the late night party finally ended to let them know the second surprise of the night with the announcement: "looks like we are having a baby today". This was two weeks ahead of the expected date. In our typical family tradition, we were all together for the birth of our first child, niece and grandchild. So appropriate for all of us to share the wonderful addition of Montana joining our family.
Twenty years ago and not to be over shadowed by her big sister on memorable occasions, our second child, niece and grandchild Magnolia was born on Grammy's birthday. Just as I was born on my Grandmother's birthday – Christina's mother Bertha Lilly. For the past 20 years we have enjoyed joint birthday celebrations on January 12th. Another special and important occasion for our family.
The last 10 years Christina spent winters with her daughter Catherine in England.
The thing that stands out the most in Catherine's memory was her willingness to try new things and the way she accepted people for who they were. One time she got off a 5 star cruise in England, Catherine picked her up and took her camping at a music festival. Christina slept in a tent on a blow-up mattress for 3 days. It rained that year and we still had a wonderful time. She was just as happy having a wonderful meal at The Savoy, sitting in a rainy field eating baked potatoes from the camp fire, or meeting the locals in the pub. She always made the most of any opportunity that was presented to her.
Her favourite thing was talking to and learning from people from all walks of life. Although she could make speeches to many people. She loved speaking one on one with individuals. She would listen, value and share common ground with all that met her.
Christina was a long awaited child, born on 12th January, 1939, to a Scottish Father, Donald MacLean, and a Canadian Mother, Bertha Lillie MacLean nee Rutherford in Fort William, Ontario, now Thunder Bay.
Christina was very proud of her Scottish heritage and she would visit her father's relatives in his birthplace of Altandhu in the Highlands of Scotland on many occasions.
Christina went to Fort William High school where it is documents that she was a quiet, smart and pretty student with good prospects for the future. She worked at the library, while maintaining good marks. She was involved with the church and enjoyed skiing, curling and bowling among other hobbies and clubs. Her love of playing cards began at this early age and continued throughout her life.
When she graduated from high school she went to teacher's college in Hamilton while living with her mother's relatives in Galt, now Cambridge. This is where she met law student Wallace Weylie. When she graduated she began teaching elementary school in Toronto sharing an apartment with her friend from home, Mary Loney. When Wallace graduated they married and set up home in Fort William. Donald, their first child was born 1964 and at that time she became a full time mother.
Christina, Wallace and Donald moved to Bridgeport, Kitchener in 1965. Catherine was born in 1967 in Bridgeport and at the end of the year the family moved to Glasgow Street in Kitchener where Christina would reside for more than 45 years.
During those early years as a young mother, Christina was involved in St Andrew's Presbyterian Church in Kitchener, not only teaching Sunday school but organised volunteers for various tasks within the church. Her Christian faith was important to her and gave her great strength. For more than 40 years she was a member and elder at St. Andrew's and latterly Christina was a member and elder at Knox Presbyterian Church in Kincardine. While a young mother, she looked after her aging parents who had moved in with Christina and her family. She also welcomed a young relative who was studying Engineering at the University of Waterloo who became part of her extended family, Don McQueen.
It was in the late 70s and early 80s that Christina became more involved in politics. She was one of the founding members of the Confederation Club in Kitchener and the president of both the Federal and Provincial PC Parties in Kitchener.
When Christina found herself a single mother, she became an Insurance agent, then, with the encouragement of her friends and supporters, she went on to run for the Kitchener Council. Jeanne Foster was not only a great friend, she was her strongest supporter and campaign manager throughout her political career.
Christina was first elected to the City of Kitchener Council in 1984 and continued to serve through 9 consecutive elections for a total of 27 years. Throughout those years she kept in close touch with her constituents. She believed it was vital to knock on every door in her Ward every election to ensure she was able to directly connect with people in her ward to hear their views and concerns. Christina Weylie believed in the humanity and equality of every member of her community.
Christina was instrumental in developing the Belmont Village concept working closely with small business owners and proprietors as well as City Staff.
An important and impactful accomplishment was working with the Victoria Hills Neighbourhood Association culminating in the sod turning for the Victoria Hills Community Centre on Westmount Road. Christina also continued active support for the many community activities provided by the staff and community volunteers, attending as many of their celebrations as possible.
Another accomplishment was her active engagement with the development of a Community Garden on a vacant lot on Victoria Street. She contacted the owner to arrange for the use of his land and arranged with the City to provide water for irrigation for the gardens. Many new Canadians first met their neighbours while tending their garden plots and the fall corn roast was a wonderful celebration of Community which Councillor Weylie never missed!
Christina was instrumental in setting up the first Environment Committee on City council which she also Chaired.
She was a leader in collaborating with both University of Waterloo and Wilfrid Laurier professors and departments to be aware of the latest research and innovations in the Environment and in Economic Development.
Christina was a Member of the Federation of Canadian Municipalities and attended their conferences where she became aware of leading programs in other North American cities. This helped the
Council to be informed and forward looking. During her time on both City and Regional Council, she supported future planning decisions that the people of the Municipality continue to benefit from today including downtown redevelopment; the Business Improvement Association; improved transit and a $10 million Economic Development fund.
She worked closely with Staff on all of the Committees she Chaired in the City and at the Region in order to benefit from their expertise and for them to fully understand the scope of Council's decisions.
She was a master of working behind the scenes to get things done. People were motivated because they felt that she listened and understood.
On December 17, 2010 Councillor Christina Weylie of the City of Kitchener was the recipient of a 25-year Long-Standing Service Award from the Province of Ontario presented by the Minister of Municipal Affairs and Housing who said:
"Christina Weylie has been committed to serving the people of Kitchener since first elected in 1984. The Long-Standing Service Award is a fitting tribute to recognize the hard work and commitment of our locally elected officials. I would like to thank Councillor Weylie for her ongoing dedication to public service."
Christina was recognized by Her Majesty Queen Elizabeth II with the Queen's Diamond Jubilee Metal in 2012 to honour her selfless dedication to Waterloo Region and Canada.
The Oktoberfest Women of the Year was awarded to her in 1988 for her community involvement.
She has had a lasting influence on the growth of a feeling of Community in the City and the Region.
Many of her colleagues and friends have commented on the great impact she had not only during her time on City and Regional Council but also on the future as we are now experiencing it.
During her political career Christina met and married her second husband Donald MacLeod. She continued her love of travel with Don that she had embraced throughout her life in her travels to many exotic locations around the world. She is predeceased by her husband.
As an acknowledgement of the many significant and important friends and family who are too many to list in this forum, please know of how special you were to Christina and continue to be for her immediate family. Christina's varied life experiences are too many to mention. "Energy" defines her life as anyone who met her understands.
The Visitation will be held Monday, 20th June, 2022 from 7-9 pm and on Tuesday, 21st June from 4-7 pm at the Erb & Good Family Funeral Home, 171 King Street S., Waterloo. Gifts will be greatly received through the Funeral Home. Suggested charities are the Canadian Cancer Society, the Brain Tumour Foundation of Canada, or St. Andrew's Presbyterian Church, Kitchener.
The celebration of Christina's life and Memorial will be held at 11am on Wednesday, 22nd of June, 2022 at St Andrew's Presbyterian Church, 54 Queen St N, entrance via Queen St N. With an abundance of caution, St Andrew's requires the wearing of masks.
The service will be live-streamed. Please visit https://www.standrewskw.com/ and click on the live-streaming tab on the right-hand side.