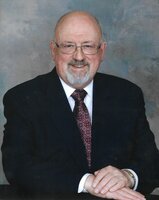 Raymond Joseph Fournier
Beloved father of Rachel (Robert) and dear grandfather of Giselle, passed away peacefully on June 3, 2022. Raymond is remembered fondly by Hannah Fournier, by family in North Bay and elsewhere.
A graduate of Scollard Hall in North Bay and the University of Western Ontario, Raymond taught all levels of French literature and language at the University of Waterloo where he also occupied various administrative positions in the Faculty of Arts.
Raymond had a great regard for nature, particularly birds and squirrels which he often fed and named. He sponsored a rescued donkey named Jasper at the Donkey Sanctuary of Canada and had a tremendous love of dogs especially his long-time companion, Tinker. With an uncanny ability to remember every one of his students' names, Raymond made friends wherever he went from his local shops to his extensive travels throughout Canada and abroad, including many trips to France.
The family would like to thank the gentle and kind staff at Freeport Hospital, his colleagues and support staff in the Department of French studies, and his friends, with a special thank you to Delbert Russell.
Cremation has taken place and a memorial service will be held at St Louis Catholic Church, where he was a devoted member, 53 Allen St E, Waterloo, on June 18, 2022, at 11:00.
In lieu of flowers, donations made to The Donkey Sanctuary of Canada or to your favourite charity would be appreciated.