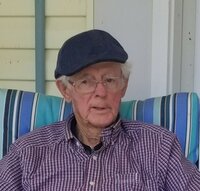 Dr. Philip Leahy
Wrapped in the loving care of his family, Philip John Leahy, MD, peacefully made his transition to eternal life on June 17, 2022 at the age of 100 from COVID-19.
Phil was born August 23, 1921 in Lakefield, Ontario. After high school, Phil taught school in Apsley before serving in Vancouver and Haida Gwaii in the Airforce during WWII. He graduated from medical school at the University of Toronto in 1952 and practiced medicine in Teeswater, Ontario for 27 years before moving to Toronto where he was the attending physician at Canada Life. In 1986, Phil retired in Waterloo, Ontario.
Phil was blessed with a large and loving family. In 1953, Phil married the love of his life, Theresa Walsh. Over the course of their long and joyful union, Phil and Theresa were blessed with six children, 23 grandchildren and 12 great grandchildren. They shared their deep faith and traditions with their family.
Phil appreciated the importance of community, which led to his involvement in various organizations throughout his life. From being a leader in the Lions Club, The Knights of Columbus, Faith Sharing, to lawn bowling and curling clubs, as well as countless games of cards with his friends, Phil loved to be in the company of others.
Having grown up enveloped in the tradition of Celtic fiddle music, it remained one of the loves of his entire life, a love that he passed on to many of his children and grandchildren. He loved playing music with his brothers. Later he developed a passion for building violins. His creativity was also expressed in the music and poetry he wrote.
As an avid reader, Phil challenged himself to think critically about the world around him, and he encouraged others to do the same. He spent many hours in deep philosophical discussions with his grandchildren, passing on to them the wisdom and knowledge he had accumulated throughout his life.
Phil held a deep affinity for the land, which he treated with profound respect and sensitivity. He enjoyed nothing more than the time he spent mending fences accompanied by his dog on his farm in Teeswater, and sharing the space with his loved ones.
Over the course of his 100 years, Phil touched the lives of countless people in meaningful and positive ways. He will be dearly missed.
Deep thanks to his care givers Tiebe, Gwen, Bernie and Claudia.
Phil was predeceased by his wife, Theresa, parents Frank and Agnes, brothers Ollan, Bob, Clare, Fr. Leo, Vince, Kevin, Ray and Frank. He is survived by his dear companion of seventeen years, Isabel Almudevar, and his children, grandchildren and great grandchildren, Brenda (Kevin Kieffer) Kellen & Rachel Kieffer, Liam, Ben, Leah & Dave Allen, Lila, Auggie, Chloe, Colleen & Phil Kerneghan, Meara; Betty Anne (Dennis Lever) Kailagh & Christian Strike, Everly, Finnegan, Greg Lever & Natalia Aurnhammar, Heidi, Regan & Glen Bryan, Hopkins; Marilyn (Tim Best), , Geoff Callaghan and Andriana Barisic, Nico, Augustine, Corliss, Alyssa, Brittany; Frank (Lisa Bauer) Maria & Fraser Haig, Ewan, Lucy, Anna, Brianna, Jasmine, Phil, Joe, Basil, Grace; Mike (Natalie Williams), Ryann, Ethan, Willow, Luke; Paula (Goran Maric) Lily, Boshko, and many nieces and nephews.
Visitation and viewing will be held at the Erb & Good Family Funeral Home, 171 King St. S., Waterloo on Monday, June 20, 2022 from 2:00-4:00pm, followed by an informal reception to share memories from 4:00-6:00pm. The Mass of Christian Burial will be celebrated at Sacred Heart RC Church, 14 Gordon St. W., Teeswater, on Tuesday, June 21 at 11:00am followed by burial at the Sacred Heart Parish Cemetery, Teeswater.
Donations can be made to the Carmel of St. Joseph and Grand River Hospital - Freeport Campus at www.erbgood.com