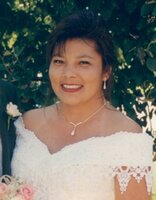 Rhonda Louise Cline
It is with great sadness that we announce the passing of Rhonda Louise Cline on Sunday February 5, 2023 after a courageous 20 year battle with Lupus.
Loving wife of 26 years to Randy Cline and devoted mother of Robert Cline, Cassandra Cline (Karl Wagner) and Michael Cline.
Beloved sister of Lucy Wellington, Pierre (Marsha) Wellington and Kim George, and dear aunt to Abby, Andrew, Daniel, and Eric.
Predeceased by her parents Helen George and Andrew Wellington and her brother Bill George, her daughter Dana, and her son Gregory, and her nephew Jacob, and great niece Ivy Rose.
Rhonda's passions included working as a dedicated volunteer at the Waterloo Senior Day Program and sponsoring many children through World Vision.
As happens to us all, Rhonda left this life with some unfinished goals. One of these was to become a school teacher. In the early 1990's after working as a teaching assistant, she pursued a teaching degree as a full-time student at Wilfred Laurier University and came within two credits of completion. But wanting first to be a good mother, and eventually with the burden of Lupus, she chose to set this goal aside.
Born in Saugeen First Nation, near Southampton, Ontario, Rhonda was an enduring proud member of Saugeen First Nation Band.
At Rhonda's request, there will be no visitation or public service. Condolences for the family and as expressions of sympathy, donations to Lupus Canada may be arranged through www.erbgood.com.