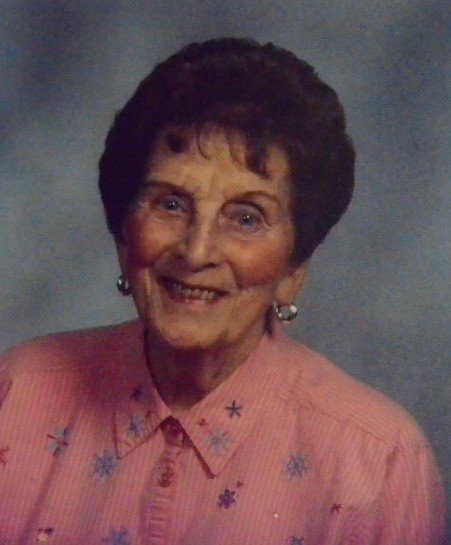 Obituary of Olive Mary Theresa Tank
On September 7, Olive Tank went to rest to be with her husband Orland (deceased in April 1995) and sons Bob (Robert, deceased July 1991) and baby Joseph.
Olive was born to Harry and Emma Lang and was a sibling of eight children. She married Orland Tank in 1939 and together they raised their family of eight. Soon after World War Two, she was very supportive in helping get their new business, Swan Cleaners (now Swan Dust Control) become a successful entity.

Olive will be very sadly missed by her children Joan (Bates), her husband, William (Bill) and their children Kelly Jo (Walden), Michael and Andrew; daughter Andrea (Hussey) her husband Wayne and their son Jody; son James and his wife JoAnn and their children Chris, Bryan, David, Lynn (Rombout) and Jacquie; son John and his partner Vickie Haluska; and sons Paul and Kim. There are 16 great grandchildren and 1 great-great grandchild. On May 10th, 2018 Olive celebrated her 100th birthday.

A lifelong passion of Olive's was music. From the age of 8 she took vocal lessons and from her youth to adulthood, sang in the choir of St. Mary's Church in Kitchener. She often was the soloist for weddings. Her youthful ambition was to be an opera -singer but marriage and a large family prevented that pursuit.

In their retirement years, after building a country home outside of St. Agatha, Olive and Orland began a new business-breeding and racing standard bred horses. Over the years, Olive in particular had always loved and been involved in both thoroughbred and standard bred horse racing. Olive was feisty, courageous and had a great sense of humor, appreciating the good things in life right up until the end. She never hesitated to say what was on her mind and that endeared her to a great many people.

Friends and relatives are invited to share their memories of Olive with her family during visitation on Tuesday, September 11, 2018 at the Erb & Good Family Funeral Home 171 King St. S., Waterloo from 2-4pm and 7-9pm. Parish prayers will be recited at 3:45pm on Tuesday. Mass of Christian Burial will take place at 11am on Wednesday, September 12, 2018 at St. Agatha Roman Catholic Church. Fr. George Nowak C.R. as Celebrant. Interment to follow in St. Agatha Roman Catholic Cemetery.
A special thanks to Winston Park Long Term Care, who went above and beyond looking after Olive especially Luba, Cherish and Zeph and the private evening caregiver.
Condolences for the family and donations to the Carmelites of St. Joseph, Canadian Food for Children or Schlegel Villages-Winston Park may be arranged through the funeral home www.erbgood.com or 519-745-8445.