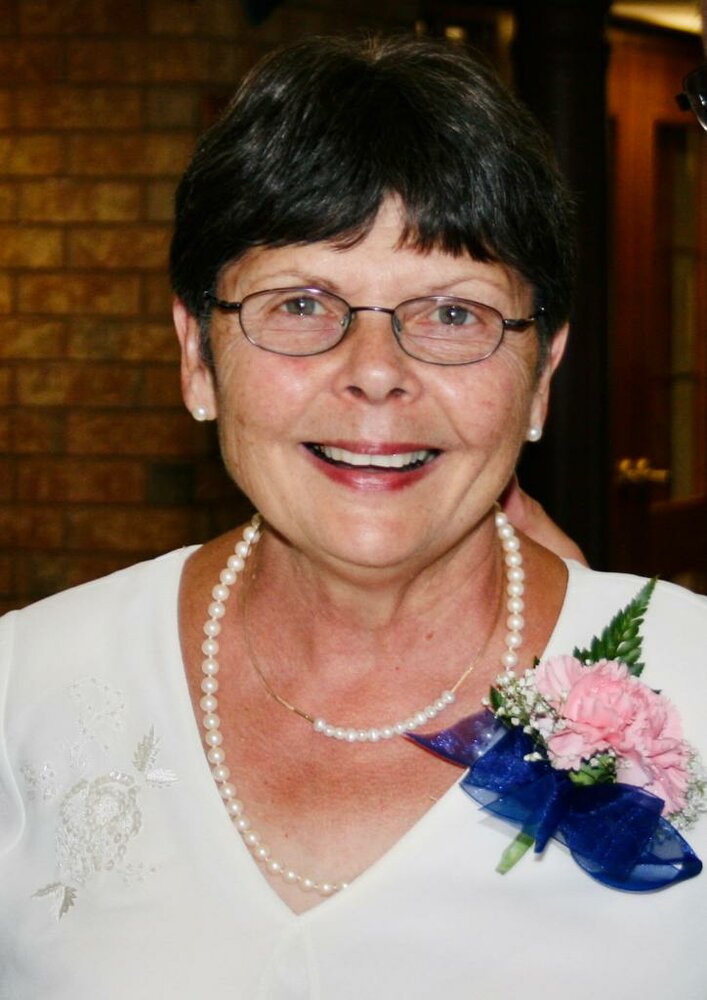 Obituary of Barbara Anne Schlegel
The church is now at capacity for attendance. If desired, you may go directly to Bingeman's to view the livestream of the service and remain there for the reception. A video tribute honouring Barbara's life will be shown from 10:30 am - 11:00 am and again during the reception.
The Livestream link will be available Saturday, March 26 at 11:00 am by CLICKING HERE
Barb died suddenly and unexpectedly at her home in Kitchener on Tuesday March 8, 2022. She was 79.
Beloved wife of Ron to whom she was married for 58 years. Loving Mother of Rob and his partner Jennifer, Brad and his wife Heidi and James and his wife Juliana. Much loved Grandma to Naomi, Nicholas and Jackson.
Barb will also be lovingly remembered by her sister and brothers-in law; Pauline Becker, Ernie and Joyce Schlegel, Jan and Art Mueller, Marilyn Gingerich, and Marilyn Schlegel. She was predeceased by her sister Linda, brother Bruce, parents Florence (Shantz) and Max Becker and brothers-in-law Carl Gingerich and Wayne Schlegel and parents-in-law Emma and Wilfred Schlegel.
Barb was born July 2, 1942 on the family farm located at what is now the Greenbrook Drive and Stirling Avenue intersection in Kitchener. Her parents, Max and Florence Becker, were very industrious and progressive farmers who also were very committed to their church and broader community. She learned at an early age the value of hard work and the expectation of pitching in to help with house and barn chores. She was also exposed at a young age, through her family's values and her Mennonite faith, the obligation of supporting those in need. One example of this was the family's commitment to taking in immigrants who would live and eat with them for up to six months until they could find employment and a place of their own.
Barb attended high school at Rockway Mennonite Collegiate in Kitchener where she met an energetic young out-of-town student from Ailsa Craig, Ron Schlegel. Barb declared shortly thereafter that Ron was "her guy" and they eventually married on June 27, 1964. They became true partners and together persevered through many life challenges.
Barb worked as a Royal Bank teller for several years after they married and volunteered at the Clothing Centre among other community charities.
While Ron was pursuing a post secondary education at the University of Western Ontario, the University of Illinois and Ohio State University, Barb played a crucial supporting role. When at Ohio State she somehow managed with three sons under the age of three years old living in a two-room student apartment.
After graduating, Ron and Barb moved to the University of Windsor before coming back home and Ron accepting a faculty position at the University of Waterloo in 1972.
In November 1980, at the age of 39, Barb suffered a series of massive strokes that nearly claimed her life. In fact, the family was told three times in the first month after the strokes that Barb would not survive the next 24 hours – but she beat the odds each time due to her fighting spirit and indomitable tenacity. After 8 months in hospital Barb was finally able to return home but the recovery journey was in reality just beginning. The next several years were very difficult ones during which Barb struggled to regain command of her damaged body as well as to accept her limitations. However, because of an almost unfathomable resilience and determination, she battled back to reclaim as much of her physical capabilities and independence as possible, although she was never able to drive nor read again.
Despite these ongoing physical and cognitive limitations, Barb displayed an immense gratitude, independence, and "can-do" attitude. She could often be found walking in the Williamsburg Community in Kitchener to conduct her daily errands and striking up many friendships with people along the way. Barb also joyfully volunteered at The Village of Winston Park and specifically identified residents who did not have family support so she could provide company and attention to them. She was described as bringing a positive energy and spark to the residents and team members she encountered. Although often playing a secondary role, Barb had a way of making an impact and lighting up a room with her smile, quick wit, and infectious laugh. She was also a very loyal and dependable person who could be relied upon to follow through or bring organization to the matters at hand.
Barb was a lifelong and active member of Stirling Avenue Mennonite Church. Her faith and church family played a central role in her life. Her Stirling lady's lunch club was always a highlight for her.
Mostly, she was a totally devoted wife, mother and grandmother who took immense satisfaction in the activities and achievements of her family.
Barb experienced many challenges in her life but always chose to keep her face to the sun and to thank God for the blessings she did have. She was an inspiration and friend to many.
Barb's family will receive friends and relatives at the Erb & Good Family Funeral Home, 171 King Street South, Waterloo on Thursday, March 24, 2022 from 6:00 pm to 9:00 pm and on Friday, March 25, 2022 from 2:00 pm to 5:00 pm. The funeral service to celebrate her life and faith will be held at Stirling Avenue Mennonite Church, 57 Stirling Avenue North, Kitchener, on Saturday, March 26, 2022 at 11:00 am.
Immediately following the funeral, friends and relatives are invited to join the family at Bingemans Ballroom, 425 Bingemans Centre Drive, Kitchener, for lunch and a time to visit. A private family committal service will follow at Williamsburg Cemetery, Kitchener.
Condolences for the family and donations to Schlegel-UW Research Institute for Aging or Homewood Research Institute for Mental Health and Addictions would be appreciated by the family and can be arranged through the funeral home at www.erbgood.com or 519 -745-8445.
Those attending the visitation and funeral service must register online at www.erbgood.com or by calling the funeral home at 519.745.8445. No registration is needed for the reception at Bingemans.
Barb's family requests that visitors at the funeral home and those attending the funeral service wear masks and be fully vaccinated.
For those unable to attend the funeral at Stirling Ave. Mennonite Church due to capacity, the funeral service will be live streamed in the Bingemans Ballroom Saturday at 11:00 am. The reception with family will follow immediately after the service in the ballroom. The service will also be live streamed at www.erbgood.com on Barb's tribute page and will remain on the funeral home website for future viewing.
If you are not able to join the family for visiting at the funeral home or for the funeral service at the church, you are welcome to join them at Bingemans Ballroom for the reception at approximately 12:30 pm on Saturday, March 26, 2022.
Visitation
6:00 pm - 9:00 pm
Thursday, March 24, 2022
Erb & Good Family Funeral Home
171 King Street South
Waterloo, Ontario, Canada
Visitation
2:00 pm - 5:00 pm
Friday, March 25, 2022
Erb & Good Family Funeral Home
171 King Street South
Waterloo, Ontario, Canada
Funeral Service
11:00 am - 12:00 pm
Saturday, March 26, 2022
Stirling Avenue Mennonite Church
57 Stirling Avenue North
Kitchener, Ontario, Canada


Share Your Memory of
Barbara