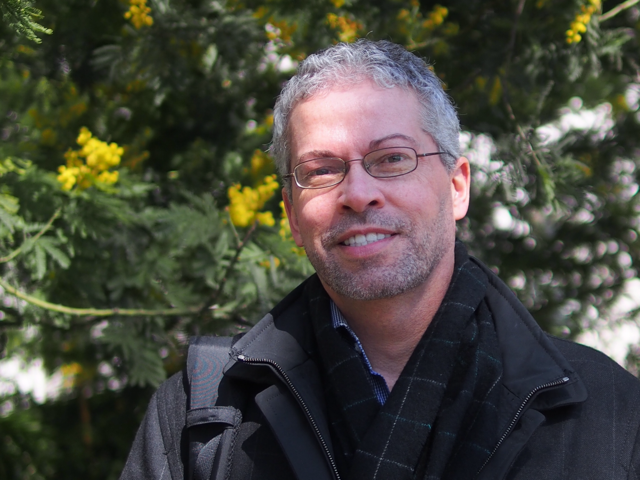 Share Your Memory of
Eric
Obituary of Eric Gawman
Saddened by the untimely passing of our Eric John Gawman on Tuesday, September 26, 2017, we hold close to our families and friends to remember his exceptional life. Eric's gentleness and guidance, his kindness and humor, and his elegant garden craft made our lives the richer.
Eric was born in Sault Ste. Marie on January 18, 1964, to Ann and Dr. William Gawman, but Waterloo became home. He grew up with, and loved so, his four big sisters: Catherine (Andrew), Audrey (John), Ruth, and Sarah. His mother's extensive library, his slick bike that whisked him far afield, and his Clair Creek playground were some of the elements that formed him, and it was his summer job to be "first mate" on work expeditions to Hugh Jack's island cottage. Eric's gentle kindness also impacted two generations of the Singh family - first his "little brother" Rakesh (Mike), then Rakesh's children Rachel and Elliott, and finally as the close friend of their mother Shelley Coates. For Rakesh and Eric, "tennis was the staple of their youth." Eric also grew up alongside his nieces Rachel, Alice, Teresa, Christina, and Amanda, mentoring and inspiring them, and eventually seeing them start their own families.
He whetted his love for designing gardens studying horticulture at the University of Guelph and the KW School of Horticulture, working for Toronto Parks before finding his own niche with Eric Gawman Garden Design. Eric and his partner "Bevie" (Beverly Sauer) met on professional terms, designing her Japanese garden together. He often looked in on the garden, and his beloved Bevie, eventually making a home with her there along with cherished son, Harrison Jones, and roomie Carson Sauer. The Sauers embraced Eric and considered him "the kindest, smartest and funniest of our clan---the best of us."
Books lived in Eric. He read every interpretive sign that crossed his path, and was a collector of antique maps, Cape Dorset prints and carvings, pithy words or phrases. He read the Globe and Mail with his parents every morning and returned at day's end in hopes of filling in blanks on his mother's crossword puzzle, usually for naught. He was hands-down champ in the annual Sauer Family Christmas quiz and our Canada Day Play that Tune: Canadian music challenge, and astonished all by dancing Gangnam style at Papa's 100th Birthday Party. Eric accompanied his Mom to the opera, his Dad on the golf fairway, and Bevie to theatre. London's Kew Gardens was a pilgrimage, visiting friend Becky in Korea an adventure, and walking the beaches of PEI solace. He loved escapes to Toronto. In the big city, Eric could put a name to any famous face: Margaret Atwood at the opera, Barbara Amiel buying lingerie, TVO's Alan Gregg life guarding grandkids at the hotel pool, Tommy Smythe at House on Parliament eating Sunday Prime. The joy of fine cooking was a theme. We ate 5 star Sunday dinners prepared by his mother Ann, and gathered holidays at Audrey and John's country place. On Thanksgivings with Sarah we toddled to ByWard Market, each responsible for a course stirred by whatever produce spoke to us. Eric made a mean Short Rib. With Eric even the mundane was an occasion.
Mostly Eric designed beautiful gardens, and tended to them, and to us. He was simply a good man of "the good earth."
On Sunday October 15th, a Visitation at 1pm followed by a Memorial Service at 2pm will be held for family and friends at Erb and Good Family Funeral, 171 King St. S Waterloo.
Condolences for the family and memorial donations in lieu of flowers to Start Strong (program to help children learn how to read) and Waterloo Region Suicide Prevention Council may be arranged at www.erbgood.com or 519-745-8445.
Visitation
1:00 pm - 1:45 pm
Sunday, October 15, 2017
Erb & Good Family Funeral Home
171 King Street South
Waterloo, Ontario, Canada
Memorial Service
2:00 pm - 3:00 pm
Sunday, October 15, 2017
Erb & Good Family Funeral Home Chapel
171 King Street South
Waterloo, Ontario, Canada
Cremation
Parkview Crematorium
335 University Avenue East
Waterloo, Ontario, Canada
Memorial Reception
Relatives and friends are invited to join the family for a time of fellowship and refreshment following the memorial service in the chapel.