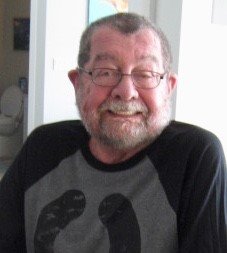 Share Your Memory of
James
Obituary of James Brian Tubb
On Saturday February 3, 2018 at St. Mary's Hospital at the age of 69 years.
Jim was born in Toronto in 1948. His loving parents were Irene (Watkinson) Tubb and Dudley Tubb.
He is survived by his wife Erika and sons Andrew and Steven and Steven's fiancée Cassandra Taylor. He is also survived by his brother Steven, his wife Louise Livingston and their sons Oliver, Daniel and Edward and their families. The Eitzen family, George and Annie in particular, always made him feel extremely welcomed and loved. He will be missed by the many, many friends from along the way. Some he knew since childhood and some only recently.
During his last weeks he expressed sincere thanks for all who visited at the art studio. "You gave me energy to keep painting and your words were full of kindness." Art was his comfort and joy.
Jim grew up in a fine neighbourhood in Toronto, attended some good schools. He was also the first in the family to receive a University education, an Honours degree from Wilfrid Laurier University in Business Administration and Economics. Later he took numerous courses in Finance and Accounting and Fine Art.
Jim grew up in a time when jobs were plentiful for young baby boomers (paperboy, warehouseman, wading pool guard, factory worker). Upon graduation he had jobs as a financial analyst. Later he became an international lending officer for a large US bank, working in London, New York, Paris. He was one of their youngest Vice-Presidents. He always wanted to be a stock broker and investment advisor. This he did for twenty-five years. He would like to be remembered by his many clients for a "job well done" with his personal touch and teaching style.
Jim gradually took up painting and became a well-regarded abstract artist. He always enjoyed the many visitors to his studio gallery in Kitchener. Jim participated in many group exhibits and one person shows over the final decade of his life. Early on he was best known for his landscapes and later as a colour abstractionist. His work was often inspired by music (classical, jazz and the avante guard.) This art making was what kept him going in his latter years as his health deteriorated.
Jim was on the board of many organizations over the decades including Opera Ontario, ROOF, Lost and Found Theatre, Waterloo Mennonite Homes. He was very respectful of his art making and he donated paintings of all sizes to numerous charities and cultural groups estimating he was able to raise over $50,000 from his art donations to their fund raisers over the years.
Jim also enjoyed his many trips and holidays. As a young man he spent a year in Europe and the Middle East, hitch-hiking from Norway to Israel, sleeping in ditches and youth hostels along the way. He also loved the family vacations excitedly organized by Erika. Highlights included Iceland, Central Europe and the Canadian Maritimes. The month-long trip with Erika and Steven and Andrew to Europe was absolutely amazing.
All was not rosy health wise for Jim. He developed eosinophilic pneumonia after a trip to Europe in his early twenties and was affected by this disease all his adult life. After many years battling various lung ailments he passed away at 69 years of age. He acknowledged the support and patience of his wife Erika. Without her he would not have had the quality of life nor could he have survived for so long doing the things he loved to do.
Many times near the end Jim expressed his respect for the life he had. He always talked about how fortunate he was and the support he had along the way.
Read more about Jim at http://www.canadianmennonite.org/stories/painting-borrowed-time.
Friends are invited to share their memories of Jim with his family during memorial visitation at the Erb & Good Family Funeral Home, 171 King St. S., Waterloo, on Wednesday, February 7, 2018 from 6-8 p.m. A Memorial service will be held at W-K United Mennonite Church, 15 George Street, Waterloo, ON, on Thursday, February 8, 2018 at 10 a.m. Reception to follow in the Church Gym. Cremation has already taken place.
Condolences for the family and donations to Mennonite Central Committee may be arranged through the funeral home at www.erbgood.com or 519-745-8445.
To send flowers to the family or plant a tree in memory of James Tubb, please visit Tribute Store
Memorial Visitation
6:00 pm - 8:00 pm
Wednesday, February 7, 2018
Erb & Good Family Funeral Home
171 King Street South
Waterloo, Ontario, Canada
Memorial Service
10:00 am - 11:00 am
Thursday, February 8, 2018
W-K United Mennonite Church
15 George Street
Waterloo, Ontario, Canada
Cremation
Parkview Crematorium
335 University Avenue East
Waterloo, Ontario, Canada
Reception
Relatives and friends are invited to join the family for a reception in the church hall following the service