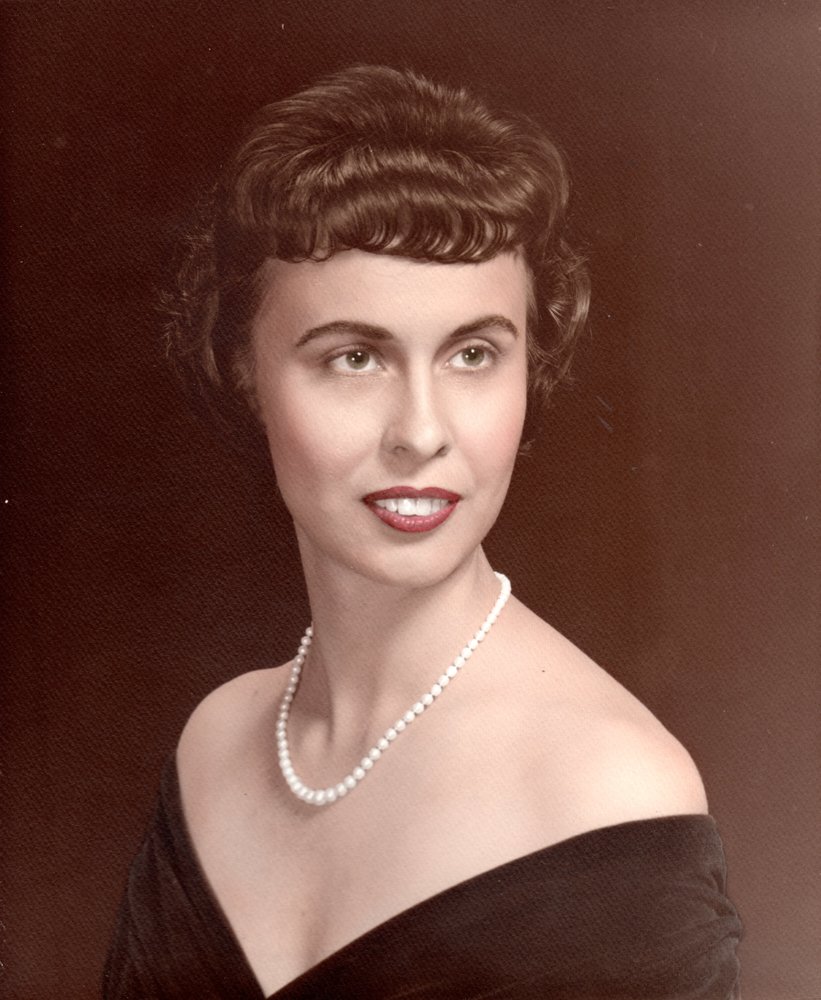 In Memory of
Jacquelyn "Jackie" May Waller
1940 - 2018
Obituary of Jacquelyn "Jackie" Waller
It is with overwhelming sadness we tell you that Jackie left us on Monday, February 12, 2018. She left quietly and peacefully at home after enduring a standoff with metastatic breast cancer that took up residence throughout her bones. Regardless, she left us with the same courage and dignity that was so characteristic of her in life. Her Christian faith was deep – and she worked hard to walk the talk.
She leaves behind many who shared her love including her husband of 55 years Gary Waller, Waterloo, ON; son James Waller and wife Jocelyne, Philadelphia, PA; daughter Amy Waller Prince with husband Robbie and daughters Abigail and Adeline, Edwardsvile, IL; brother Gilbert Scott and wife Martha, Winter Haven, FL; brother-in-law Bob Waller and wife Mila, Lake Charles, LA; and sister-in-law Gail Waller, Pasco, WA, by nieces and nephews Anna, Debra, John, Brandi, Blake, Enid and Chase and by great-nieces and nephews, cousins and friends. She was predeceased by her parents, Lester Walborn Scott and Wanda Rita Hall Scott, two younger brothers, Richard and Daniel Scott, and by much loved grandparents, aunts, uncles and cousins, especially Alva, Fern and Carlos.
Jackie graduated from Gulfport High in Gulfport, MS. Her post-secondary education at the University of Southern Mississippi included specialties in music and English literature. She subsequently pursued intensive study in anthropology and art history. After an early career as a teacher in public schools in Alabama and Tennessee and a period of "putting hubby through" she took "very early retirement" from outside employment and devoted her time to raising two wonderful children, to playing the French Horn in the local community orchestra and other ensembles, to growing beautiful flowers, to cooking intricate but delicious meals, to dabbling from time to time with her brushes and paints, and to reading voraciously in an extensive variety of areas – biography, history, politics, religion, natural science, anthropology, archeology, art history and the list goes on. She was so knowledgeable about so much.
Relatives and friends are invited to share their memories of Jackie with her family during a memorial visitation at the Erb & Good Family Funeral Home, 171 King St. S., Waterloo on Friday, February 16, 2018 from 4:30 – 5:15 p.m. A memorial service will follow in the chapel of the funeral home at 5:30 p.m. A reception will immediately follow the service in the Fireside Reception Room. Further arrangements will be under the care of Stricklin-King Funeral Home in Yazoo City, MS http://www.stricklin-king.com/obituary.php and will be announced at a later date. Interment to follow at a later date (family plot, cemetery at the rural historic Fletcher's Chapel United Methodist Church near Yazoo City).
Memorial donations in remembrance of Jackie can be made to any of the following: the K-W Community Orchestra, the K-W Symphony, the Music Department at Conrad Grebel University College, or the University of Southern Mississippi to benefit the School of Music. Donations may be arranged through the funeral home at www.erbgood.com or 519-745-8445.
We are forever grateful to the Grand River Regional Cancer Centre, to WWLHIN, to Hospice and to the staff of CarePartners for their support to Jackie and to the family in her final journey, especially to Dr. Yew, to Mary, to Donna and to Melissa.