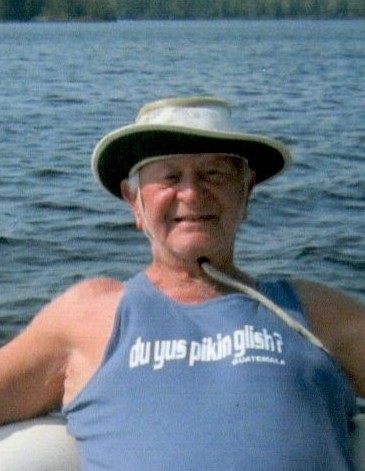 Obituary of Gail Lawrence Stafford
It is with profound sadness that the family of Gail Lawrence Stafford announce his passing on February 21, 2019 at the Grand River Hospital in Kitchener, Ontario, with family by his side. Gail was born in Fort William, Ontario. He married the former June Iris Erickson in 1958 and together they raised their three children in Fort William/Thunder Bay.
Gail was a lively character all his life, always laughing, clowning around, and "working the room". His personality was larger than life. If he was your City bus driver your ride was memorable. If at an event with him, it was more than fun. If you were his child or grandchild, it would be "oh dad", "oh pops" or "oh gramps" while cracking-up.
He loved sports, particularly hockey. If you were lucky to sit beside him watching a game, you would feel the vibrations of his excitement and the pokes of his elbow. We will miss his rants of "hit the net" and lack of appreciation for Don Cherry. He was a former yo-yo champion in his younger years, a great bowler, curler, baseball player and Elks referee. He was a long-standing member of the Elks organization.
Gail retired from the City of Thunder Bay Transit Department after more than 30 years of service. Upon retirement him and June experienced many adventurous travel journeys, forming several long-standing friendships. Both left the city in 2005 for a whole new adventure moving their home base to Waterloo, Ontario. For several years they also had a second home in Texas.
After June passed away in 2008 Gail continued with his travel escapades, whether with friends, his partner Regina or by himself. He indeed loved to travel, visiting new places, learning the history, and experiencing the culture.
He is survived by his children Bruce (Cindy), Elizabeth (Daniel), and Beverly (Bruno), grandchildren Krystine (Greg), Janna (Michael), Keegan (Shauna) and Brittny, and great-grandchildren Chloe and Kailyne, step-grandchild Chad, sisters Priscilla and Judy, sister-in-law Barbara, and partner Regina Geib Snider and family.
Gail was predeceased by wife June, parents Alfred and Rose, brother Alfred, daughter-in-law, Charlene, mother and father-in-law, Florence and Lester.
Cremation has taken place and a Celebration of Life will be held in Thunder Bay at a later date. Condolences for the family may be arranged through www.erbgood.com