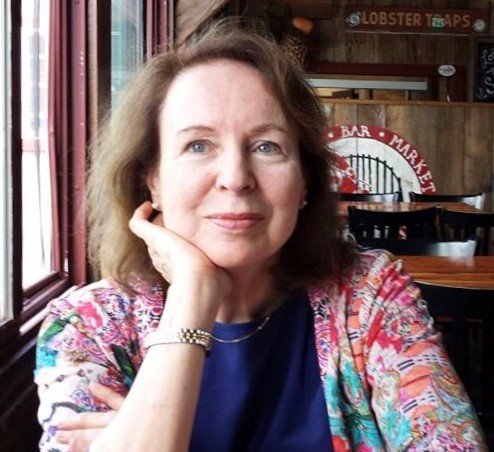 Obituary of Margaret Morse Anglin
Margaret Anglin, beloved mother, wife, friend, sister, artist and activist, passed away on September 4, 2019. She was supported by her daughters Emmy and Ellie Anglin and their partners Matt and Andrea until her final moment.
Margaret was born to Everett and Eleanor Morse on October 9, 1947, in Weymouth, Massachusetts. She grew up on her father's farm with her six siblings, Marcia, Susan, Everett, Martin, Eleanor and Sam. In young adulthood she worked as department secretary at Harvard University's psychology department, where she met Jerry Anglin, a PhD student there at the time. They got married and in 1976 they moved to Waterloo, Ontario, where they had their daughters. Margaret was a loving mother, friend, and mentor to Ellie and Emmy and later, to their partners Andrea and Matt. She achieved a fifty-year-long wish when she reunited with her birth son Rob in the final year of her life. She was a wonderful wife to Jerry, the love of her life and her only rival at the game of Scrabble. She provided loving care to Jerry throughout his experience with dementia in his final years. She also adapted to her own challenges with MS, which she faced with grace, independence, positivity and calm. Margaret remained close with her siblings throughout her life, and stayed in touch via handwritten letters, marathon phone calls and visits throughout the US and Canada.
Margaret was a prolific and talented quiltmaker. Her early quilts were traditional folk patterns, which she adapted and modified as she honed her artistry, especially her skill in applique. Later, she began designing quilts--often creative reinterpretations of contemporary and historical design. All her quilts were infused with a fluidity, whimsy and love of nature that were also central to her personality. She was known for her perfect, minute, and uniform hand stitches. Her designs had, as described by a family friend, "the logic and arrow-sharp truthfulness of dreams". Margaret gained a close group of friends, affectionately called the Sew 'n' Sews, who bonded over their love of quilting and supported each other through major life events. Throughout her life she resisted identifying as an artist, viewing her quilts primarily as gifts made to show her appreciation or love, but by the end of her life she came to see her quilts as her life's work.
All who knew Margaret admired her strength and grace in the face of adversity, her intelligence and curiosity, and her love of people and good conversation. She was an avid reader and art lover, and an exceptional cook and baker. Her work was in the home, and she created a domestic paradise filled with love, creativity and an open, non-judgmental view of the world. She treated everyone she met with openness and kindness, making friends easily with the many special people who came into her life. She leaves the gift of her kindness to her children, and this quality will live on in her memory.
In lieu of flowers, donations to the Grand River Cancer Centre (through the Grand River Hospital Foundation) or Innisfree House (through Lisaard House) in her name are gratefully accepted and can be arranged through the Erb & Good Family Funeral Home 171 King St. S., Waterloo at www.erbgood.com or 519-745-8445.
Additional Information
Cremation has taken place and a private family celebration of life will be held.