Recommend Joan's obituary to your friends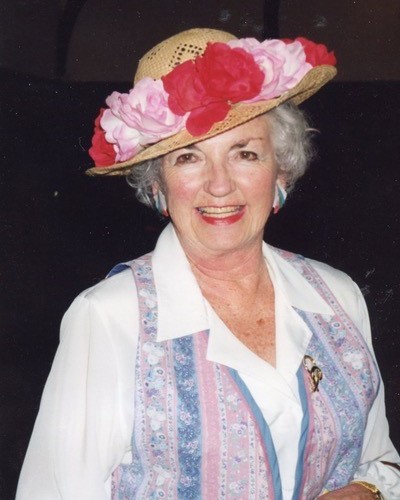 Obituary of Joan Alene Day
JOAN ALENE DAY
(Nee Gammage)
Peacefully at Freeport Hospital, Kitchener, on Monday, March 22, 2021, Joan Alene Day of Waterloo, Ontario, in her 92nd year.
Survived by her loving son Corey (Vickie), and devoted daughter Rosemary (Gary) Robb and loving Nanny to Claire Robb. Greatly missed by her dear friend and companion Colin McGregor. Predeceased by her parents Fred Gammage (1980) and Doris (Shaw) Gammage (1977), husband J. Neil Day (2013) and infant daughter born sleeping, Kathleen Day.
Joan was born in London, Ontario. She attended London Central High School, and later attained a B.A. from U.W.O. in Secretarial Science. While at Western, she belonged to the Gamma Phi Beta Sorority. Upon graduating from U.W.O., she worked for Victor Gianelli Insurance before marrying Neil Day in 1954. She subsequently made a career in homemaking and raising her son Corey, and daughter Rosemary.
In 1976, she and Neil moved to Kitchener where she won out over 500 applicants to become the secretary at the University of Waterloo Placement Centre. She made many great friends in both London and K-W, joining the Eldon House (London) and Kitchener-Waterloo IODE chapters, and the local chapter of the Red Hat Society.
Joan always counted her blessings. She loved her family and friends, always cherishing the time spent with them, be it in person, on the phone, or in the countless letters exchanged. She adored her beloved Shandy, their sweet and yappy mini schnauzer. She had many fond memories of time spent working one year as a summer student at Bigwin Inn in Muskoka, and of family vacations at Ipperwash Beach, Elgin Lodge, Kervin's Holiday Homes on Lake Nipissing and then later at their own cottage on Crane Lake.
Joan was fortunate to have that wonderful "glass half full" vision of life. She would always look on the bright side and walk on the "sunny side of the street". Her optimism drew people to her and was admired by all who knew her.
Joan had an adventurous spirit, enjoying her trips to Europe, the British Isles, and to her beloved Hawaii. Her most treasured "souvenirs" from her travels around the world were the lovely friendships she made and continued to nurture through her regular correspondence.
Her love of music led her to join a DanceFit Club in Waterloo in her retirement. She made many friends there with whom she kept in touch through the years.
Joan's inner sparkle (gifted by her parents), was reflected in her senses of humour and style, and in her innate ability to make the most of every situation. She was a firm believer that we choose happiness by how we live our lives and relate to one another. She appreciated a loving smile, kind words, laughter, a good joke and a well-made rum and Coke. Her affinity for bright colours, beautiful flowers, hummingbirds and butterflies symbolized her positive energy and ability to live fully in the moment.
Joan's family would like to express their thanks and gratitude to the staff, nurses, caregivers, and friends at Terrace On The Square Retirement Home in Waterloo; St. Mary's, Grand River and Freeport Hospitals, Care Partners, and Home Instead Senior Care, and in particular Arlene Douglas for her unyielding care, support and friendship.
Cremation has taken place. As per Joan's wishes, there will be no visitation or funeral service.
In lieu of flowers, please consider a donation to your local Humane Society, or your favourite charity.
Below is a favourite poem and an inspirational message Joan loved.
SMILE
The thing that goes the farthest
Towards making life worthwhile
That does the most and costs the least
Is just a pleasant smile.
It's full of worth and goodness too
With genial kindness blent
It's worth a million dollars
And doesn't cost a cent!
-Wilbur D. Nesbit
"The most important prayer in the world is only two words long. 'Thank You'."
To send flowers to the family or plant a tree in memory of Joan Day, please visit Tribute Store