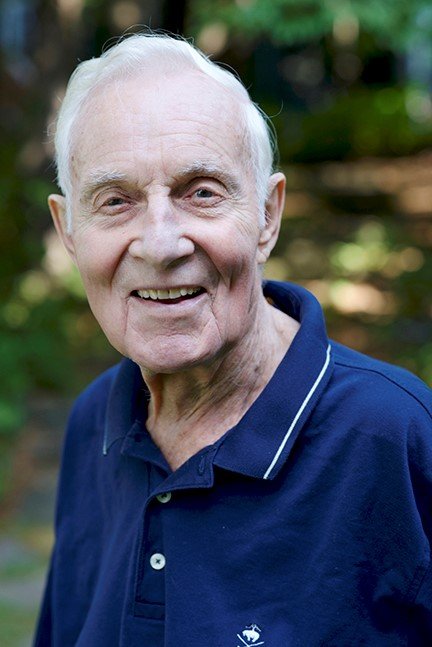 Obituary of Roger Garton Crawford
January 12,1931 – June 16, 2021
It is with great sadness that the family announces the peaceful passing of Roger Crawford on June 16 at the age of 90. Loving husband of the late Denyse Crawford (nee Hall) and adoring father of Mardi (Terry Witzel). Loving brother of Gerald Crawford (Gail), cousin of Peter Stanley (Mary) and predeceased by his parents Grace (Stanley) and Dr. Reeve Crawford. Grandpa loved having his four grandchildren Caroline, Jack, Tee and Mike bustling around. He could be counted on for school pick-ups, regular attendance at hockey or swimming, and an endless stream of Muskoka stories.
'Rog' and Denyse met at Timothy Eaton Memorial Church in the 1940s, as members of the Short Circuit Club and later the Couples Club. Roger was a graduate of the University of Toronto Schools and Civil Engineering at U of T. While attending university together Rog and Denyse established a network of friends they maintained over the course of their lives, later adding the 'Hillhurst gang.'
Roger loved engineering, speaking often of his summer stints at Des Joachims, the Department of Highways and Ontario Hydro. His professional career was spent with Duncan Hopper & Associates, the Ministry of the Environment and later consulting with IPEX. He could speak endlessly about water-main and storm-sewer construction, highway design and contract negotiation.
Roger was an active volunteer with the Centre for Advancement of Trenchless Technology (CATT) at the University of Waterloo where an award is named in his honour. He also gave time to the Muskoka Ratepayers Association and Timothy Eaton Memorial Church (TEMC). At the time of his death, Roger was the longest serving member of TEMC, having been baptized there in 1931.
By far Roger's favourite spot in the world was Muskoka. He had 90 summers on Lake Joseph, time spent in small boats, doing chores, working summer jobs and enjoying the beauty of the lake. In later years with Denyse, he took joy from watching his growing brood of grandchildren as they boated, swam and played at the same beach he had. Muskoka was also a place for the family dogs; Paddy, Penny, Kelty, Sabrina and Penny II. Grandpa broke every rule of dog-discipline, spoiling his grand-dogs Barney, Cassie, Stanley and Poppy with a steady supply of Milkbones.
Roger was a gentleman, genuine with his interest in others. Although we are heartbroken to have lost him, we know that in the days to come, we will be able to celebrate Grandpa, the wonderful life he led and our fortune to have had him with us.
The family would like to thank the wonderful staff at The Sunshine Centre, Luther Village on the Park, for their tender and giving care.
A Memorial Service to celebrate Roger's life will be held at Timothy Eaton Memorial Church, 230 St. Clair Avenue West, Toronto, on Wednesday, May 18, 2022 at 2:00 p.m. with rev. Lorraine Diaz officiating. Reception following at TEMC.
In lieu of flowers please consider a donation to the Ontario Humane Society or Timothy Eaton Memorial Church. Condolences may be forwarded through the Erb & Good Family Funeral Home at www.erbgood.com or 519-745-8445.