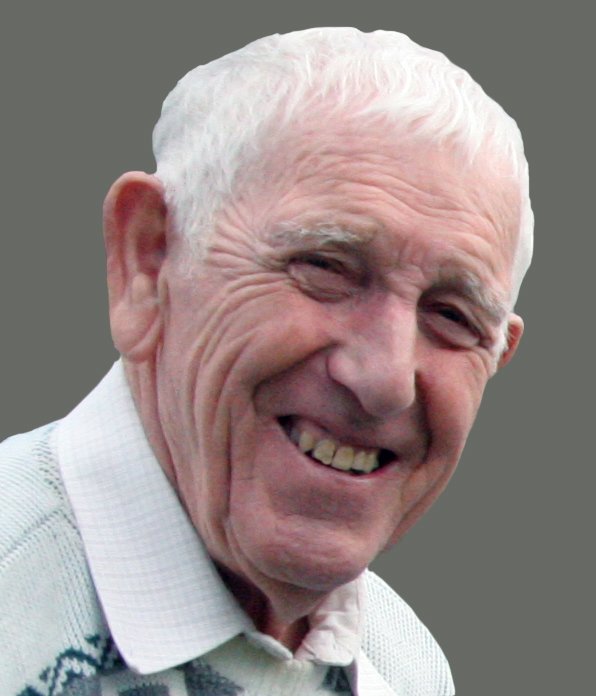 Obituary of Elmer Ray Shantz
To View Livestream of Livestream of Service click here
Elmer Ray Shantz (1933-2021)
At the intersection of Sadness and Relief, the family of Elmer Shantz (age 88) announces his passing on Friday, July 2, 2021 at Fairview Mennonite Home Long Term Care, Cambridge, Ontario. Elmer led a purpose-filled life. His family now prays for his eternal peace, free from the chains of dementia that defined these last few years. We are forever grateful for the compassionate care Elmer received from the very dedicated Fairview staff (in all departments). If he could have, Elmer would encourage people to take time to thank all of our essential front line workers for their tireless and faithful work, not only during the COVID-19 pandemic, but at all times! Elmer believed in the virtue of kindness.
Predeceased by his loving wife of 68 years, and his business partner, Eileen (Witmer) Shantz (March 2020). Elmer and Eileen were the founders and former owners of Shantz Coach Lines Ltd. On behalf of Elmer and Eileen, Bob and Larry wish to take this opportunity to thank the many Shantz Coach Lines employees for their years of dedicated, safe and professional service.
Lovingly survived by his family, son (Robert) Bob and Judy (Burgetz) Shantz and their family: Andrea Shantz and Nick Martin, Ryan and Logan; Lindsay Shantz; Dan and Laura Shantz, Emma and Owen; and son Larry and Marcia (Bauman) Shantz and their family: Julie and Marcus Wagler, Caleb; Dave and Melanie Shantz, Kailey and Lucas. Predeceased by his beloved daughter-in-law, Janet (Wilke) Shantz (2001). Elmer will be fondly remembered by his Shantz siblings and in-laws, Miriam and Bert Green, Ken and Linda Shantz; and by his Witmer in-laws, Ruth Schiedel, Dave and Rose Witmer; and by his nieces, nephews, extended family and friends. Predeceased by his parents, Lloyd A. and Hilda (Horst) Shantz and Eileen's parents, Wilfred and Enetta (Gingrich, Weber) Witmer, and his brothers-in-law Edward Schiedel (2020) and Ken Witmer (2020).
Born in 1933, Elmer was raised on a farm on the outskirts of Hespeler, Ontario. The Depression era of his formative years engrained a lifetime of hard work and thriftiness on one hand and, on the other hand, benevolence and generosity to those in need. Elmer's philosophy for life can best be summed up in a quotation the family read a few years ago in an Abundance Canada booklet: "Helping others in need is not only a responsibility of life; it is what gives meaning to life." (Mollie Marti)
As a young man in the early 1950s, Elmer began to learn the commercial construction trade with Ed Witmer and Sons Construction in Kitchener. Elmer 'climbed the ladder' to a respected foreman. Simultaneously in 1958, when young Bob started school, Elmer and Eileen started a school bus service with their family station wagon. Shantz Coach Lines Ltd. was born out of necessity.
Elmer was a soft-spoken man, but his words spoke volumes. His personality was a mix of seriousness, congeniality and integrity. He was deeply committed to whatever he set out to do, and to do it well. His deep Christian faith was expressed best when leading by example. He and Eileen were faithful members of Stirling Avenue Mennonite Church (Kitchener), believing in active participation. Later in life, Elmer appreciated the fellowship at Preston Mennonite Church.
Volunteering was a theme in Elmer's life. He offered leadership with many local organizations, some of which included: Ontario School Bus Operators' Association, Fairview and Parkwood Mennonite Homes, Mennonite Savings and Credit Union (now Kindred Credit Union), and Habitat for Humanity Canada and U.S. After his retirement from Shantz Coach Lines he took on a very active volunteer role for many years with Habitat for Humanity Canada, coordinating their blitz builds from coast to coast – 10 houses in one week! Locally, with the HFH Waterloo Region chapter, he helped coordinate the Jimmy Carter blitz build in Kitchener. Elmer and Eileen believed in helping with affordable housing, and they were especially pleased to assist with providing a stable home for children.
Retirement wasn't all work. Elmer and Eileen also enjoyed 25+ years of fellowship and friendships at the Sun-N-Fun RV Resort in Sarasota, Florida. When Elmer was no longer able to swing a hammer, he enjoyed volunteering with the Ontario Christian Gleaners (Cambridge). As dementia had begun its gradual erosion of his active life, Elmer took personal charge and retrofitted his walker with a cardboard box and daily collected garbage from the roadside ditches and sidewalks in the surrounding neighbourhood of Fairview Mennonite Home.
Due to the on-going pandemic, there will be no public visitation. The family is grateful for emails and on-line tributes, which helps fill the void of no visitation. A private family committal service was conducted previously at the Hagey Cemetery (Cambridge). A private memorial service, with public livestream viewing, will be held on Saturday, July 17 at 11:00 am at the Erb & Good Family Funeral Home chapel in Waterloo, with pastors Josie Winterfeld and Kim Penner officiating. The livestream link will be available on the funeral home's website www.erbgood.com
As expressions of sympathy, in lieu of flowers, donations to Habitat for Humanity Waterloo Region, Fairview Mennonite Home or Mennonite Central Committee would be appreciated, and may be arranged through the Erb & Good Family Funeral Home, 171 King Street South, Waterloo, Ontario N2J 1P7 or 519-745-8445 or www.erbgood.com
Dad, may heaven be a place where the cement will cure under the summer's sun, with no threat of rain, where the buses will always start and never be late for their run, and where you can listen to your favourite cassette tape recording of a men's gospel quartet. Thanks for leading, living and loving by example.
Services for Elmer Shantz
There are no events scheduled. You can still show your support by sending flowers directly to the family, or planting a memorial tree in memory of Elmer Shantz.
Visit the Tribute Store


Share Your Memory of
Elmer