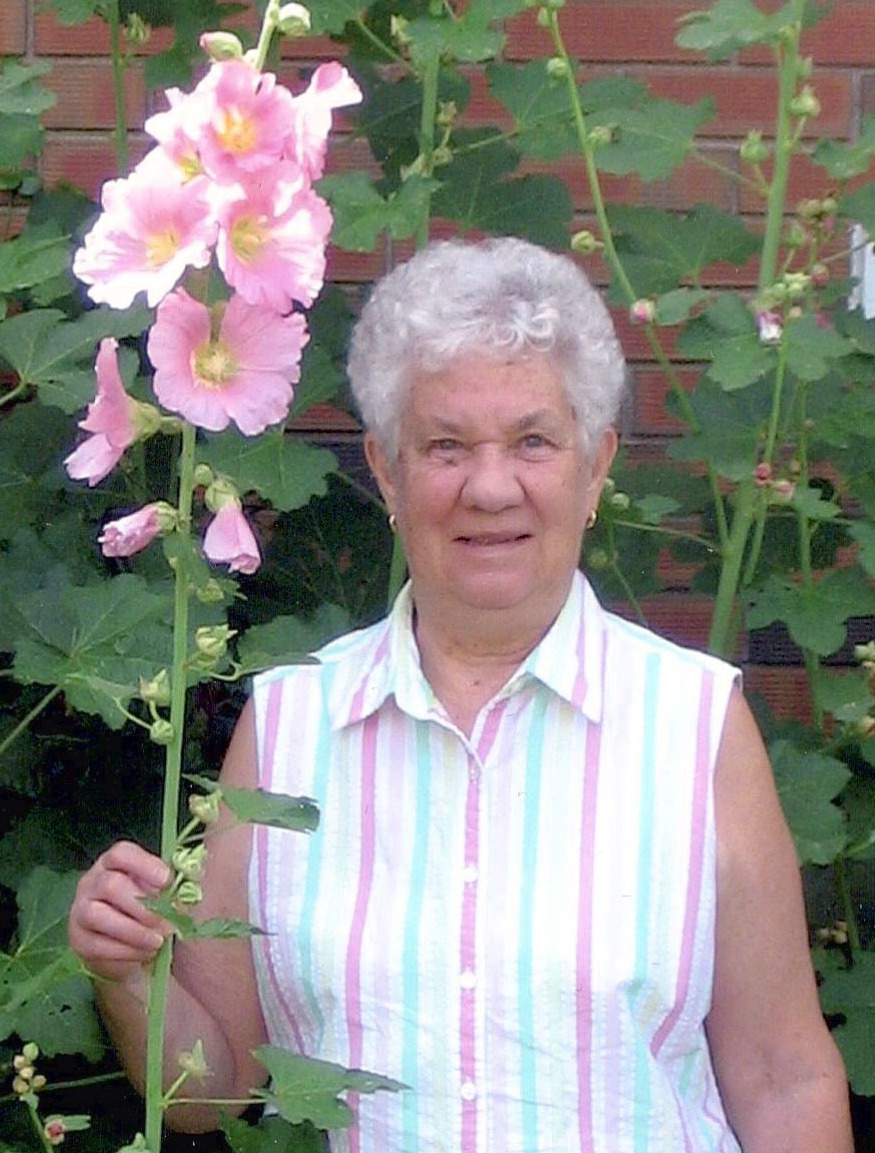 Obituary of Eileen Frim
After a 9 year journey with cancer, Eileen Frim (nee Kraehling) has traveled over her rainbow bridge to be with her beloved husband Mike. (2003). Eileen was 85.
Loving Mother of Donna and Michael Frim (Kathy). Grandmother of Melissa (Ben Murphy) and Rachel Frim (Connor Keough). Great-grandmother of Carter and Boden.
Eileen is predeceased by her parents John and Kathleen Kraehling, brothers Ken, Oscar, John and Billy, sisters Helen, Cecilia, and Marjorie.
Eileen began her working life at age 14. She worked as a shoemaker at Savage Shoes and Greb's Shoe Factories, a poultry worker at J.M. Schneiders, a cafeteria worker at Electrohome, a care giver for numerous seniors and a lunch room supervisor at Wilson Avenue Public School. She was also a Brownie leader at St. Phillips Lutheran Church Kitchener and a member and leader of the Ruth group at St. Matthew's Lutheran Church Kitchener.
Eileen was talented and creative!
She excelled at sewing everything from crazy teacher pants to draperies, and even did hat millinery.
She always enjoyed knitting, and each Christmas delighted numerous children at Rockway Public School with colourful rainbow slippers and most recently donated dozens of twiddle muffs to the Alzheimer Society.
She crocheted intricate lace dollies, tablecloths and afghans, and many children's stuffies.
She loved creating delicate Christmas Ornaments from recycled cards.
She was an expert jigsaw puzzler and found great pleasure whiling away the hours doing 1000 piece puzzles and in challenging her skills. Word searches were a popular favourite too.
Eileen loved to read almost anything and was very fond of the yearly daily devotional titled the Friendship Book, which she shared with many friends.
Eileen enjoyed whimsical things – bubbles, music boxes, decorative serviettes, Christmas figurines, wise old owls and Snoopy the Charlie Brown character.
She collected small boxed with lids and inside each she would place a little heart shaped message that said, "Thanks for Peeking! I Love You!".
Eileen will be remembered for her love of Nature. Blue skies and puffy white clouds were opportunities for stretching her imagination and for storytelling. She delighted in butterflies; especially Monarchs, in rainbows, in birds like Cardinals and Hummingbirds, and flowers; especially Gladiolas, Pansies and Hollyhocks.
Having lived in her home for 63 years, Eileen was blessed to have many wonderful caring neighbours and friends; and her family is grateful to them for their generous and loving support.
We also send heartfelt thanks to Dr. Califaretti and her team at Grand River Hospital and to the Nurses and PSWs at Innisfree for their amazing care.
At Eileen's request cremation has taken place and no service will be held.
In lieu of flowers, donations to Grand River Hospital Cancer Unit or to Innisfree House Hospice would be greatly appreciated and may be arranged by contacting the funeral home at 519-745-8445 or www.erbgood.com.
Eileen always wore an angel pin on her right coat sleeve to greet both friends and strangers alike. She adorned her home with Angels too. Mom, you are with the Angels now. May you find Heavenly Peace.


Share Your Memory of
Eileen