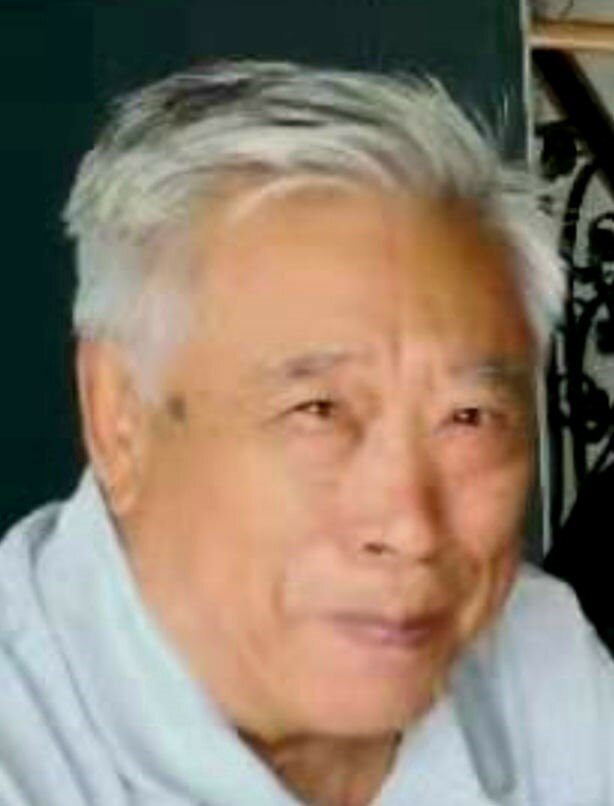 Obituary of Shujie Wang
To RSVP for Visitation and the Service please click here
To participate in the livestream or view the recording of the service, please click here
In loving memory of
Shujie Wang 王书杰 1941 - 2021
Shujie Wang 王书杰was diagnosed with late stage small cell lung cancer earlier this year and has departed from this earthly life on August 12, 2021, in St. Mary's General Hospital surrounded by loved ones. Shujie will be lovingly remembered as the most beloved and caring husband, father, grandfather, brother, uncle, nephew, and son.
Shujie is survived by Xingzhong, his wife of 55 years, his son Xiangpeng, daughter Yafeng, son-in-law Bing, granddaughter Angie, grandson Hanbo, sisters, nieces, and nephews. He is preceded in death by his parents, siblings, and son Xiangjun, who he is now happily reunited with in Heaven.
Shujie was born in Liaoning Province, China on January 28, 1941. He went to (东北农业学院畜牧兽医系畜牧专业) Northeast Agricultural University, graduated in 1966 and earned a degree in the department of Agriculture and Veterinary Medicine. After graduation, (1966年5月毕业分配到黑龙江省杜尔伯特蒙古族自治县畜牧场总部负责技术指导。在这期间为畜牧场建立家畜档案;为奶牛引进高产种牛,从而提高奶牛产量;引进种马提高蒙古马品种) he was assigned to the headquarters of the animal farm in Durbert Mongolian Autonomous Country in Heilongjiang province and was responsible for technical guidance until August of 1973. He was then promoted to be the head of the county's agriculture department from 1973 to 1980. In 1980, (1980年--2001年,中国科学院黑龙江农业现代化研究所畜牧研究室室主任(正处级)) he became the director of Agriculture Research Office at the Heilongjiang Institute of Agriculture Modernization, Chinese Academy of Sciences. He was an associate professor in 1984 and became a full researcher and professor in 1990. He was a well-known and respected agriculture expert and scholar and has published many books and more than 50 academic papers during his 40 years of scientific research. He cultivated batches of livestock and technological talents and his work greatly improved the production of dairy cows and the quality of cattle. He received many awards (获得了包括国家六五计划二等奖、七五计划二等奖等国家重大奖项在内的多个奖项! 获得中国科学院科学技术终身奖!) including major national awards such as the second prize of the National Sixth Five-Year Plan, the second prize of the Seventh Five-Year Plan, and the Chinese Academy of Science and Technology Lifetime Award.
Shujie loved sports and enjoyed basketball, volleyball, and ping-pong. He loved to fish and garden, and he cooked the most delicious meals. His most memorable trait was that he loved to take care of his family, he and his wife helped raise their granddaughter, Angie, since she was just an infant. He extended his helpful hand to family and new friends all the same, he never cared about being recognized or thanked, he just wanted to help. We are so lucky to have had him in our lives. We will miss and love him forever and always.
Visitation will be held at the Erb and Good Family Funeral Home on Saturday, August 21, 2021 from 10:00 to 10:45 am. The funeral service will follow in the chapel of the funeral home at 11:00 am with Pastor Carol Ma officiating. To attend these events, please RSVP at the top of this page using the link provided or by calling the funeral home at 519-745-8445. Face coverings and social distancing are required at all times.
Memorial donations can be made to St. Mary's General Hospital, Grand River Hospital and Cancer Center. The family wishes to extend their gratitude to the amazing nurses, doctors, and service providers at GRRCC, St. Mary's, ParaMed, and ProResp, with helping support Shujie in his journey with end-stage lung cancer.
Visitation
10:00 am - 10:45 am
Saturday, August 21, 2021
Erb & Good Family Funeral Home
171 King Street South
Waterloo, Ontario, Canada

Get Directions
Funeral Service
11:00 am
Saturday, August 21, 2021
Erb & Good Family Funeral Home Chapel
171 King Street South
Waterloo, Ontario, Canada
RSVP IS REQUIRED

Get Directions