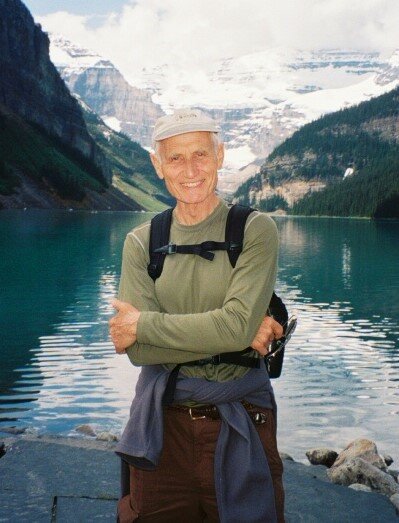 Share Your Memory of
Dietrich (Dick)


Obituary of Dietrich (Dick) Eckart Lauckner
Lauckner, Dietrich (Dick) Eckart
Passed away peacefully at The Village of Winston Park on October 15, 2021 at the age of 84.
Father of Valerie and her husband Colin Morano of Port Elgin, Bruce and his wife Lisa of Kitchener and Kevin and his wife Joanne of Cincinnati, Ohio. Opa to Brendan and Sasha Morano, and Ben, Emma, Kyle, Jocelyn and Jordyn Lauckner. Survived by his brother Gunter and his wife Anneliese Lauckner of Brampton. Will forever remain in the hearts of his nieces, nephews, extended family and friends. Predeceased by his loving wife, Beverly and sister, Martina Eisenhawer.
Dietrich was born in Halle (Saale), Germany on Nov 29, 1936 to Johannes and Hanna Lauckner. During the war, Hanna and the children moved away to live with relatives in the town of Ehrenfriedersdorf. After the war, the family returned to Halle, in the Soviet Occupation Zone, and shared their apartment with displaced families from Poland and Czechoslovakia.
In 1948, Dietrich's father was released from a prisoner-of-war camp in Egypt into western Germany. The following year, Dietrich, his mom, brother and sister made a daring evening escape from the East to join Johannes in Buxtehude, West Germany.
In 1952, the family came to Canada and moved to Edmonton. Within three days, Dietrich and his father found work at the Dandy Cake Bakery on 95th street. Dietrich started his baker's apprenticeship. Realizing the early hours of a baker's were not to his liking, Dietrich continued to learn English and approached the RCMP as a potential recruit. With a Grade 8 education, he was acknowledged for his ambition, told to work hard and first graduate high school. Dietrich took that advice to heart and continued night school while working. He went on to receive his apprenticeship as a Machinist Diesel Mechanic for Canadian Pacific Railway and worked for a number of years in CP's Ogden Shops in Calgary. Dietrich continued to go to school while working and obtained a degree in Engineering (Mechanical) from the University of Alberta.
Travelling to Ottawa for work, Dietrich met the love of his life after asking a colleague if he knew anyone in that area. Dietrich and Beverly Bethune married in Montreal in 1965.

After 14 years with CP Rail, "Dick" accepted a job with the Hydro-Electric Power Commission of Ontario in 1969 and moved his young family to Port Elgin where he worked at Douglas Point and later Bruce Nuclear Power Development. Dick retired from Ontario Hydro in 1993.
He thoroughly enjoyed the outdoors and spent many years camping, canoeing and downhill skiing with his children. He was always willing to take on a challenge and in his 60s, Dick began hiking and running. He completed his first marathon at age 74 and had many wonderful hikes from Machu Picchu to the Pacific Coast Trail. His favourite was the Bruce Trail, which he hiked many times and maintained a section for other hikers to enjoy.
Dick enjoyed curling and quietly went about his volunteer activities delivering Meals on Wheels, helping with Day-Away and at church barbeques. In later years, he got great pleasure from morning meetings with the coffee crew at McDonald's.
Dick insisted his kids never complain, finish their meals, work hard and love whatever they did. Nothing made him happier than his grandchildren. He will forever be remembered for coming to watch school plays, concerts, gymnastics and dance, freezing in arenas, standing in the rain for soccer, football and rugby games and giving tips on Scouting. Dick chauffeured his Port Elgin grandkids everywhere and loved to bake and read books with all the grandkids. Trips across the street to the Waterloo Street playground were a highlight of visits to Opa's house.
Dick's final wishes included "no lying in state for this peasant" so a private family service will be held at a later date. Cremation has taken place. Condolences for the family and donations to Bruce Trail Conservancy or Alzheimer Society of Grey-Bruce can be arranged through the Erb & Good Family Funeral Home, 171 King St. S., Waterloo at www.erbgood.com or 519-745-8445.