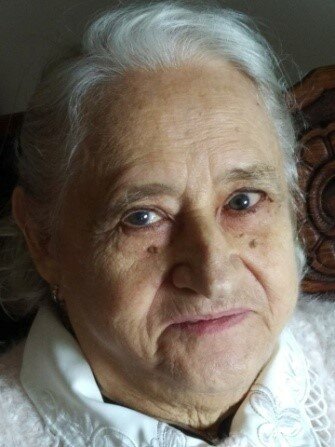 Obituary of Teresa Mambella
Mambella, Teresa C. (Terry)
January 24, 1934 to December 31, 2021
A graveside service will be held at Woodland Cemetery, 119 Arlington Blvd, Kitchener, on Saturday, May 14, 2022 at 11:00 am.
Unexpectedly, but peacefully, while in hospital, Terry Mambella in her 88th year, passed away with family by her side.
Survived by her daughter Desiree (Bob Prachar), grandchildren Aaron Saloman (Cate Desrochers), and Hayley Bates, her niece Charlene Davidson (Niall), her steadfast companions Krista-Lyn Somerville, Mary Norris, and David Gingrich, as well as many other cousins, nieces, nephews, and friends.
Now joining those who went before her - her son Bruno Anthony Mambella, her brother Angelo Peroceschi (Carolyn), her brother Rudy Pero (Helen), her mother and father, Celia Rossetto, and Giovanni (John) Peroceschi, and her special friend, Carol Martin.
Always "ahead of her time", Terry was often outdoors, playing with her children, when they were little, when it was not such common practice. She was a creative person, and a very good cook, inspiring creative children and grandchildren, who loved to cook, as well. A lover of performances such as skating, theatre, and especially music, Terry instilled a love of music in her children. She also loved nature, animals, and birds, especially the "pet" hummingbirds who visited her every summer on her balcony, in St. Jacobs. Terry reveled in, enjoyed, and was quick to point out small, simple pleasures such as a particularly beautiful sunset, the trail left in the sky by a jet, small animals scampering through the woods, the neighbourhood dogs that she walked by on her daily walks, going for long drives in the countryside, trips to the airport to watch the planes land and take-off, and getting together for meals and activities with friends and family. Most of her working life, Terry was instrumental in running businesses. Her last job before retirement was as manager of the Picard's peanut and confectionary store, in St. Jacobs.
Very special thanks to Judith and Don Kittel for caring for Terry, while in St. Jacobs; the nurses, PSWs, reception, housekeeping, kitchen, maintenance, accounting, and support staff at Chartwell Stonehaven Retirement Residence, Kanata, ON, especially Chelsea Siurna, and Yasmin Docter-Vachon for providing a loving home for Terry for the last 6 years; Janice Elliott, Care Coordinator, Champlain Local Health Integration Network (LHIN), who arranged outside assistance with daily tasks for the last few years, so that Terry could continue to live independently; her family physician, Dr. Daniel Chapman; PSWs who sat with her, nurses, doctors, and the rest of the staff on A4, and, especially, Behavioural Support Nurse, Jen Munro, who looked after Terry's needs while she was in the hospital for those last few weeks.
Cremation has taken place. A graveside service will be held at Woodland Cemetery, 119 Arlington Blvd, Kitchener, on Saturday, May 14, 2022 at 11:00 am.
In lieu of flowers, condolences and donations to the Queensway Carleton Hospital Foundation, Nepean ON, may be arranged through the Erb & Good Family Funeral Home, 171 King Street S. Waterloo at www.erbgood.com or 519-745-8445.


Share Your Memory of
Teresa