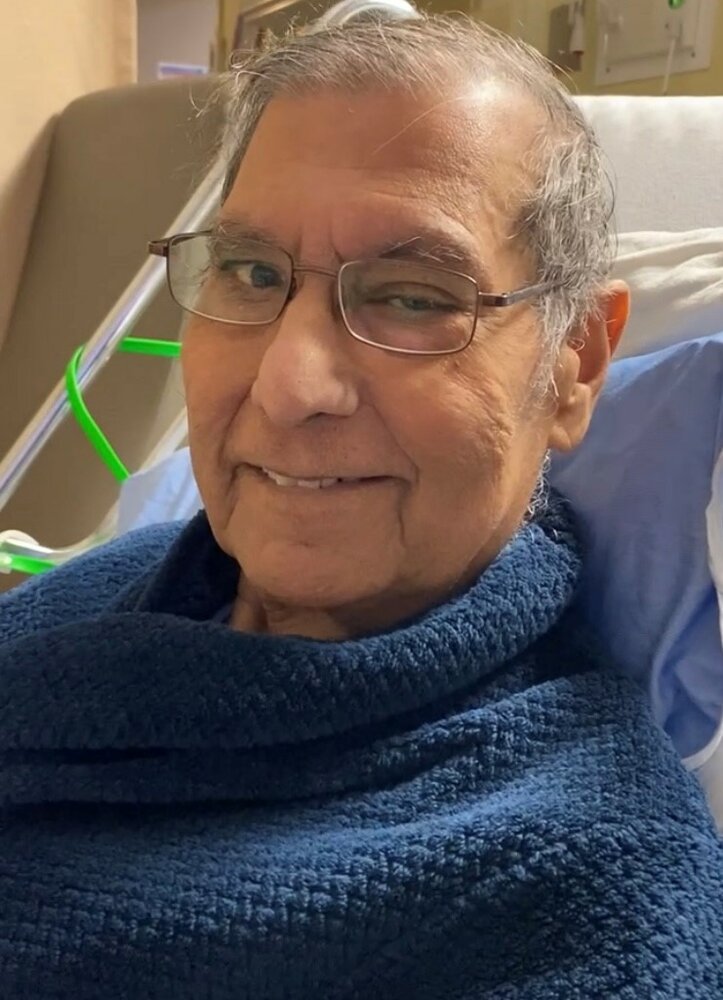 Share Your Memory of
Prem


Obituary of Prem Kumar Anand
On March 30, 2022, Prem Kumar Anand passed away at Grand River Hospital. Prem is survived by his loving wife Hannelore Dlugosch. Prem was the beloved father of Christopher (Marjorie), Mark (Angela) and Celia, and cherished grandfather of Mira, Konrad, and Candace. He is survived by his sisters Usha (Virinder), Gita (Harbans) and Rita, and brothers Vijay (Sadhna) and Rakesh (Nalani), and brother-in-law Günter (Glenys).

Prem was born in Mandi Bahauddin in undivided India on the 31st of December, 1939, to Ram Lal Anand and Vidyawati Suri. As the oldest of his siblings and cousins, he developed a skill for storytelling early on, and four generations remember an evolving collection of stories.

He came to Canada to study mechanical engineering at McGill University. He worked in Montreal, Toronto, Cleveland, Atlanta, Windsor, Chicago, and St. Petersburg. His greatest accomplishment was shepherding the development of the first successful clinical MRI as General Manager of Products and Programs at Picker Medical Systems in the early 1980s. In all of his activities, he approached life as an engineer, trying to understand the underlying science and apply rational and ethical decision-making. He enjoyed discussing current scientific issues with his many friends from McGill and his working years.

His life was not an easy one. He bore scars from the partition of India, a devastating car accident as a child with lifelong complications, three cancers, and a heart attack. He bore it with grace and was thankful to the many doctors, nurses, and volunteers. To the youngest Anands he was best known for his painting, but he did not start painting until given a set of paints by a volunteer at Princess Margaret Hospital to help him rehabilitate. His engineering and artistic talents came together in his love of woodworking, which was both a source of friendship (from furniture building in Montreal to working at the Senior's Woodshop in Waterloo) and a chance to mentor two generations of nieces, nephews, grandchildren and any young visitors. Known from coast to coast as the person who could fix anything, the hardest part about declining health was knowing how to fix things and not having the strength to do it himself.
Sincere thanks to the Grand River Hospital for their excellent care over the past years.

Due to COVID, there will be a virtual celebration of life for family and close friends.

In memory of Prem, donations can be made to the Cancer Care Centre at Grand River Hospital or a Ukrainian charity of your choice.