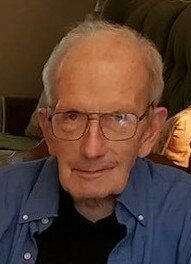 Share Your Memory of
Eugene


Obituary of Eugene Arthur McCarthy
Eugene McCarthy
1939 - 2022
It is with profound sadness that the family of Eugene McCarthy announces his passing. Eugene, a proud KW Record reporter for more than 40 years, died suddenly on May 2, 2022. He was 83 years old.
Gene or Geno, as he was known to all who knew him, had three careers with the Record, beginning in 1955 as a student contributor to a weekly high school column from St. Jerome's High School where he was a boarding student. He said he was perhaps inspired by his paternal grandfather, also named Eugene, a longtime reporter for the Cleveland Plain Dealer and Catholic Universe Bulletin. After spending a year studying journalism at Ryerson - during which he worked several nights and a summer at the Canadian Press news agency - he was hired in 1959 by the Record, covering a variety of assignments including the many spectacular downtown Kitchener fires. In early 1961, he was sent to Guelph to open a bureau for the newspaper. Anxious to succeed and show citizens the superior coverage of the Record over the then Thomson-owned Guelph Mercury, Gene often worked day and night as a reporter and photographer on split shifts covering the many aspects of community life in Guelph and Wellington County. The company declined to set up an office, so he had to use a corner of his home's basement as one. He also became familiar with the location of pay phones and offices which would let him use a phone to relay breaking news to the Kitchener office because cell phones were still 20 years away, The Record's circulation never achieved anticipated goals but because of Gene's hard work, the newspaper became well known in Guelph and, when Gene left to return to the main office after spending 11 years there, he was considered one of the most knowledgeable and respected reporters ever to work in the city. Gene often said that one of the most exciting stories he wrote about during that time was the creation of the University of Guelph in the mid-1960s from three small agricultural-related colleges. It was a period of explosive growth on the campus, fueled by what appeared to have been millions of provincial government dollars for buildings and staff and had many ramifications for the community. On his return to the main Record office in Kitchener, he was asked to do police coverage. He became interested, however, in courts and legal stories and within a couple of years, began covering these, an area he continued to specialize in until he took an early retirement from fulltime work in 1996. Apart from a national newspaper award, another highlight of his career was winning the national Canadian Bar Association St. Laurent legal journalism fellowship enabling him to study law at Queen's University in Kingston during the 1979-1980 academic year. In the months after his retirement, Gene spent much of his time writing a book about one of the more fascinating cases he'd covered. The Biker, The Stripper and the Cop detailed some sensational goings on between the police and biker gangs of that era. Gene began a third phase of his work at the Record when he was asked to provide weekend coverage of police news and general interest stories. He did so until he turned 65 in 2004. A practicing Roman Catholic and a loyal member of St. Agnes church in Waterloo since 1972, Gene rapidly became interested after his fulltime retirement in helping the less fortunate in the community through the Society of St. Vincent de Paul. He survived colon cancer in 1989 and a double cardiac bypass in 2006. Eugene is survived by his beloved wife of over sixty years, Pat, and four children, Sue (Wayne), John (Jane), Greg (Gwendolyn) and Sara (Paul). Geno was very proud of all of his grandchildren, Ethan (Shannon), Eryn (Arman), Braeden (Sydney), Liam, Niamh, Jake, Kiarra, Grace and Mya. Geno also leaves his brother Gerard, daughter-in-law Krista (Al) and his great granddaughter James as well as many sisters in law and brothers in law. He was predeceased by his parents, a son, Quinn and his brother Michael.
Visitation will be held at the Erb & Good Family Funeral Home, 171 King St. S., on Tuesday May 10, 2022 from 1 - 4 pm. The Mass of Christian Burial will be celebrated at St. Agnes RC Church, 75 Bluevale St. N., Waterloo on Wednesday, May 11 at 10:30 am. Interment to follow at Parkview Cemetery. A reception will follow the interment in the Fireside Reception Room at Erb & Good Family Funeral Home. Condolences for the family and donations to St. Vincent de Paul may be arranged through the funeral home at www.erbgood.com or 519.745.8445.
Visitation
1:00 pm - 4:00 pm
Tuesday, May 10, 2022
Erb & Good Family Funeral Home
171 King Street South
Waterloo, Ontario, Canada

Get Directions
Mass of Christian Burial
10:30 am
Wednesday, May 11, 2022
St. Agnes RC Church
75 Bluevale Street North
Waterloo, Ontario, Canada

Get Directions
Interment
Parkview Cemetery, Waterloo