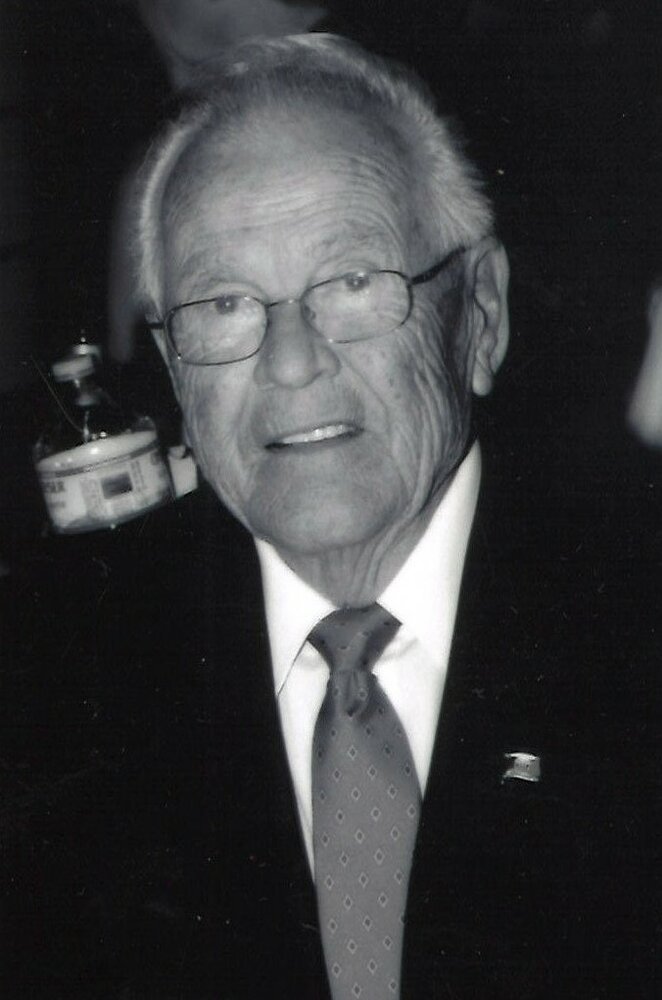 Share Your Memory of
Nick


Obituary of Nick Sawatzky
To view the livestream of the service, please click here.
Our loved Nick Sawatzky passed into Glory on Friday, August 5, 2022, after a full and blessed life of 95 years.
Beloved husband of Martha for 73 years; dear father of Kenn, Margaret (Glen) Woolner, Walli (Sylvia) and Gary (Karin). He was the cherished Opa to Lora Woolner (Mark Schmidt), Aaron Woolner (Geraldine Ysselstein), Joschka (Leslie), Katrin (AJ Johnson), Anneli, Evan, Alexandra Sawatzky (James Fedosov), Nicholas, and Annie. Treasured Great Opa Nick to Morgen, Suri and Nia Schmidt, Reuben and Lucas Woolner.
A family interment has taken place at Parkview Cemetery, Waterloo. Visitation will take place at the Erb & Good Family Funeral Home, 171 King St. S. Waterloo from 1 - 2:30 p.m. on Wednesday, August 10th. The funeral service will then take place at 3:00 p.m. in the chapel, followed by a time of fellowship and refreshments in the Fireside Room. For those unable to attend, the service will be livestreamed.
Condolences for the family or donations to MCC or MCC - Ukraine can be arranged through the funeral home at www.erbgood.com or 519-745-8445.
Until we meet again --Wiedersehen
---
A Life Remembered –A Tribute
Nick Sawatzky was born on September 25, 1927 in Schoensee, Ukraine. He lived a full and blessed life of 95 years until his passing on Friday, August 5, 2022.
Nick was the third eldest of 7 children born to Abram and Aganeta Sawatzky. His parents ensured he had a carefree childhood during the time of collectivization under Soviet rule. In 1943 Nick and his family were forced to flee their home in the Ukraine, and in 1944 he was separated from his family, never to see his dear parents, his youngest brother nor his homeland again. He was reunited with his two brothers, Rudy and Heinz in Germany in 1947. Heinz passed away in Germany in 1948 and Rudy emigrated to Paraguay and later to Canada. Nick subsequently found out that the rest of his family was forcibly returned to Siberia in 1945. His youngest brother Wolodja died in Russia. It was not until 1989 that he was reunited with his two sisters, Kaethe and Gretel who had emigrated from Russia into Germany and later came to visit their now adult brothers in Canada. The remaining brother Bernhard also later emigrated to Germany and Nick was able to visit him in Germany before he passed away. Only Kaethe and numerous nieces and nephews survive. We can only imagine the rejoicing and reminiscing that he will enjoy in Heaven with his loving family and Heavenly Father!
A new life began when Nick came to Ontario, Canada in 1947. Initially, he spent a 6 month work term with the National Forestry in Nipigon, Ontario where lifelong friendships developed with fellow "Waldarbeiter". When the work term ended, he came to Hespeler to find work and to meet his maternal grandparents and maternal aunt who had emigrated to Canada in the 1920s. He was able to find employment and establish himself, and soon after proposed to and married his childhood sweetheart, Martha Esau. Martha also came from Schoensee and received sponsorship to come to Tofield, Alberta by her maternal Onkel Hans Rempel. She joined Nick in Kitchener and their wedding took place at WK United Mennonite Church on October 1, 1949, making it 73 years of togetherness! With Martha at his side, their house became a welcoming home for family and friends from near and far.
They were blessed with 4 children, twins Margaret and Kenn, Walli and Gary. Then came 9 precious grandchildren: Lora Woolner (Mark Schmidt), Aaron Woolner (Geraldine Ysselstein), Joschka (Leslie), Katrin (AJ Johnson), Anneli, Evan, Alexandra (James Fedosov) Nicholas and Annie. Nick became the Great Opa to cherished great-grandchildren: Morgen, Suri and Nia Schmidt, and Reuben and Lucas Woolner. He loved his family dearly and was immensely proud of each one of them.
Nick retired from Seagrams Bottling Division as a precision machinist. In retirement, Martha and Nick enjoyed 20 years of wintering in Florida, visiting friends and family across Canada, U.S.A. and Germany. They also enjoyed Caribbean cruises and trips to Hawaii and Mexico with family and friends.
They have been longstanding, faithful members of WK United Mennonite Church where Nick was baptized and wed.
Nick always expressed his gratefulness for the leading and blessings bestowed upon Him by his Lord and Saviour.
We love you and will hold you in our hearts always and forever.
Till We Meet Again – Aufwiedersehen
You left us beautiful memories
Your love is still our guide,
And though we cannot see you,
You are always at our side.
Our family chain is broken,
and nothing seems quite the same,
But as God calls us one by one,
The chain will link again.
Visitation
1:00 pm - 2:30 pm
Wednesday, August 10, 2022
Erb & Good Family Funeral Home
171 King Street South
Waterloo, Ontario, Canada
Funeral Service
3:00 pm - 4:00 pm
Wednesday, August 10, 2022
Erb & Good Family Funeral Home Chapel
171 King Street South
Waterloo, Ontario, Canada
Reception
4:00 pm - 6:00 pm
Wednesday, August 10, 2022
Erb & Good Family Funeral Home Fireside Reception Room
171 King Street South
Waterloo, Ontario, Canada