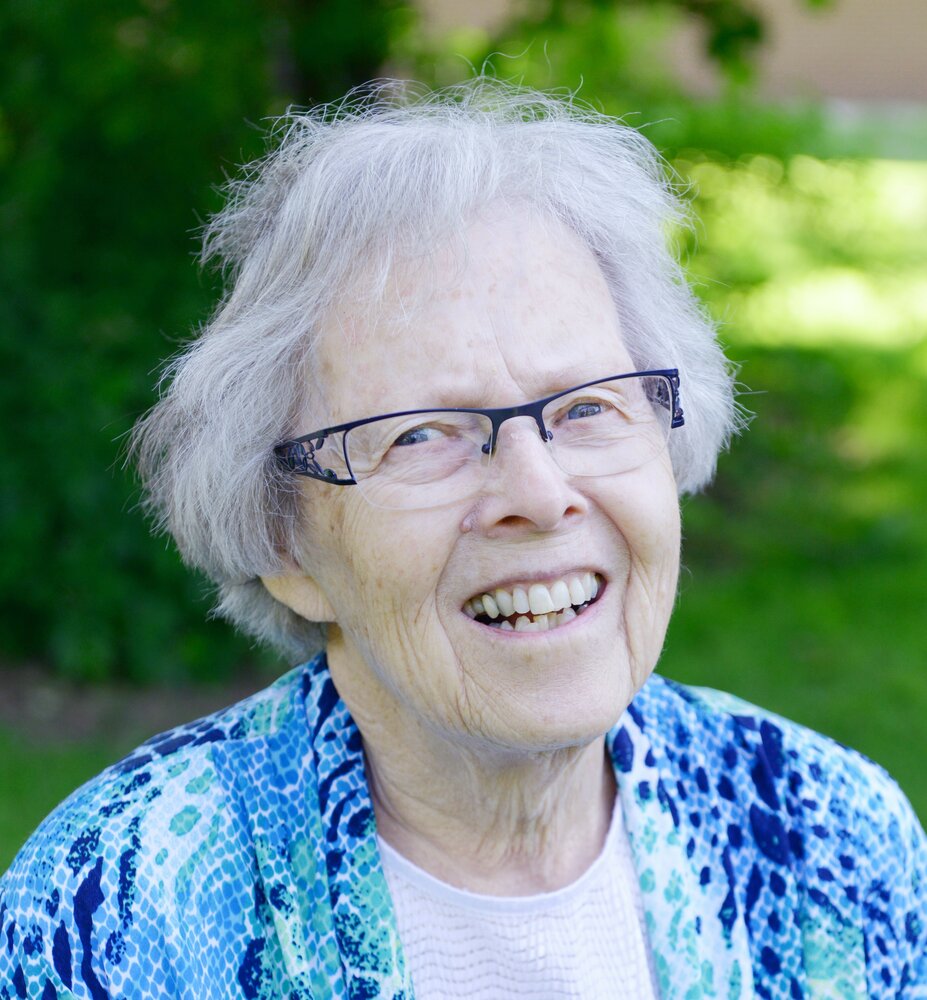 Obituary of Joy Coleman
Joy Coleman loved well and was well-loved for 93 years. She left us peacefully for heaven on September 15, 2022, to join husband, Lincoln (1995) and leaves behind grateful children: Jane, Carl (June), Lois (Rob Neufeld) and Anne, 11 grandchildren: Anne Elise (Adam) Leslie, Ian (Laura) Montgomery, Blair Montgomery, Lana (Matthew) Becker, Matt (Emily), Dawna (Bastien) Talgorn, John Neufeld, Karin Neufeld (Kurt Lemky), Jackson (Aceline) Nahayo, Andrea Shantz (Rick Entz), Jay (Paige) Shantz, 21 great-grandchildren, one sister (Anne Sherk), and two sisters-in-law: Erma (Clifford) Otterbein, and Nancy Cressman, and many nieces and nephews.
She is predeceased by husband Lincoln, sister Joan, brother Bruce (Joyce Janz), brother-in-law Art Sherk, and sisters-in-law Reta (Frank Toman) and Miriam (Clarence Pfohl).
Joy and her twin sister Joan (surprise!) were eagerly welcomed by their parents, Grace (Good) and Clayton Cressman on January 18, 1929. Residing in Kitchener, Ontario, Joy favourably remembers family picnics, summers on an uncle's farm, beechnutting, learning to drive the '31 Buick, life-long friends made at church, ice skating on the backyard rink, roller skating at the arena, and Camp Meeting.
"Playing school" turned from childhood pastime to her chosen career. According to her parents' conviction that women should be well-trained, she enrolled in Waterloo College (affiliated with the University of Western Ontario). Yearly scholarships and part-time jobs helped her to complete her B.A. With her teacher's certificate from Stratford Normal School, she returned to her childhood school (Sheppard School), Carmichael School followed by Hallman one-room school.
Through church youth events, she met Lincoln Coleman who worked on the family farm and for his dad's farm equipment dealership. In 1953, they married and took over the family farm near New Dundee. They were a good team, and she adapted well to country living -- massive gardens, preserving, milking cows, party lines, unpredictable markets/yields and mealtimes, Sunday picnics in the bush, swimming in the pond, good neighbours and church community.
She spent her whole life "teaching", but her pay cheque ended with the birth of Jane, Carl, Lois and Anne. The large farmhouse facilitated many good meals and happy conversations shared with friends, children's friends, relatives, missionaries, hired men and salesmen. And when grandchildren joined the family, she devoted much time to them, showing them love in many practical ways, and praying for them daily.
She was always involved in the church, teaching Sunday School, teaching people how to teach Sunday School, in the leadership of the local and provincial Women's Missionary Society, prayer circles and visiting. Above all, however, was Joy's desire to unobtrusively serve her community and God where she could, preferring others to be in the spotlight.
Until his passing in 1995, Lincoln and Joy enjoyed travelling to over 13 countries in addition to many trips within Canada and the USA. A special repeated destination was visiting daughter Lois and family who were working with MCC in Africa. For their 40th anniversary (1993), they took their RV to Alaska.
Joy sewed most of the family's clothing and she was an expert "mender". She put this skill to good use as a volunteer for Kitchener MCC Thrift Store. She loved to quilt and each of her children and grandchildren has at least one custom-made quilt, besides those made for benevolence. In healthier days, Joy enjoyed the symphony and live theatre. Thrifty and generous with her time and finances, she provided children and grandchildren with musical instruments, educational assistance, and encouragement.
Teaching herself computer, she kept her widespread family connected for many years with weekly email updates. Each email ended with "The Lord bless you and keep you, the Lord make his face shine upon you and be gracious to you, the Lord turn His face to you and give you peace."
In 2012, Joy moved to Winnipeg to be near Lois. Starting over in a new city was not easy, but she managed to do it in her own quiet and determined way. Every year she read at least 100 books and when her eyesight failed, she listened to audiobooks. Repeated strokes and macular degeneration took her independence in 2020. Lois and Rob shared their home with her during COVID, until she moved to Pembina Place in February 2022.
Joy will be remembered for her strong faith in God, quick wit, compassion and care for those around her, her practical approach to life and her generous and encouraging spirit.
In memory of Joy, donations in lieu of flowers can be made to Canadian Foodgrains Bank (www.foodgrainsbank.ca/donate/in-memoriam), Ubuntu Clinique (www.ubuntuclinique.com) or a charity of your choice.
In Ontario, friends are invited to join the family for visitation at the Erb and Good Family Funeral Home, 171 King St. S., Waterloo, on Wednesday, September 28, 2022 from 2 – 4 p.m., with a short programme remembering Joy at 3 pm.
A live-streamed Story Circle will take place at the Friends Funeral Services, Winnipeg on Saturday, October 8, 2022 at 10:30 a.m. for family and friends. To view the livestream service please visit www.friendsfs.ca
Visitation
2:00 pm - 4:00 pm
Wednesday, September 28, 2022
Erb & Good Family Funeral Home
171 King Street South
Waterloo, Ontario, Canada

Get Directions