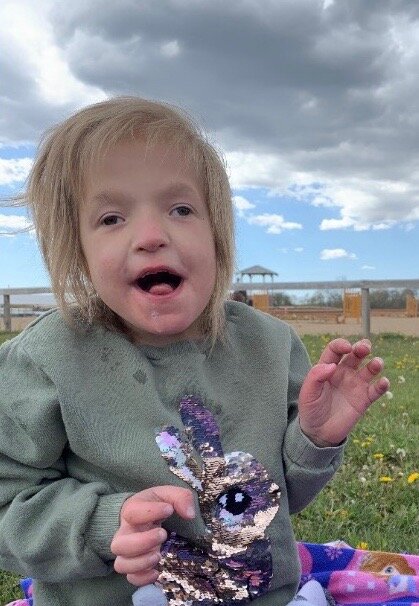 Obituary of Ava Grace McIntyre
We are devastated to announce the unexpected passing of our daughter, Ava Grace McIntyre. Ava passed away on Sunday Sept.18 at Grand River Hospital.
Our family was not ready for the light and joy she brought to our lives to be gone. Ava had a diagnosis of Trisomy 5, but all we saw was a beautiful and strong girl who thrived despite all the challenges life threw at her. She taught us the meaning of unconditional love, bravery and how to enjoy the simple things in life.
She loved playing with her toys, swimming, going on walks and watching yo Gabba Gabba. She loved hugs and snuggling and having her back rubbed. Ava made an impression on the lives of all those around her, her bravery and spirit was undeniable. Given Ava's medical needs it took a community to enable her to live life to the fullest.
We are thankful to all of her nurses at home and at school, her doctors and specialists, the staff in the Pediatric Critical Care Unit at Victoria Hospital, her teachers and EA's, her therapists, HCCSS staff, The Darling Home for kids and our community of friends and family who joined us in providing her with the best life she could possibly have lived. She faced serious medical challenges but also knew so much love and happiness.
Ava, our arms ache for you and we will always love you. We know that we will be reunited some day and that you are now able to run, talk and play the way we also wished for you. You are whole and healed in the arms of Jesus.
Love, Mom, Dad, Isaac, Ella, your grandparents, aunts, uncles and cousins.
The funeral service will be held at the Wilmot Centre Church, 2463 Bleams Rd, Petersburg, on Saturday, September 24, 2022 at 11:00 am. Private family Interment will take place at Riverside Cemetery, New Hamburg.
Condolences for the family and donations to Ronald McDonald House may be arranged at www.erbgood.com
Funeral Service
11:00 am
Saturday, September 24, 2022
Wilmot Centre Church
2463 Bleams Rd
Petersburg, Ontario, Canada

Get Directions