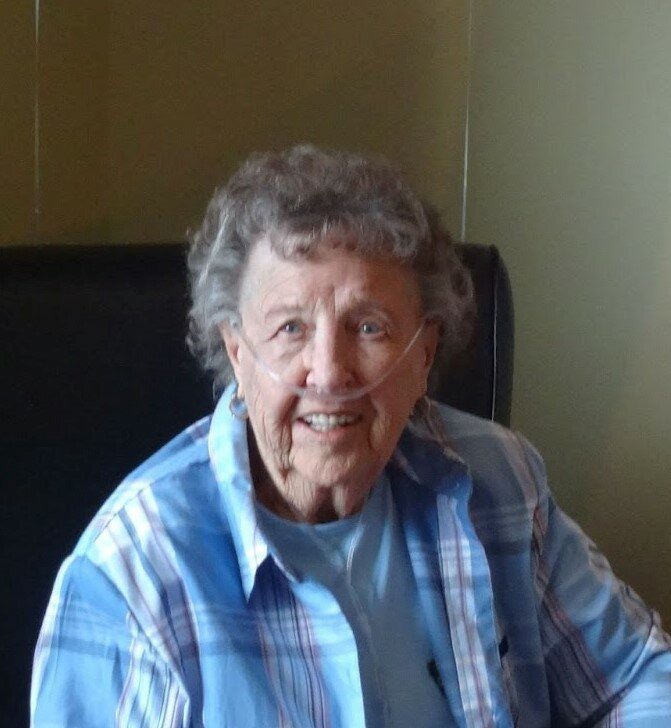 Obituary of Frances "Fran" Clifford
Fran passed away peacefully, surrounded by her family, on Friday September 23, 2022, at University Gates Retirement Home in Waterloo at the age of 97.
Lovingly remembered by her two children Sandy (Paul Schellenberg) of Waterloo ON and Garry (Jane) of Whistler B.C., her five Schellenberg grandchildren: Amy (Max), BJ (Stephanie), Scott (Natalie), Laura (Rob), Mary (Mike), and her two Clifford grandchildren: Joseph (Mehgan), Thomas (Elana) & her eleven great-grandchildren.
Fran is predeceased by her husband George Clifford (1996) and her partner and best friend Al Stockwell (2016).
Frances was born in Dauphin Manitoba to parents Arthur Francis Keats and Hazel Currie. She had one sister, Phyllis Doreen, and one brother, Ray Blake. Fran attended public school and high school in Dauphin until grade 11, at which point she stopped attending school because of the second world war. She got a job as a welder at McDonald Aircraft in Winnipeg, making planes for the Air Force. It was there that she met George Clifford, who was in the Air Force. They were married in 1944 at Knox United Church in Winnipeg. Garry was born in Winnipeg in 1945. In 1946 after the war was over, the growing family moved to Leamington. They bought five acres of land north of Leamington, next to Mount Carmel United Church. They lived with George's mother while George and his brothers built their house. George and Fran grew strawberries, tomatoes and asparagus. Some years later, they sold some of their land to the Mennonite high school to use for a baseball diamond and another portion they gave to Mount Carmel United Church for a parking lot. Sandy was born in 1948 and Fran stayed home with the kids until both kids were in school. She then went to work part time at the Simpson Sears catalogue order office. For their vacations Fran and George loved to travel. They went to India (to visit Paul and Sandy in 1968), Portugal, Spain, Italy, Greece and much more. Fran retired from Sears in 1979 and George from Heinz in 1981. At that time they bought a place in Lakeland Florida where they spent six months of every year for fifteen years. In her retirement Fran started golfing and over the years she had TWO holes-in-one! Fran was diagnosed with breast cancer in 1990 for which she underwent a mastectomy. After George passed away, Fran drove herself to Florida until in 1999 a long time friend of her's and George's, Al Stockwell started to drive with her. She and Al started to holiday together and loved to travel. Together they went to Mardi Gras, Las Vegas, Dominican Republic and several cruises. Fran and Al moved to the Erie Glen retirement home in Leamington in 2016. A few years after Al passed away Fran was diagnosed with dementia. For this final stage in her life Fran moved to the University Gates retirement home in Waterloo in 2020, where she was lovingly cared for by her daughter Sandy and the wonderful staff at University Gates.
A private family memorial service will be held at the Erb & Good Family Funeral Home, 171 King St. S., Waterloo. In lieu of flowers, condolences for the family and memorial donations to the Alzheimer's Society of Waterloo Wellington may be arranged through the funeral home at www.erbgood.com or 519-745-8445.