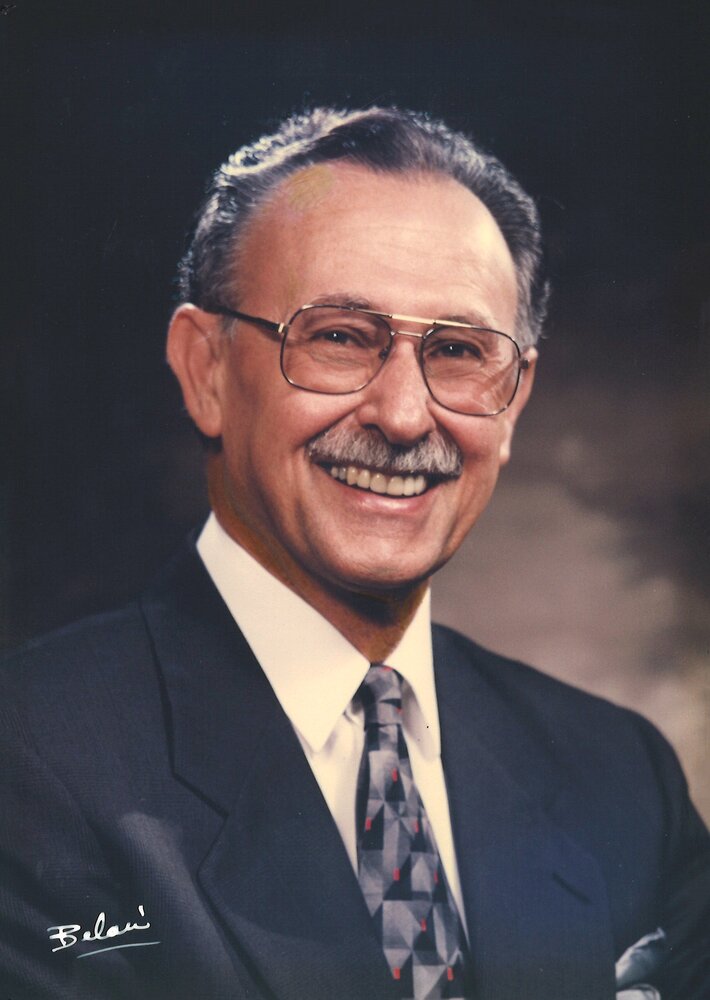 Obituary of Rev. Carl Louis Wagner
To view the recording of Rev. Carl Wagner's funeral service, please click here.
…For if we have been united with Him in a death like His,
We shall certainly also be united with Him in a resurrection. ~ 1 Cor. 6:5
God in his mercy has summoned his servant Carl to eternal life on Sunday, September 25, 2022.
Carl Louis Wagner was born on the 1st of April, 1930 in Kitchener, Ontario, the first born child of Gertrude Elizabeth (Heise) Wagner and Herman W. Wagner. He was baptized and confirmed at Redeemer Lutheran Church, Waterloo, Ontario.
Carl spent his childhood in Kitchener with his parents and younger sister, Helen. At the age of 15, he began studies for the holy ministry in the Lutheran Church – Missouri Synod(LC-MS) in Fort Wayne, Indiana. Travelling by train with his trunk each year, he completed high school at Concordia Lutheran High School and then studied at Concordia Junior College.
In 1950, Carl began his studies at Concordia Lutheran Theological Seminary in St. Louis, Missouri. To support himself he worked in the seminary printing office, drove the bus that took vicars to their placements in the St. Louis area and was a gymnasium caretaker. He produced plays and presentations. In the summers, he returned to Kitchener to earn tuition and board money by working on the loading docks at Carlings Brewery in Waterloo.
In 1955, he embarked on a vicarage placement with at Immanuel Lutheran Church – Westwood, Kalamazoo, Michigan. During the same time, he continued his studies earning his Master of Divinity (1957). Unsure if his future should be in community social services or parish ministry, Carl returned to Ontario to begin a placement in programming and outreach at the Toronto Central YMCA.
During his time in Toronto, Carl courted Jean Marion Hoffer, a Registered Nurse at New Mount Sinai Hospital. Jean and Carl had been acquainted from their mid-teens through the Walther League of Waterloo County. They were married on a sunny, but icy , February 18, 1956, at St. Paul's Lutheran Church, Elmira, Ontario. The wedding was officiated by the Rev. Frank Malinsky, who baptized and confirmed Jean and the Rev. W.O. Rathke who ordained Carl on February 18, 1957 as a Lutheran Pastor (Missouri Synod/ Lutheran Church – Canada).
Carl's work took Jean and him around Ontario. From 1956 to 1960 he served St. Paul's, Kirkland Lake and Zion, Wawbewawa and vacancy pastor at Christ, Timmins. From 1960 -1970 he served Emmanuel, Beamsville, Messiah, Stoney Creek and St. Stephen's, Grimsby. During these years, Carl and Jean welcomed three daughters, Patricia, Nancy and Leslie. In 1970, Carl and his family returned to his hometown of Kitchener, where he served as Pastor of Grace Ev. Lutheran Church until his retirement in 1995.
Carl and Jean took the family on many RV trips. They travelled from coast to coast in Canada and visited the northeastern American states. From 1983 onward, many summers were spent at the family cottage in Point Clark on Lake Huron. This tradition continued to the delight of his 7 grandchildren where he was always ready to have an evening campfire, especially if it meant treats using the 'pie irons'. The grandchildren marveled at his seemingly endless stash of Werthers and jube jubes with him.
Carl was well known for his daily morning walks, and his woodworking skills which resulted in gifts of oak and pine furniture and toys. He loved to watch baseball, football and basketball. He had a passion for learning and teaching. He developed Bible study materials for Confirmation instruction and small group ministries throughout his career and into retirement particularly at Historic St. Paul's Lutheran Church, Kitchener. His love for words meant he encouraged his children, grandchildren, nieces and nephews to read and expand their vocabularies. There was always a 'new' word to be learned.
Carl loved to experience new places, cultures and people. Carl and Jean travelled the world visiting the Baltic countries, including Russia, Germany, Portugal, the Mediterranean, Australia, New Zealand, Fiji, the Panama Canal and South America circumventing the continent with especially memorable stops in the Falkland Islands and up the Amazon River. They continued to travel and camp across Canada and the United States. For their 60th wedding anniversary, Carl arranged for he and Jean to travel to the Far East, including China and Japan.
Carl will be remembered by the church and community as a leader in service. He was dedicated to further serving God through the Ontario District LC- MS and the Lutheran Church – Canada as Circuit Counsellor, on the Boards of Parish Education, Stewardship, and Finance and as 2nd Vice President of the Ontario District. His community service was extensive. He served on the board of directors including the West Lincoln Community Living organization (Niagara), KW RAISE (11 years) and the Community Support Connections (Meals on Wheels). Carl and Jean had annual subscriptions to productions at Centre in the Square and he delighted in serving as a docent at the Kitchener-Waterloo Art Gallery.
Carl is survived by his beloved wife of 66 years, Jeannie; sister Helen Wagner; children Patricia (Greg) McLellan, Nancy (Larry) Wisotzki, Leslie (Jim) Fierling; grandchildren Daniel McLellan, Amy McLellan (Matthew) Theriault, Katherine McLellan, Alexandra Wisotzki, Christine Wisotzki (Jason) Davis, Aaron (Arianna) Fierling and Matthew Fierling; and great-grandchildren Collins and Rory Theriault, Hunter and Payton Davis. He is also survived by many Hoffer nieces and nephews.
Visitation will take place on Friday, September 30 from 7-9 p.m. at Erb & Good Family Funeral Home, 171 King St. S., Waterloo. The funeral service will be held at Grace Lutheran Church, 136 Margaret Ave., Kitchener on Saturday, October 1, 2022 at 11 a.m., with Rev. Robin Korsch officiating. A livestream of the funeral service will be available at www.erbgood.com. Following the funeral, a reception will be held in the Church Hall. Cremation will take place following the funeral and interment in Elmira Union Cemetery will be held at a later date.
Donations may be made in lieu of flowers to Grace Lutheran Church, Meals on Wheels, Lutheran Hour Ministries or Heart and Stroke Foundation and can be arranged through the funeral home at www.erbgood.com or 519-745-8445.
Visitation
7:00 pm - 9:00 pm
Friday, September 30, 2022
Erb & Good Family Funeral Home
171 King Street South
Waterloo, Ontario, Canada
Funeral Service
11:00 am
Saturday, October 1, 2022
Grace Lutheran Church
136 Margaret Avenue
Kitchener, Ontario, Canada
Reception
12:00 pm
Saturday, October 1, 2022
Grace Lutheran Church
136 Margaret Avenue
Kitchener, Ontario, Canada


Share Your Memory of
Rev. Carl