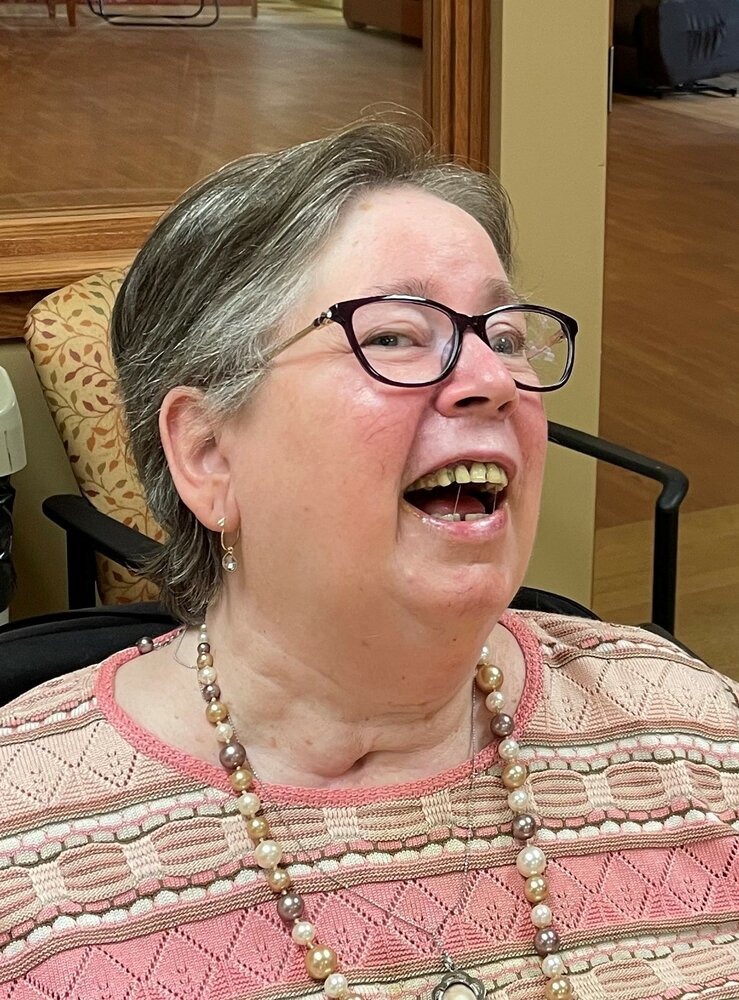 Obituary of Judith "Judy" Lillian Pearse
"Other things may change us, but we start and end with family." – Anthony Brandt
On Saturday, September 24, in her room at The Village at University Gates long term care facility, Judy Pearse left us far too suddenly and far too soon. Devoted second born of the late Jack Pearse (2013) and Helen Pearse (nee Hulse) of Waterloo; pre-deceased by her treasured friend and big sister Patricia "Patsy" Pearse (2016), brave and beloved big sister to John and Mike (Tia) Pearse; adoring aunt to Meghan (Art), Amanda, Christopher, Tyler, and Carson Pearse; great aunt to Jack Tambling, Brooke, Christopher, and Harper Acton: Judy's devotion to and wish to gather with family at every opportunity, was second to none; and finally, dear friend to all those who were drawn to and touched by her good humour and good heart: Judy bounded into the hearts of all those she knew, even for the briefest of moments, and had room enough in hers for all – friend and acquaintance alike...
Judy was born on December 30, 1955, and spent much of her childhood in Ottawa, with summers spent at Camp Tawingo in Huntsville, Ontario, beginning in 1961 and continuing for well over a decade. When the family moved to Shakespeare Dr., in Waterloo, Judy brought her light and leadership to school there. She was appropriately proud of having been the Mayor of Waterloo Collegiate Institute, an OFSAA calibre gymnast, an equally accomplished ballet and jazz dancer, and a top student and leader in the early years of the Recreation and Leisure Studies Program at the University of Waterloo.
On October 2, 1976, while attending Dalhousie University in Halifax for her final year,
Judy's life was irrevocably changed as the result of a tragic car accident – a car accident she was not meant to survive...and yet, survive it and thrive she did, so deep was her well of will and strength. With superb care in Halifax and then at K-W (now Grand River) Hospital, in time, Judy was able to move to Ashby House in Toronto – which offered a transitional living program for adults with acquired brain injury. And then on to the Co-op Apartments on The Esplanade., where she lived happily and independently for many years before moving back to Waterloo.
"The friends of my friends are my friends." - Unknown
"Laughter is the shortest distance between two people" - Victor Borge
Above all things in life, Judy sought and savoured the companionship of others. She loved people. All people. A coffee and a conversation in the company of others was her passion...and her purpose. She was interested in and dialed in to everyone she met and endeared herself to each in return.
In addition to an indominable spirit, Judy had a wicked wit and wonderful sense of humour. Charismatic and caring, she laughed often and heartily (as did those around her!), including at herself (an example to us all); flawlessly remembered the smallest of details of the lives of others; and was exceedingly patient in her efforts to help others understand what she was saying – always ready to repeat her words as often as she needed to (again, an example to us all).
"A friend is one who overlooks your broken fence and admires the flowers in your garden." - Unknown
Her dearest friends from before (and after) the accident saw Judy's heart for what it was – full of love to give with room for more...and would, each of them, say that her "joix de vivres" – which seemed to be strengthened by the turn her life took - was inspiring and infectious. Judy, herself, in recent years, in times of self-reflection, mused that she was a happier and better person after the accident than before: a blessing and a gift.
The Pearse family would like to thank the wonderful staff of University Gates for their personable and attentive care of Judy over her time there. Whenever she had visitors, Judy was eager and proud to introduce them to each member of the UG team.
All those wishing to celebrate Judy's life are welcome to join the family at Erb & Good Funeral Home, 171 King St. S., Waterloo on Thursday, October 20, 2022, from 2-4 p.m. and 6-8 p.m. At Judy's request there will be no service. Those wishing to remember and honour Judy may do so by donating, in her name, to a charity of their choice, or knowing Judy's love of people, may simply join others in a commemorative coffee, muffin, conversation, and laugh...or two. Condolences for the family and donations may be arranged at www.erbgood.com or 519-745-8445.
Visitation
2:00 pm - 4:00 pm
Thursday, October 20, 2022
Erb & Good Family Funeral Home
171 King Street South
Waterloo, Ontario, Canada

Get Directions
Visitation
6:00 pm - 8:00 pm
Thursday, October 20, 2022
Erb & Good Family Funeral Home
171 King Street South
Waterloo, Ontario, Canada

Get Directions