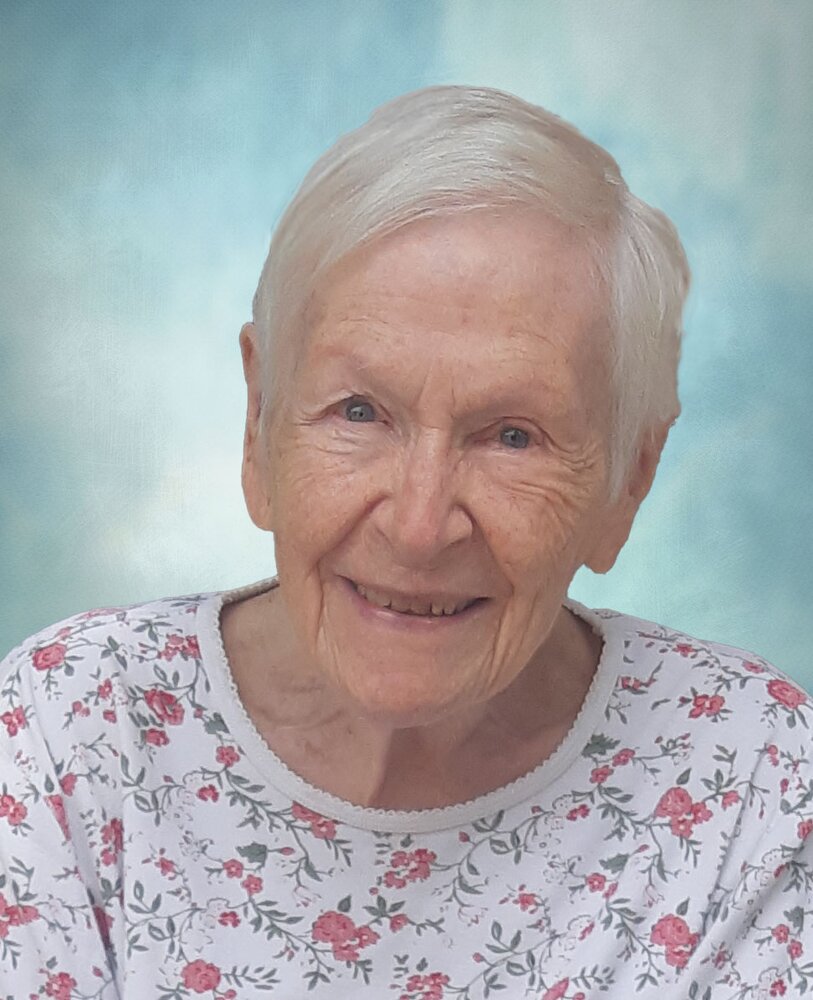 Obituary of Olive Capindale
A formal Celebration of Mom's Life will be held on Friday, August 25, 2023 beginning at 6:30 p.m. at Church of the Holy Saviour, 33 Allen St. E. Waterloo when her family can all be together. We hope you will join us then to honour and remember mom.
*************************************************************************
It is with heavy hearts that we say goodbye to our dear mother. She was 95. She passed away peacefully on November 21, 2022 at her home, on her own terms, with love all around her.
She is now reunited with the love of her life, John Capindale, and many others who left this Earth before her including her grandson, Christopher Peck, two son-in-laws, John Peck and Tony Johnson and all three of her siblings, Pat, Harry and Mary (Nane).
Her wise words and gentle nature will be greatly missed by her five children: Delwyn, Peter, David (Moni), Ruth and Karen (Joel). She has been such an inspiration to us all, especially in old age. We feel she has now "passed the torch" on to each one of us to continue on in our life journey carrying with us her teachings of humility, love, and gratitude.
She will be forever in the hearts of her 9 grandchildren: Michael, Alex, Nicola, Bretton (Julie), Aaron, Alana, Emma (Steven), Kate and Cail and great granddaughter, baby Alice. She revelled in the many milestones and achievements of her grandchildren and always had words of encouragement to share with each one.
Auntie Olive's many trips "across the pond" will be fondly remembered by her nieces and nephews and other extended family in the UK.
Mom began her life in Leicestershire, England where she learnt the true meaning of hard work and integrity helping out on the family farm. As a teenager she was introduced to her future husband (but did not know it at the time) when her second cousin, John, came to provide summer help on the farm. She would later follow in her older sister Mary's foot-steps and earn her Nursing certification before marrying John in 1953. Mom went on to support John through the first several years of their marriage, while he was earning post-graduate degrees in both California and then England before they finally settled in Canada to raise their family.
Mom's gift as a caregiver ran deep; as a career Occupational Health Nurse in industry in the K-W area and as a caring citizen who was known on several accounts to open her already very busy home, to those less fortunate, as a place of respite until their feet were back on the ground .
Mom was an active member of the Church of the Holy Saviour, Waterloo, singing in the church choir for over 5 decades. She was also a proud Sweet Adeline with the Kitchener-Waterloo Chapter for over 40 years and enjoyed great friendships with many of the choristers from both.
Mom loved a good family gathering, especially where a game of bridge or scrabble was being played, and always enjoyed time at the family cottage. She was most comfortable in life engaging in one-on-one conversations with people but would surprise her family with her ability to command a crowd when telling one of her "off colour" jokes.
Mom loved the Earth. She was an avid gardener and a true conservationist. She never wasted a scrap of paper or plastic, regularly used dirty bath water to water her plants and could find a "second life" for just about anything.
She lived each day to its fullest, right to the very end, with clarity, curiosity and gratitude.
The family is forever grateful for the amazing care mom received in her later years from her many "angels" (PSWs) at Warm Embrace. They all were integral in helping her stay as independent as possible for as long as possible in her own home. This meant the world to mom!
A formal celebration of mom's life will be held Friday, August 25, 2023 beginning at 6:30 p.m. at the Church of the Holy Saviour, Waterloo when her family can all be together. We hope you will join us then to honour and remember mom.
In lieu of flowers, donations in memory of mom can be made to the Church of the Holy Saviour or to the Tony Johnson Legacy Fund for glioblastoma research https://engage.ucalgary.ca/tonyjohnson_glioblastomaresearch
Celebration of Life
6:30 pm - 7:30 pm
Friday, August 25, 2023
Church of the Holy Saviour
33 Allen Street East
Waterloo, Ontario, Canada

Get Directions


Share Your Memory of
Olive