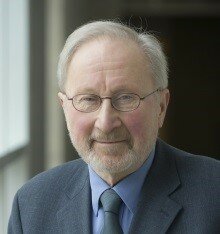 Share Your Memory of
Professor Emil


Obituary of Professor Emil O. Frind
It is with sadness that we announce Emil Frind has passed away on Sunday December 25, 2022. Emil was born in Germany in 1932 to Emil and Marie Frind. He immigrated to Canada in 1955, soon followed by Rosemarie, and they married in 1957. Together they had one son, Michael.
Rosemarie and Emil lived an active life, enjoying many wonderful excursions. They both had a keen appreciation of nature's abundant beauty. They hiked, skied, canoed, and they also enjoyed the solitude of their farm. Emil especially enjoyed picking apples from his trees. In his professional life, Emil completed his education in Canada, and by 1971 he had earned his doctorate from the University of Toronto. In the same year, Bob Farvolden hired Emil at the University of Waterloo, as a hydrogeologist and groundwater modeller.
Throughout his career, Emil developed and taught courses that included his favourite course "Fundamentals of Groundwater Modelling", a first for undergraduate curricula within Canada and which became one of his legacies.
Emil enjoyed mentoring many graduate students, several of whom went on to become professors and hydrogeologists themselves.
He wrote hundreds of professional reports and journal articles, and he served as editor for several scientific journals. Emil received many awards for his highly cited research and his teaching. He also enjoyed contributing to the public good on many environmental issues, including the protection of both drinking water supplies and aquatic ecosystems. His work played a key role in developing public awareness of the role of groundwater and the importance of protecting aquifer recharge areas. He loved his work.
Even after retirement at age 65, Emil continued to teach and mentor graduate students. Among his deepest research passions was the protection of fractured-rock aquifers. Emil's research connections spanned the globe, and he spearheaded exchange programs for graduate students in order to enable them to broaden their own connections.
Emil is survived by his beloved wife of 65 years Rosemarie, son Michael, and their dear friend Frances. Emil is also survived by his beloved sisters in Germany Edith, Annemarie, and Christl, as well as their children. Countless friends and professional colleagues around the world are saddened by his passing.
Cremation has taken place. A celebration of life will be held later.
"The man is a success who has lived well, laughed often and loved much; who has gained the respect of intelligent men and the love of children; who has filled his niche and accomplished his task; who leaves the world better than he found it....who never lacked appreciation of the earth's beauty or failed to express it, who looked for the best in others, and gave the best he had." (Robert Louis Stevenson)
Condolences to the family and donations in lieu of flowers can be made to the Canadian Wildlife Federation, the Bruce Trail Conservancy, or a charity of your choice, and would be appreciated by the family. Arrangements entrusted to Erb & Good Family Funeral Home www.erbgood.com.