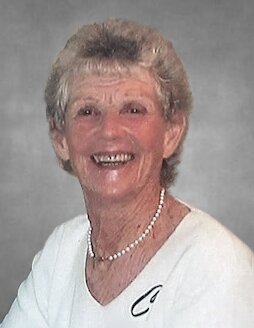 Share Your Memory of
Shirley


Obituary of Shirley Marian Clarke
Shirley passed away peacefully at Columbia Forest LTC in Waterloo on Saturday January 21, 2023.
Shirley was the youngest of 4 children born to Ruth and Leslie Nicholson in Toronto. The only red head in the family with the feisty, fearless temperament to go with it, she was a challenge to her poor mother but was a wonderful help to her as well. Admired at school and everywhere she went, for her copper ringlets and blue eyes, she was always active, working and playing. She trained as a hairdresser when she was 16 and loved her job, working at it until she was 40. Then she went back to school and took bookkeeping and worked until she was 61. She married the love of her life , Wes, on May 29, 1948 and had 3 wonderful children, Tom(D), Rhonda and Norm. Always saving her money, she bought Wes their first snow mobile, a sailboat, furniture and her own cars. Together they learned to curl and won many a bonspiel bringing home numerous trophies and prizes. Cottaging and curling were the joy of their lives for many years. Then they took up snowmobiling at the cottage. An outhouse and no water was not a deterrent. Even at -40 when the propane heater froze.Then they discovered Siesta Key beach and loved the sunshine more than the ice. Sadly, Wes died in 1990 and Mom was devastated. By then Mom was an active tennis player and continued to winter in Florida and had many friends to play tennis with. However, after 2 hip replacements we convinced her to take up golf at 67 years old and she gave it her usual determined commitment and was a good player, if not quite an honest scorer. A common trait among many golfers. She worked hard and played hard. She was a tough Mom but a wonderfully loving Gramma or Granny, especially with her 9 grandkids, Andrea, Beth, Adam, Warren, Jeffrey, Andrew, Danny(D), Brittany and Michael. I'm sure they remember playing in the lake at the cottage, being splashed and pushed off the dock. We all learned to water ski at an early age-or else- and the boat was well enjoyed. Also snowball fights were fierce and anyone was a target, big or small. Mom also has 11 great grandkids, Aidan, Noah, Calvin, Wyatt, Rebecca, Liam, Zoey, Owen, Hanna, Sadie and Harper. Unfortunately, Mom suffered from hearing loss and dementia in her 80's and slowly declined. Her last few years were not what we expected from someone so active and independent. I'm sure she's in a better place with Wes, Tom, and Danny. She deserves her rest.
There will be a Celebration of Life with family only, in the summer.
Condolences for the family and donations to the charity of your choice or the Canadian Alzheimer's Association may be arranged at www.erbgood.com.