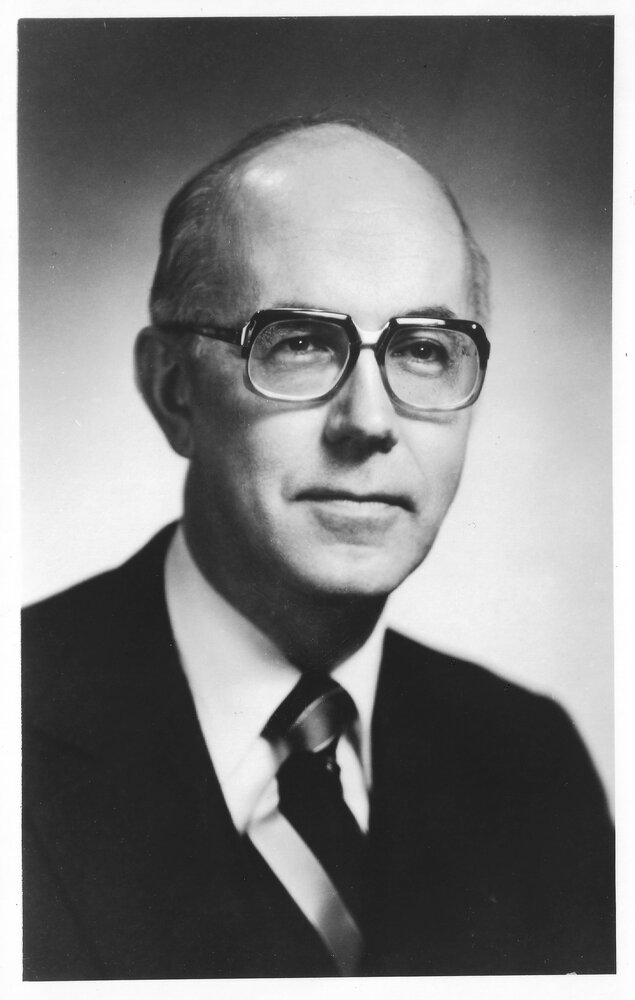 Share Your Memory of
John


Obituary of John Harry Panabaker
John Harry Panabaker died peacefully in Waterloo, Ontario, in his 95th year on February 5th, 2023. He was predeceased by his wife, Janet (née Dickson), his brother, Bob, and his sister-in-law, Dorothy. He will be missed and lovingly remembered by his children: David (Deb), James (Sheila), Leslie (Mike), Doran, and Ian (Helen); by his grandchildren: Tim, Rob (Petara), Kate (Chris), Jamie, and Sophie; by his great grandchildren: Calum (Tara), Brendan, Malakai, Desmond, and Levi; and by his nephews and niece: Bob (Rina), Lorna, Anne, Janet (Lutz), Paul (Cynthia), Tom (Karen), and Karen (Geoff).
John was born on July 31st, 1928 in Preston, Ontario. He was a child of the depression and World War II, both of which formed his world view. He attended McMaster University where he earned a B.A. and M.A. in Economics. John loved his time at McMaster, and he remained a true believer in the value of education throughout his life.
In 1947, John began working part-time at The Mutual Life Assurance Company of Canada, while he completed his M.A. in Economics. Upon graduation, John considered other opportunities, however, with Mutual Life, he came to believe he had found a corporate ethos and many personal relationships that dovetailed with his own values. After graduation, John began working full-time at Mutual Life and stayed with the company for nearly forty years eventually becoming President and CEO in 1973; he retired as Chairman of the Board in 1989. Even after retirement, John still enjoyed attending informal gatherings of former colleagues (the self-styled "Mutualists").
Mutual Life also played a role in John and Janet's romance. By chance, they carpooled to work together and fell in love. As John said, "Janet brought me something new and wonderful." In 1954, they were married at the old Knox Presbyterian Church in Preston and shortly thereafter began their family.
In conjunction with his career at Mutual Life, John was active in industry affairs through his work with the Canadian Life and Health Insurance Association and the Life Office Management Association. He also served as a director on the boards of Canada Trustco, Marlborough Properties, Maple Leaf Mills, Bell Canada, BCE Mobile Communications Inc., Economical Mutual Insurance Company, and The Missisquoi Insurance Company. John remained active with several of these associations long after his retirement.
Indeed, the same is true of John's engagement with higher education–his service began during his working life and extended past retirement. He sat on the Board of Governors at McMaster University for years, as well as on the board of the McMaster Museum of Art. He served two terms as McMaster's Chancellor. He was a Trustee of the Toronto School of Theology for many years and a member of the Ontario Council on University Affairs. He also served on the board of the Corporate Higher Education Forum.
All his life, John lived contently in Waterloo County, at home in his place and his community. Here too, John took on responsibilities as President of the Kitchener and Waterloo Community Foundation and Chair of the Foundation's Council. He was a member of the Board of Directors of the Kitchener-Waterloo Symphony Orchestra Association and was involved with Freeport Hospital as a member of the board and then President. He also served as a member of the Waterloo Public Library Board.
A couple who lived their faith, John and Janet were members of St. Andrew's Presbyterian Church in Kitchener all their lives together. Both served as Elders, and in other roles, and cherished the community and fellowship they found there.
Above all, John loved his family, and he and Janet would frequently travel–even in their later years–to spend time with their children and grandchildren. John was an inveterate reader, a passionate gardener, and an enthusiastic painter. He was also a writer of diaries (for over fifty years) and author of a family history. He loved to spend time at the cottage in Haliburton. John and Janet enjoyed the arts and rarely missed a season at Stratford and Niagara-on-the-Lake. They shared a love of music–especially the symphony and opera. In recognition of his service and achievements, John was awarded honorary doctorates from McMaster University, Wilfrid Laurier University, and The University of Waterloo. John was made a member of the Order of Canada in 1990.
The family is very grateful to the wonderful caregivers at Genesis Comfort Care for all their hard work to keep John safe and comfortable. The funeral service will be held on Wednesday, February 15th at 11 a.m. with reception to follow at Erb & Good Funeral Home, 171 King Street South, Waterloo. In lieu of flowers, please consider a donation in John's memory to the "John H. Panabaker Trust Fund" at McMaster University by clicking here, or to the Kitchener and Waterloo Community Foundation, or to the St. Andrew's Bequest Fund by clicking on the "donations" tab at the top of this page.
Funeral Service
11:00 am
Wednesday, February 15, 2023
Erb & Good Family Funeral Home Chapel
171 King Street South
Waterloo, Ontario, Canada

Get Directions