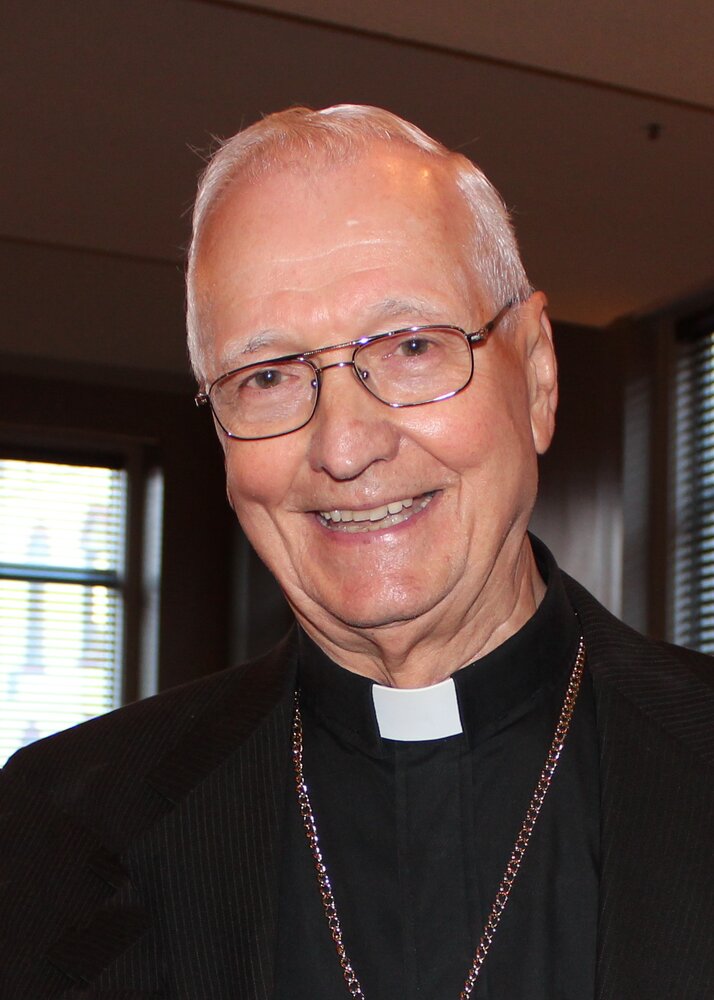 Obituary of Rev. Dr. & Bishop (Retired) William David Huras
It is with deep sadness that we announce the passing of the Rev. Dr. and Bishop (retired) William (Bill) David Huras peacefully at Grand River Hospital, Kitchener on Sunday February 26, 2023 in his 90th year. Devoted and beloved husband of Barbara Elizabeth (Lotz) for 65 years. Loving father of David (Christina) Huras, Matthew (Theresa) Huras, and Andrea (Barry) Wolfe; his grandchildren Jenelle and Jason Huras, Kristyn Richards, Adam and Katie Huras, Krystal Wolfe, Cassie (Johnny) Fulford, and Courtney Wolfe; and his great grandchildren, Jack and Liam Pearce, and Theo Fulford. Predeceased by his parents, William Adam and Frieda Dorothea (Rose) Huras, brothers Elmer and Rev. Ralph, and sister Ruth (Leyes).
Bill was born in Kitchener, Ontario on September 22, 1932. At a young age he showed an affinity for hard work, as evidenced through his Kitchener Daily Record paper route, and later, his summer jobs at Carling Brewery. As he grew older, his other numerous gifts became clear: as a scholar, mission developer, counsellor, mentor and leader. In the early 1950s, Bill was headed to the University of Western Ontario with a Math scholarship, when he was offered (and accepted) a competing award at Waterloo College (now Wilfred Laurier University (WLU)). It was an investment that paid off as he later served on the Board of Governors of the university and seminary for more than 35 years, and was named one of WLU's most influential 100 graduates in 2011. As a student at Waterloo College, he participated in many clubs and activities. After graduation, his scholarship continued for decades and included Master's degrees in both theology and divinity, certification as a Pastoral Counsellor and Associate Supervisor from the Toronto Institute of Human Relations, and two honorary Doctorate degrees in divinity.
Bill was mission developer for two Lutheran congregations - St James in Renfrew (1957-62) and Advent in Toronto (1962-78). He led the creation of these parishes, including the construction and dedication of the associated church buildings. In 1978, he was elected President of the Eastern Canada Synod of the Lutheran Church in America, the largest synod of Lutheran churches in Canada. Through actively building bridges with other ecumenical churches, and serving on the Lutheran Merger Commission, he helped create the Evangelical Lutheran Church in Canada (ELCIC), uniting many Lutherans across the country into one church. He was then elected Bishop of the new Eastern Synod of the ELCIC, and ultimately became one of the longest serving Lutheran synodical bishops in North America, serving from 1978 to 1998 when he retired. His contribution to the church has been truly extraordinary.
Bill was adored by his friends and family. He loved curling and playing 'Solo' (a Waterloo County card game) with his buddies. His yearly chess tournaments with Rev. Dr. R. Binhammer were legendary on Papineau Lake. He popularized 'Square' - a baseball-like game played on Papineau beaches by generations, including the family dog!
Bill was a loving father, grandfather, and great grandfather. He loved music and he loved to sing. The many songs, including original creations, that he sung for his children in that warm baritone voice will carry on through generations. He cherished family game time. Whether it was Stock-Ticker, Sequence, Hearts, Crokinole or any other game, his antics and his laugh, always made for fond memories. He was a master story teller. To this day, his children and grandchildren, their friends and his nieces and nephews still have vivid memories of the campfire ghost stories he told on the beaches of Papineau. He was even a great cook - whether it was bean soup, potato pancakes, fried potatoes or his famous popcorn.
Above all, Bill's love and devotion to Barbara knew no bounds. They were inseparable partners, sharing a beautiful love for each other through their 65+ years of marriage.
Visitation will take place at the Erb & Good Family Funeral Home, 171 King St. S., Waterloo on Monday March 6, 2023, from 2:00 p.m. - 4:00 p.m. and 7:00 p.m. - 9:00 p.m. The funeral service will be held at Trillium Lutheran Church (formerly St. John's Lutheran Church), 22 Willow Street, Waterloo, Ontario on Tuesday, March 7 at 11:00 am. A reception will follow in the church hall and interment will take place at St. Peter's Cemetery, Kitchener. Bill was a member of St. Peter's Lutheran Church, 49 Queen St. North, Kitchener, Ontario and as such donations to the church would be appreciated and may be arranged along with condolences for the family at www.erbgood.com

To view the livestream and service recording of the funeral service, PLEASE CLICK HERE.
Visitation
2:00 pm - 4:00 pm
Monday, March 6, 2023
Erb & Good Family Funeral Home
171 King Street South
Waterloo, Ontario, Canada
Visitation
7:00 pm - 9:00 pm
Monday, March 6, 2023
Erb & Good Family Funeral Home
171 King Street South
Waterloo, Ontario, Canada
Funeral Service
11:00 am
Tuesday, March 7, 2023
Trillium Lutheran Church (formerly St. John's Lutheran Church)
22 Willow Street
Waterloo, Ontario, Canada