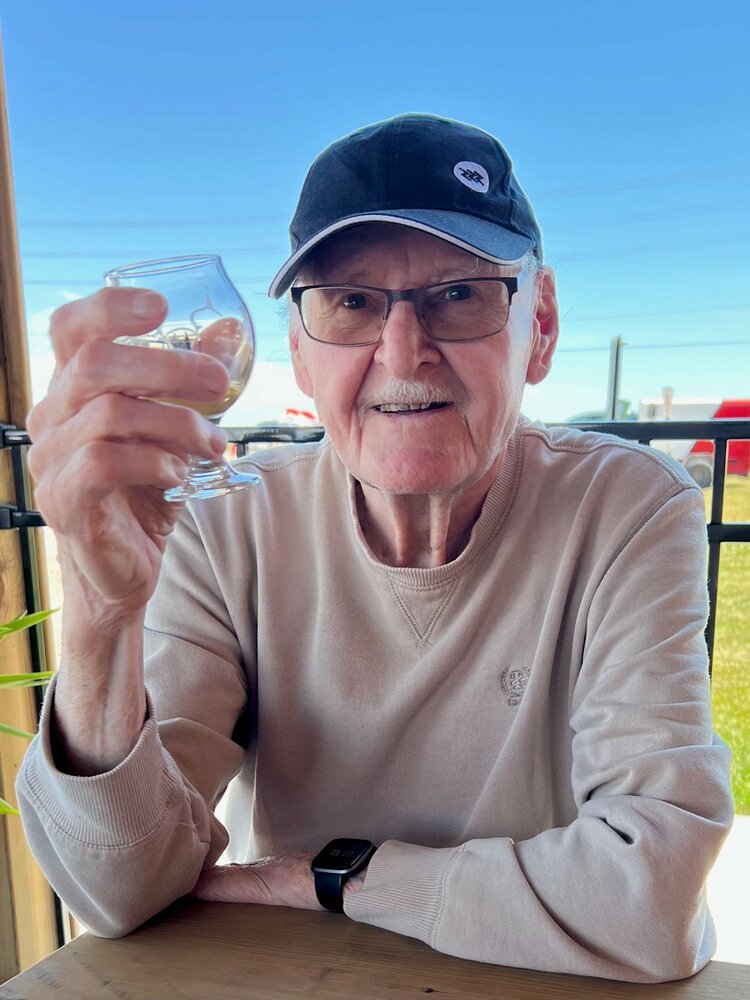 Obituary of Bud Peter Stanley
to View the Livestream of the Memorial Mass Please Click Here.
It is with heavy hearts that we share the passing of Bud Peter Stanley on Monday February 27, 2023, in Waterloo, Ontario. He died peacefully in his sleep just a few days shy of his 91st birthday after being beset by ill health over the past year.
Bud is survived by his loving wife of 70 years, Michelle Stanley (nee Thivierge) as well as six of their seven children - Brian Stanley (Manon Guerin), Karen Vanderkruk (Andrew), Lynn Stanley (EJ Bauer), Jeffrey Stanley (Christine), Greg Stanley-Horn (Diane) and Kevin Stanley (Snezana Djakovic). Sadly, Bud was predeceased by his eldest son Lew Stanley (Kristen Kielty) in 2020.
Bud was born and raised in the northern Ontario town of Cochrane by his mother Thelma Renc (nee Wlasuk) and his stepfather John Renc. Thelma and her sister Pearl left their native Ukraine for the opportunity of a new life in distant Canada in 1913.
Growing up, Bud developed a life-long love of sports and began to demonstrate the leadership qualities that would lead him to a successful career in municipal parks and recreation management, culminating in 20 years as the City of Kitchener's Director of Business Facilities. At the City, he oversaw, among other things, the modernization and transformation of the Kitchener Memorial Auditorium, leading the facility through a series of important events from Women's World Hockey Championships to Memorial Cups, big ticket concerts, Canadian Figure Skating Championships and many more events which helped enhance Kitchener's profile around Canada and the world. Bud was founder and President of the Ontario Arenas Alumni for 21 years.

Bud married the love of his life Michelle in Cochrane in 1953 and their indomitable partnership and desire for opportunity for their family brought them ever southward, from Cochrane to Sturgeon Falls to finally, Kitchener-Waterloo and New Hamburg as they somehow managed to raise a family of 7 children along the way. Even after 70 years, the strength of their enduring love was demonstrated by the inspirational care and support provided by Michelle as Bud's health began failing this past year.
Bud was a caring father, a kind and loving husband and a fun, warm and generous person who brightened the lives of all he met with his good humour, integrity and compassion. His love of the Toronto Blue Jays and a good baseball game was perhaps only really surpassed by his love of gardening, growing and sharing delicious vegetables his whole life. Bud also loved to travel and with Michelle, helped inspire a love of travel and adventure in his sons and daughters. With Michelle and from humble roots, he raised a large family who have gone on to diverse, successful lives here in Ontario and Quebec (and 22 grandchildren and great grandchildren!).
Bud's passing leaves us all with a deep sadness but he leaves an even bigger legacy in his tremendously positive impact on our lives - to sacrifice in service for our friends, family and community, to constantly strive to be better people, to challenge us to see what we are capable of and to share with others a generous heart full of humility and humour.
We invite you to join us in honouring Bud's memory at a Memorial Mass which will be celebrated at St Agatha RC Church, 1839 Notre Dame Drive, St. Agatha, on Saturday March 4, 2023, at 12:00 pm. A livestream and recording of the Memorial Mass is available at www.erbgood.com for those who are unable to attend.
Condolences for the family and donations to The Canadian Cancer Society or The House of Friendship may be arranged through the Erb & Good Family Funeral Home, 171 King Street S. Waterloo at www.erbgood.com
Memorial Mass
12:00 pm - 1:00 pm
Saturday, March 4, 2023
St. Agatha RC Cemetery
1820 Notre Dam Dr.
St. Agatha, Ontario, Canada

Get Directions