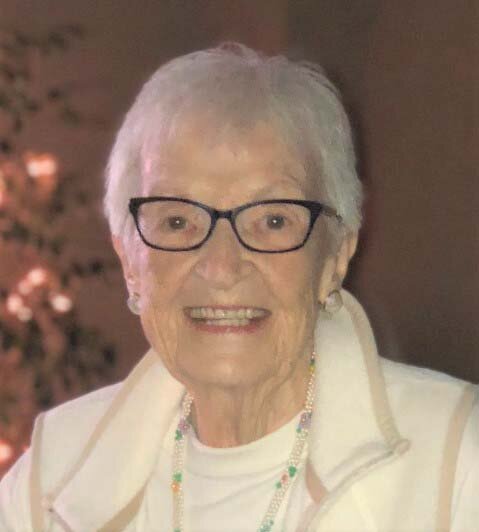 Share Your Memory of
Betty


Obituary of Betty Lorraine Brutzki
With great sadness, the Brutzki family announces the passing of their kind, caring and giving Grandmother, Mother and friend Betty Lorraine (Bast) Brutzki.
Betty passed away peacefully of age-related illness late on Thursday, March 23, 2023 at Hardee Terrace LTC in Mount Pleasant, ON at the age of 95. Granddaughter, Kristy and son, Kirk with puppies Brinkley, Sailor and Abby, were able to spend considerable quality time with her in the days leading up to her passing and both said Grandma was happy, at peace and that she mentioned "God knew her time." Granddaughter Candice, who lives in Arizona, was ready to board a flight to Canada to be with Grandma, when she got news of her passing. Grandparents Betty and Ernie Brutzki always told their granddaughters the worst thing for them was to see their girls cry. Candice is convinced that Grandma passed before her flight departure so that she could delay her visit until later and that she didn't have to see her Granddaughters cry.
Betty was married to the love of her life Ernest A. Brutzki (passed Feb 2017) for almost 70 years, and her children Kirk (Judy Brutzki) and Larry (passed Aug 2022-stepson whom she raised from an infant, as Larry's mother/Ernie's first wife Betty Thoman passed after giving Birth in 1946) brought her so much joy. With her family she enjoyed day trips, biking, antique car shows, cooking, socializing with friends and family and attending her Pentecostal Church, Kitchener Gospel Tempel.
Betty was born in Dec 16, 1927. She was raised by her mother, Rebecca (Higgins) Bast who was a strong and independent woman who owned a boarding house in Kitchener throughout the 1930's depression. Betty had the most interesting stories during this time of her life and often talked about the hardships of sleeping under the dining room table and using a box for her closet in order to fit more boarders. She overcame these challenges by becoming a successful Accountant/Bookeeper/Auditor with one of the largest Canadian Accounting firms and lived a very prosperous and full life with Ernie and her boys. They invested in property in Kitchener, Preston outskirts and a hobby farm at Wilmot Centre.
Betty leaves behind her son Kirk and daughter in law Judy Brutzki, her two Granddaughters Candice (Nick Avdikos) and Kristy (Keith Maloney) and Great-Granddaughters Bella and Chloe Avdikos. Waiting at Heavens Gate for her arrival was the love of her life, her husband Ernie Brutzki and her son Larry Brutzki, her mother Rebecca Bast, her siblings Gladys (Ken Hunter) and Raymond (Dottie Bast) and countless friends to celebrate the life she lived. Betty will be missed by many other extended family members and friends.
Betty and her late husband Ernie provided their children, grandchildren and great grandchildren with more love, comfort, hospitality and stability than a family could ask for. They were exceptional grandparents to their granddaughters Candice and Kristy who are left with the fondest memories since childhood. Betty was the family's Pillar of Strength, Love, Faith and Generosity and was there for her family no matter what. She taught her granddaughters how to love fiercely, instilled morals and Christian values all while living a simple and content life. Her legacy will carry on forever reminding us that we choose to live a life of meaningful acts of love and service just like Christ modeled for us.
We will miss her more than words can describe, but know she's at peace. We all love her a Bushel and a Peck! Xo
The Brutzki Family would also like to recognize and thank Hardee Terrace Staff and Management and her recent friends made there, for their exceptional care, empathy and Christian witness. Thank you also to Ken and Joan Bombay of Brantford, ON for their recent pastoral visitation and gospel music Ministry for Gram at Hardee Terrace.
Cremation has taken place. To honour Betty's life a private family graveside service will be held. The family will gather at Memory Gardens, Breslau for the interment of Ernie and Betty, reuniting them in death.
Condolences for the family and donations to Samaritan's Purse or Calvary Temple, Kitchener may be arranged by contacting the Erb & Good Family Funeral Home at www.erbgood.com