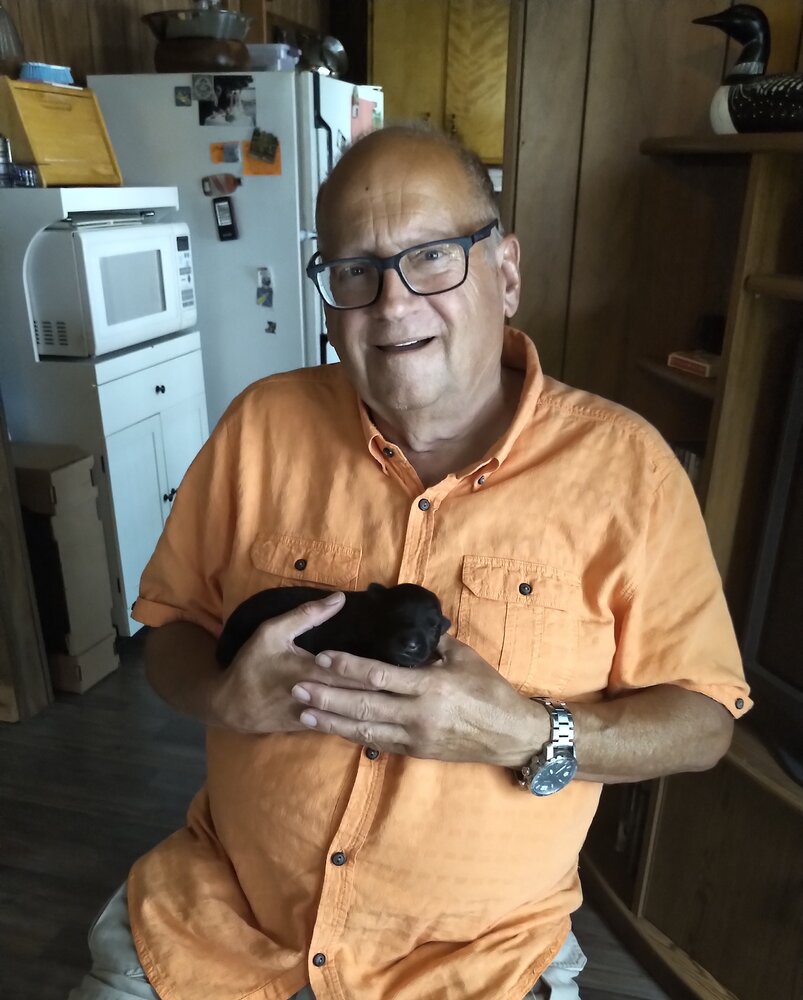 Share Your Memory of
Brian


Obituary of Brian David Scott
"ON THE ROAD AGAIN…JUST CAN'T WAIT TO GET ON THAT ROAD AGAIN" …. could have been the anthem to Brian's life – "on the road"!
Brian was a professional long-haul transportation "specialist" with close to 50 years on the road – moving across North America and Trans-Canada. He had an impeccable safety record - with over 42 years accident and ticket free license! Incredible, given the amount of drive time behind the wheel. This was an accomplishment he was very proud to share with friends.
Brian passed away on Wednesday, April 12th of a massive heart attack. Some would say how tragic that sounds, however if you knew Brian, you knew that he passed doing exactly what he loved – driving and on a professional "gig". He also managed to pull safely off the road to ensure that no one was involved in an accident. My daughter reminded me that the only issue he would have had that night, was that an accident would have affected his perfect driving record – that would have pissed him off big time! Not the heart attack part – funny how we process these events after the fact.
To know Brian, was to know a man who had a quick, dry, dark sense of humor…some got it, some never would. He had a quick come-back to any situation and I will always cherish our banter texts and conversations we had over the years. He had a fabulous life story on the road – years servicing the entertainment industry and all the various commercial transportation clients he worked for. Brian took much pride servicing the Governor General's special event caravan, the RCMPs Cavalry Ride and not to be left out, his involvement with the Palmer Audio Team and Dome Productions crew - To list all of Brian's driving history would take pages and pages – it's enough to say that Brian's life was a life of service – giving back and providing his expertise and steadfast dedication to a profession he loved.
Brian was highly dependable, punctual, and efficient – so much so, some would have called him an "Asshole" – we laughed so hard about that. If Brian deserved that adjective tag, it was because he cared and it mattered to him that "things were done right" …if that made him an "Asshole", then he was the best "Asshole out there"! He would love that last statement.
Brian's second passion and love in his life was for animals – all kinds but particularly his love for dogs – his beloved Connor (golden retriever). Last year, Brian was honoured with the best birthday gift ever – A plaque at the Guelph Humane Society – for the Dog Adoption Centre – now in Memory of Brian D. Scott. Brian was moved and honoured by this memorial and it brought him much joy. A thank you to Scott and Suzannah Pollard for this incredible gift. This gift was cherished and even overshined the KitchenAid Mixmaster he was given from the Martins that same year!
On that note – Brian loved to host dinners and get togethers – he loved a good special event and over the years he hosted many a good party. It was not unlike him to hire an Elvis impersonator or a Magician to entertain his guests. In 2021, Brian made our daughter, Kailee's grade 12 graduation special by providing a Tour Coach (driven of course by the B-man himself) to pick up and return all the kids invited to the Grad hosted at our home in St. Jacobs. We were deep into Covid – so the Gradation was cancelled for all High Schools. Brian arranged, with our friends, the Pollards, to have an incredible Provost Executive Coach available to drive all the kids home after the Grad party. Eleven 17-year-olds, were blown away by the bus and our daughter will be forever grateful to Brian for his generosity, kindness and chauffeuring expertise!
Brian loved to cook for friends as well. Hours spent preparing a meal to host in the Cave or on his beloved "driveway patio" that will always be known from here on out as "Brian's Driveway". When preparing a meal, he would take time sourcing new ideas and coming up with a menu to please all in attendance. Never one to skim on whip cream, brown sugar, or yummy desserts. You can never have too much butter or brown sugar!
B-man had one true passion – his love for Coca-Cola products. A bottle of the good stuff – he would call it. There was no other drink for him. He would ceremoniously crack open a bottle, smell it's bouquet and remark "ahhhh what a wonderful month". If you want to honour Brian – pour yourself a glass of Coke on ice and raise it in his memory – he would love that – and God forbid you think Pepsi will do – there is no substitute – period – end of story.
At this time, we would also like to acknowledge the dear friends who have stood by Brian throughout the waves of his life and journey. Mr. Kevin Paynter and his daughter Kelly, have been the family to Brian that he did not have. Kevin's daughter shared many years with Brian while growing up and he was a special friend to her. In addition, we cannot miss acknowledging the Martin family, Todd, Lorrie, Kailee, Cole and Luce Noel. Brian lived in the Cave at 30 Spring Street – with the Martin's. It did not take long before Brian was part of their family. They shared countless dinners around the dining room table with Brian and he enjoyed listening and watching Kailee and Cole grow up. They have a dining room chair that will always be "Brian's chair" at the table.
To Scott and Suz Pollard and the Team at Palmer Audio – Brian would have never gotten through the past few years without their support and love. He enjoyed working for Palmer but most of all the friendships he cultivated that meant the world to him. Thank you for giving him a "net" and supporting him throughout the years.
Brian's life mattered – he was a quiet, private man who only wanted the best for others. Let's remember him as a Coke-drinking guy who loved to SERVE OTHERS – a guy who loved his work and LOVED being on the Road Again! …can't wait to get on the ROAD AGAIN.
A Celebration of Life will be held at the 30 Spring Street home in St. Jacobs in late spring, date to be announced.
Condolences for the family and donations in Brian's memory to Guelph Humane Society may be arranged at www.erbgood.com.
Celebration of Life
Date and time to be announced at a later date.