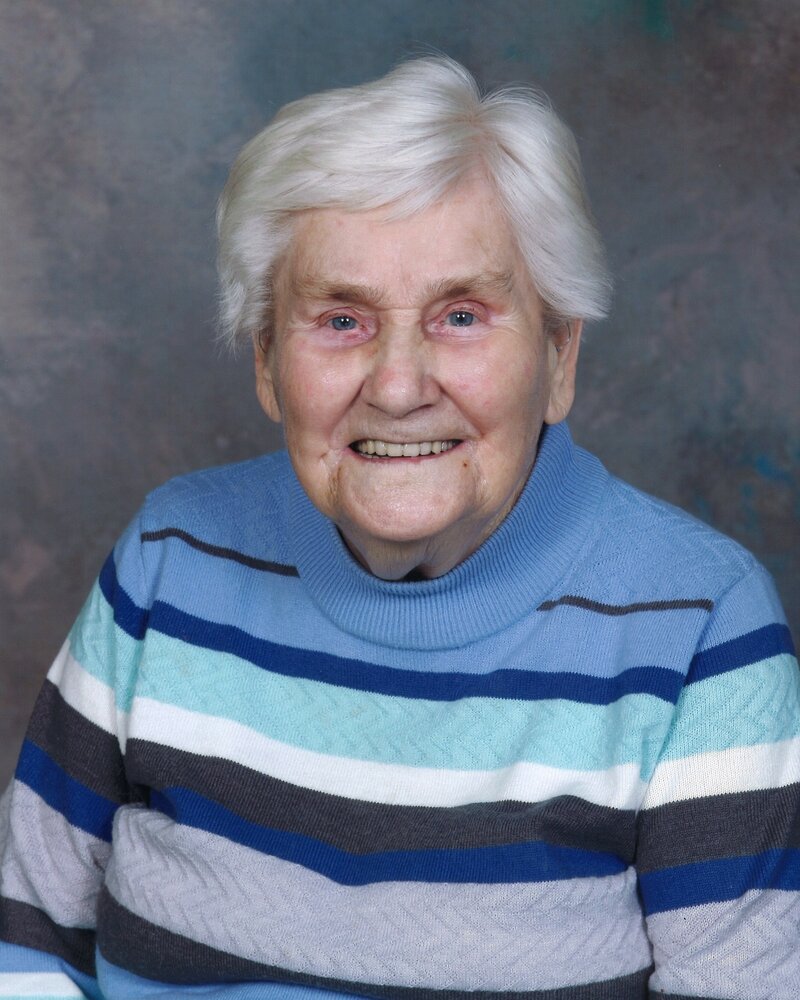 Share Your Memory of
Erna


Obituary of Erna Johanna Borch (nee Block)
To view the livestream of the service, please CLICK HERE
It is with heavy hearts that we announce the passing of our beloved Mom and Omi on Wednesday, May 17, 2023.
She is fondly remembered by her sister Hannelore (Herbert) Hadler in Germany, and her brother Siegfried (Pat) Block of Kitchener as well as nieces and nephews in Germany and Canada.
She is also in the hearts of her children Klaus (Dianne) Borch and Hans (Katharine) Borch; her grandchildren Anna (Kevin) Winter, Matthew (Katie) Borch, David (Katelyn) Borch, Nadine (Philip) Borch and Jason Borch; and great-grandchildren Corson and Pyper Winter, Scarlett Borch, Joseph and Derek Borch, Kasper Borch and a new baby on the way.
We are happy that Mom is now reunited with her husband and love of her life, Werner Borch. Werner died in December of 1987 and left a space in Erna's heart that remained empty.
Erna was born on February 3, 1928 in the midst of a raging snowstorm and was the 5th of 9 children born to her parents, Eduard Block and Johanna (Gross) Block. She is predeceased by her parents and her sisters, Margarethe, Anneliese, and brothers Walter, Heinz, Horst and Erich.
The family lived on a farm in Labiau, East Prussia. In the winter of 1944, Erna, her mother and her younger sister and brothers were forced to flee the advance of the Russian army. They took what they could carry by horse and wagon and abandoned their home, eventually arriving in Soderstorf, Germany. There the family waited out the rest of the war and were eventually reunited with Erna's father. Sadly, 3 of the siblings were lost during the conflict.
Erna and Werner met after the war and were married in 1949. In 1956 they made the decision to move to Canada to seek a better life for themselves and their two young boys. Werner made the trip in early fall hoping that Erna and the boys would be able to join him soon. They followed in December, crossing the Atlantic by ship and arriving in Kitchener just before Christmas. In Canada they found a new home, new careers, new friends – and a good life. They never regretted the decision to leave everything familiar behind to start over again in a new place.
One of the things Erna and Werner loved to do was to go camping. They would pack the boys and the gear into the car and often head for the shores of Lake Huron. At their favourite campgrounds they made many new life-long friends. There are many stories of rambunctious and jubilant campfires that drew crowds of other campers to the fun.
Erna found work, first as a housekeeper, then moving to Renison College where she became a much beloved "House Mother" for the Women's Residence – a position she held for over 25 years.
On retiring, she spent 10 winters travelling to Florida. She drove herself down and back – and the family always prayed that her driving guardian angel was with her in the front seat.
Her great mission in life was to feed her family – and as many other people as she could gather around her table. There were often students at Christmas dinner who could not go home for the holidays.
She loved baking for her family and church friends. She was famous for her Black Forest Cake, apple kuchen, Christmas Stollen, and other traditional German fare. She often proudly reminded us that she had gone to cooking school in East Prussia prior to the outbreak of World War II. She learned her lessons well and her family and friends were the happy recipient of her skills.
She loved to play Mensch ärgere Dich nicht (German boardgame equivalent of Sorry or Trouble) – and she was ruthless! This trait has been passed along to her grandchildren and great-grandchildren. Many rousing games have been played at family gatherings of late.
Erna was a long-time member of St. Mark's Lutheran Church, serving as a Sunday School teacher and on the Property Committee. The friendships and faith that Erna and Werner found at St. Mark's sustained them throughout the years.
Erna always had a twinkle in her eye. She loved babies, little kids and dogs. She was always ready to play a joke on someone and was always eager to help wherever she could. Her hobbies were cleaning up and feeding everyone. Along with church on Sunday, her daily swim with her apartment friends, weekly shopping trips to Central Meat Market (so she could continue to feed neighbours and family) and regular visits with friends and family - Erna had a full and happy life. She was a much-loved sister, mother, grandmother and great-grandmother and she will be fondly remembered by all of us.
Visitation will take place at Erb and Good Family Funeral Home, 171 King Street South, Waterloo, Ontario on Monday, May 22, 2023 from 1:00 pm to 4:00 pm, and on Tuesday, May 23, 2023 from 10:00 to 10:45 a.m. Funeral service will be held in the Erb and Good Chapel on Tuesday, May 23, 2023 beginning at 11:00 a.m., reception to follow the service. Following the reception, interment will be held at Memory Gardens. In lieu of flowers, the family has requested donations be made to Renison University College.
Visitation
1:00 pm - 4:00 pm
Monday, May 22, 2023
Erb & Good Family Funeral Home
171 King Street South
Waterloo, Ontario, Canada
Visitation
10:00 am - 10:45 am
Tuesday, May 23, 2023
Erb & Good Family Funeral Home
171 King Street South
Waterloo, Ontario, Canada
Funeral Service
11:00 am
Tuesday, May 23, 2023
Erb & Good Family Funeral Home Chapel
171 King Street South
Waterloo, Ontario, Canada
Burial
Memory Gardens
2723 Victoria St. N.,
Breslau, Ontario, Canada
Following the Reception
Reception
Following the Service in the Funeral Home's Fireside Reception Room.