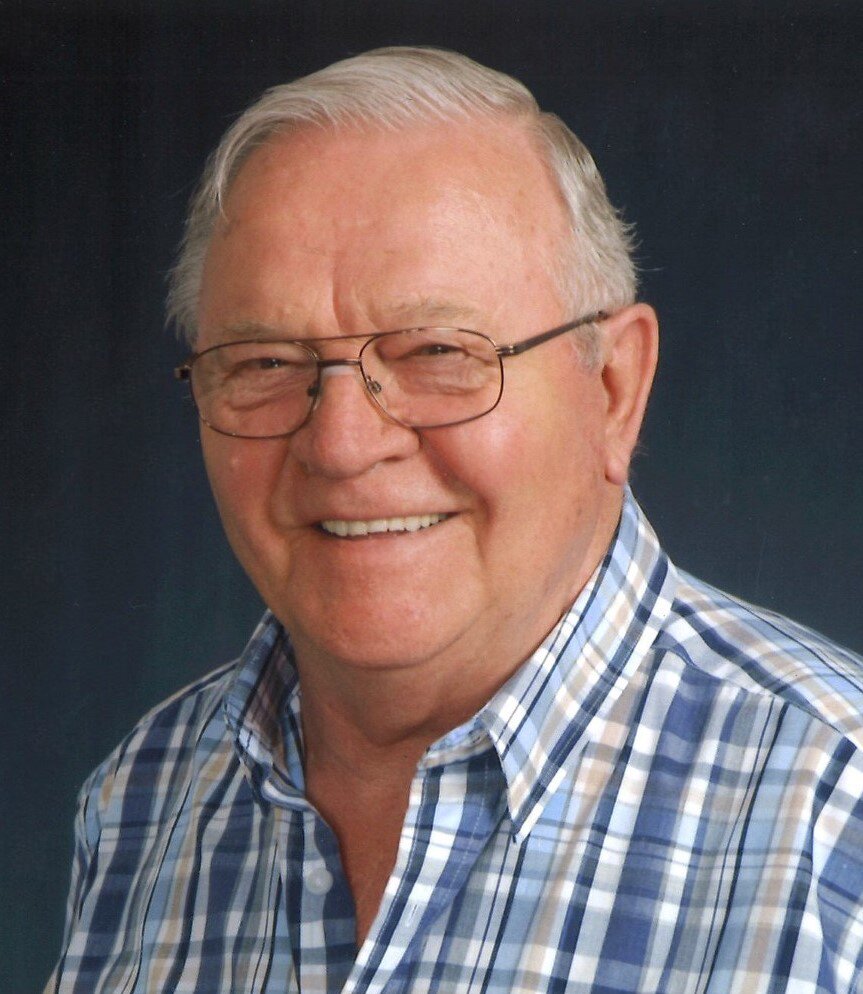 Share Your Memory of
Mels


Obituary of Mels van den Boogaard
To View the Celebration of Life Service for Mels, Please Click Here.
On Saturday, May 27th, after a long and difficult journey with heart disease and Lewy Body Dementia, Mels van den Boogaard went home to his Lord and Saviour at St. Mary's General Hospital in Kitchener, Ontario. Mels had just turned 82 years old the previous week.
Mels is survived by his loving wife of nearly 59 years, Anna (Bouwers), his daughters Teresa (Joel Reimer) and Lori (Jeff Mulder), and his grandsons Benjamin, Zachary and Joshua Mulder and Karsten Reimer. He is also survived by his sister, Maaike Langenberg, his brother Kees van den Boogaard, and his sister-in-law Diny van den Boogaard; brothers-in-law Frank Bouwers (Mary), John Bouwers (Ineke), Luke Bouwers (Margaret) and Bert Bouwers (Anna), and a sister-in-law, Lynn (Floyd Wassenaar). In addition, Mels is survived by stepsiblings Marjorie Miedema, Harry Vander Kooij, Donald Miedema (Eva), and Dirk Miedema (Grace). Mels is remembered fondly by many nieces and nephews, and grand-nieces and grand-nephews.
Mels is predeceased by his parents, Teuntje and Adrianus van den Boogaard, his siblings Tony Langenberg, Adrianna (Audrey) and Harm Veldman, and Adrian (Jos) van den Boogaard, his parents-in-law Lucas and Lammigje (Lynn) Bouwers, stepfather Wiebe Miedema, and stepsiblings Robert and Eva Miedema, Samuel Miedema and Klaaske Vander Kooij.
Mels was born in Dubbeldam (now a part of Dordrecht) in the Netherlands during the Occupation in WWII on May 19, 1941. In April 1951, he moved to Port Colborne with his parents and brothers and sisters, many of whose families are still based in the area 72 years later. He attended Bethel School where Mrs White was his favourite teacher. He joked about getting out of school for good behaviour in Grade 8. He enjoyed working at Hasselman's Nurseries and helping out local farms, but he was able to move to year round stable work as a milkman for Avondale Dairy.
At a church picnic on the Labour Day weekend in 1960, a lovely young lady from Dunnville caught his eye. Never a procrastinator, he asked her out immediately. After 4 years of courtship, they were married on May 30th, 1964. The love and care they shared grew and became richer over the decades. They raised 2 daughters, always encouraging them to pursue the gifts God had given them to the fullest, whatever those would be.
Mels had an interest in engines and mechanics, and he completed a certificate in diesel mechanics in 1963. Throughout his life, you could always find him in a garage tinkering with an ancient outboard motor, building lawnmowers out of scraps, or maintaining and fixing cars. In December 1964, he began his career at General Motors in St. Catharines, where he continued to work until May 2000, rarely ever missing a day of work. In addition to GM, he operated a lawn spraying and fertilizing small business from the mid-1970's into the 1990's.
Mels was always a warm and sociable person - with family, in the workplace, at church, around the neighbourhood, while shopping - he never met a stranger. While he was not a man of many words, he was always quick with a joke or snappy comment. At the same time, he had a strong belief in "right" vs "wrong", basic decency and respect, and caring for others. He had no patience for mean-ness or dishonesty. In church, he enjoyed being a deacon much more than being an elder. His faith was lived in the day-to-day practice, not intellectual discussions.
In May 2000, after a normal day of work at GM, Mels suffered a significant heart attack. After a new mechanical mitral valve, triple bypass, kidney failure, a stroke we found out about much later, and 95% vision loss, Mels settled into disability and retirement. He had just earned the right to drive the tool truck at GM, but that became impossible with permanent low vision and blood thinners. But it would be hard to really notice that Mels' health challenges were so significant. When he moved to Waterloo in 2003, he was able to maintain a lot of his independence, living within walking distance of the bank, Tim Horton's, the grocery store, the Market, and the video store. He walked everywhere, and he knew all the neighbours and every dog in the area would come up to greet him. He loved working in the garden and making sure his lawn was in excellent condition. He enjoyed visiting with other retirees from church. He helped to care for his grandsons every day, and they helped to take care of him. They got into all kinds of fun mischief.
In 2014, Mels began his long farewell journey into Lewy Body Dementia. The relentless love and care from Anna allowed him to keep as good a quality of life as possible for 5 years before his care needs required he move to Long Term Care at Parkwood Mennonite Home in August 2019. Anna continued to be a strong advocate and his essential caregiver for 6 to 8 hours per day, 7 days per week, until his passing, except for the 20 weeks in 2020 where COVID intervened. Even as his body and mind declined, he retained his good nature, and at some level remained connected to the lady who was always there for him.
Our Jewish friends have a saying when a loved one passes on: "May his memory be a blessing". That resonates with all of us. We are thankful for the life of Mels, and grateful that he is finally home, at peace, and no longer suffering.
Arrangements to celebrate Mels' life are as follows: Visitation/Open House will take place on Friday, June 2nd, between 3pm and 6pm at the Royal Canadian Legion, Branch 56 located at 67 Clarence Street in Port Colborne, Ontario. A private family service of committal will have already taken place at Overholt Cemetery in Bethel.
A Memorial Service will take place on Saturday, June 3rd, 2023 at 11 a.m. at Waterloo Christian Reformed Church, 209 Bearinger Road in Waterloo. A light lunch and reception/open house will take place immediately following the service.
Condolences for the family and donations to Heart & Stroke Foundation or the Baycrest Foundation for dementia research can be arranged through www.erbgood.com.
Visitation
3:00 pm - 6:00 pm
Friday, June 2, 2023
The Legion Port Colborne Branch 56
67 Clarence Street
Port Colborne , Ontario, Canada

Get Directions
Memorial Service
11:00 am - 12:00 pm
Saturday, June 3, 2023
Waterloo Christian Reformed Church
209 Bearinger Road
Waterloo, Ontario, Canada

Get Directions