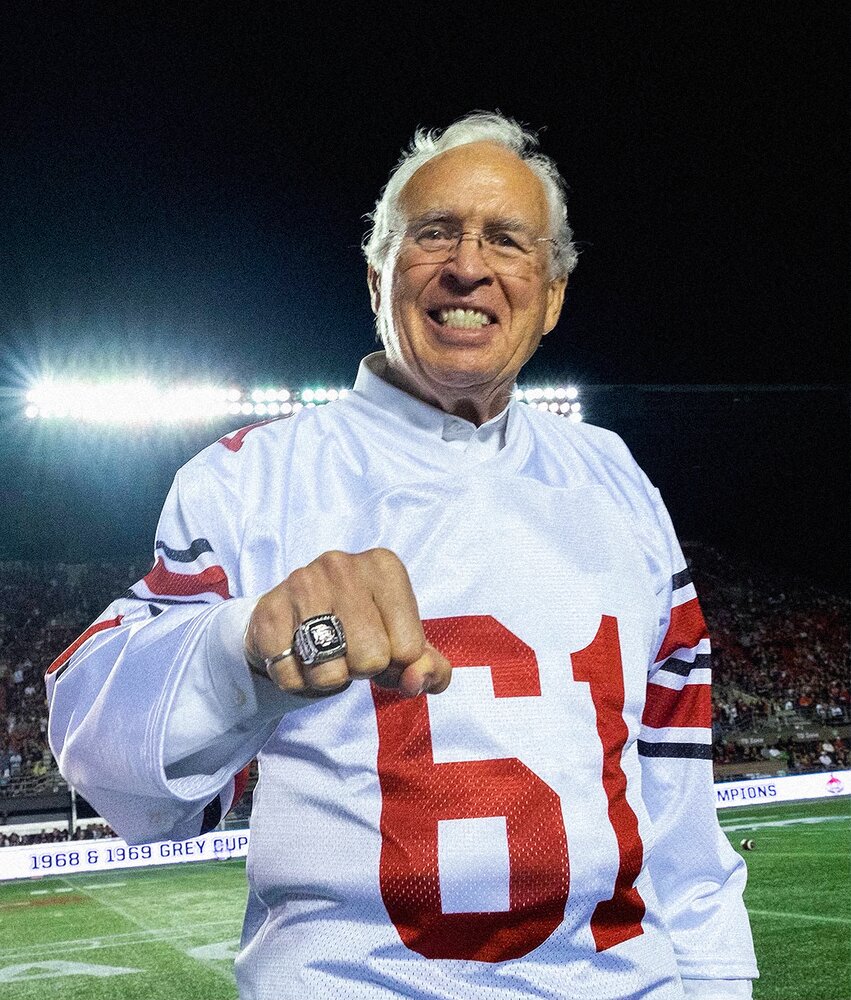 Share Your Memory of
Thomas "Tom"


Obituary of Thomas "Tom" Dwyer Beynon
Thomas (Tom) Dwyer Beynon, born on July 13, 1941, passed peacefully on the evening of June 26th with his children by his side.
Devoted husband to Gail Lockyer. Loving father to Natasha, Adrian (Emma), Michaela (Steve), cherished grandfather to Savannah. Brother to John (Helen) and Murray (Ann). Uncle to Christopher (Katherine), Peter (Janine), Eric (Leah), Leah (Saxon). Predeceased by his parents, Eleanor, and John Oswald Beynon.
Tom was born in Kitchener, Ontario. After finishing high school, he moved to Kingston to attend Queen's University, where he completed a Mechanical Engineering degree and played football for the Golden Gaels. He played on two Yates Cups Championship teams for the school during his time. Upon graduation, Tom dreamed of going to law school, but knew he needed the funds to support it. So, in 1965 Tom was drafted by the Hamilton Tiger-Cats. By playing professional football, he knew he could fund school at the University of Western Ontario. However, in 1966, Hamilton traded Tom to the Saskatchewan Roughriders, which made attending law school in London, Ontario difficult. Tom was able to negotiate a transfer to continue his law studies at the University of Saskatchewan, meaning that he would have to commute from school in Saskatoon to practice in Regina daily. He played in both the 1966 and 1967 Grey Cup games with the Roughriders. Tom then went on to Ottawa where he articled for law and played for the Ottawa Rough Riders, playing in two more Grey Cup games in 1968 and 1969. In his four and a half years of playing professional football, Tom played in four Grey Cup games, winning three of them: in '66 with Saskatchewan and in '68 and '69 with Ottawa. Upon his retirement from the game, Tom remained an avid supporter of the league, and was a member of the CFL Alumni Association.
Tom was a partner of Gowlings & Henderson before taking a sabbatical from legal practice in 1986, when he became President and CEO of Waterloo Micro Systems Inc. The job brought Tom and his family back to the town he grew up in. Tom loved Waterloo. After seeing the company through an acquisition, Tom returned to the practice of law. He practiced with Sims Clement Eastman for a short time before becoming a partner at the firm McCarter Grespan Beynon Weir where he specialized in corporate, business, technology, and intellectual property law.
Tom was very active over the years within the community. He was a founder of Communitech, chaired the founding committee of the Accelerator Centre, and held the positions of Director, Vice-Chair and Secretary. He was also a Director and Vice-Chair of PARTEQ Innovations of Queens University. Tom was also on the founding committee of the Waterloo Region Hospice and was on the board of directors for Grand River Hospital for several years. He served on boards of private, public, and not-for-profit companies.
He was a guest lecturer at the University of Waterloo and Wilfrid Laurier University on many occasions, and an advocate for continued education. At 65 years of age, he returned to university, this time to York to get the one thing he felt he still needed: a master's degree of Law in Intellectual Property. Tom also attended Harvard University to study Corporate Restructuring and Acquisitions. Tom dedicated a portion of his time daily to helping young entrepreneurs in the Waterloo region start their businesses by providing strategic advice, guidance, and ongoing mentorship.
His law career took him to many countries such as Seoul, South Korea for the building of a nuclear power plant, and Moscow and Siberia for a joint venture with the Russian Space Agency.
Tom was devoted to his profession, but he was equally committed to his family. He was a loving father and husband. Whether he was on the sidelines at a basketball game, a horse show, or a dance recital, Tom was there to support. He cherished his time skiing with his family during the winter at Osler Bluff and, in his later years, golfing at Westmount or in Florida.
He passed his love of Baskin and Robbins on to his three kids, who each consider ice cream a staple. Tom will be missed by many and forgotten by few.
The Beynon family wants to sincerely thank the teams at the Waterloo Region Hospice and Winston Park for their loving care, especially in Tom's final days. The Beynons also want to thank the team of ALS doctors at Sunnybrook and the doctors at the Canadian Concussion Centre at Toronto Western Hospital.
The Beynon family invites those who wish to celebrate Tom to join them at Westmount Golf & Country Club, 50 Inverness Dr, Kitchener on Thursday, July 13, 2023 - which would have been Tom's 82nd birthday - at 5:00pm.
In lieu of flowers, donations to the Waterloo Region Hospice, the ALS Society of Canada, or the Concussion Centre at Toronto Western Hospital may be arranged by contacting the Erb & Good Family Funeral Home, 171 King St. S., Waterloo at 519-745-8445 or www.erbgood.com
Celebration of Life
5:00 pm
Thursday, July 13, 2023
The Westmount Golf & Country Club
50 Inverness Drive
Kitchener, Ontario, Canada

Get Directions