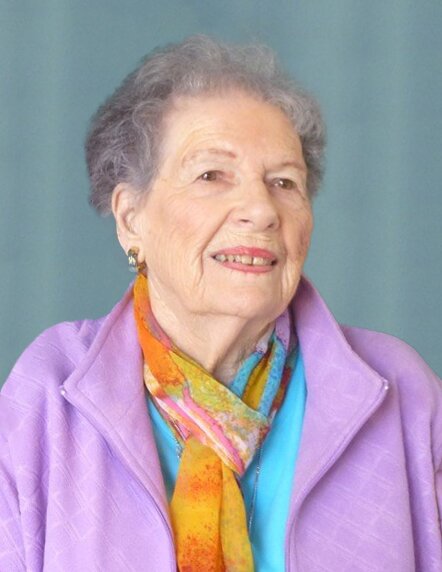 Share Your Memory of
June


Obituary of June Graham
June Graham was born June 3, 1920 and passed away on July 7, 2023 at the age of 103 years after a very long, interesting and productive life. She was surrounded by her family in her last days and hours at Idlewyld Manor in Hamilton, Ontario.
June was born in Bruce Mines, Algoma, Ontario on the north shore of Lake Huron to Wilfred Lynn Trevillion Miller and Eva Elizabeth (Hand) Miller. She was raised there with her two sisters and brother until she graduated from High School and left for further studies in Toronto.
Returning to Algoma, June worked briefly at Algoma Steel in Sault Ste. Marie and then enjoyed a fondly remembered period as radio host with CBC. During that time, she organized and sang in a trio that was featured on her show. In 1943 she travelled by rail across Canada to Port Alberni (wedding cake on her lap) to marry Robert Lynn Graham of Sault Ste. Marie, who was serving with the army on the west coast of Canada.
After marriage and a couple of years in British Columbia (Nanaimo, Prince Rupert) June returned to Saint Ste Marie with her 10-day old son, Michael David. After the war, she moved with her husband to southern Ontario, living in Lorne Park, Trafalgar Township (Oakville) and Grimsby before settling in Hamilton. In Lorne Park she had her second child, a daughter, Karen Elizabeth.
In southern Ontario when her children were both in school, her career became focused on children. After time at a private school in Oakville, June organized and directed Early Childhood Education centres in Grimsby and Hamilton. Later she joined the Hamilton Wentworth Children's Aid where she remained until retirement. Subsequently she worked at Beginnings Adoption Agency and part-time for the Ministry of Community Services where at the age of 80 she retired once again.
June was an active member of faith communities throughout most of her adult life - in Lorne Park, Oakville, Grimsby and Hamilton. She served on environment and social outreach committees. In her church in Hamilton, she helped establish and ran an outreach centre for people living with schizophrenia. The Hamilton Public Library awarded June a commendation for her many years of volunteer service as a literacy coach.
June enjoyed a close relationship with her sisters Helen and Kay throughout her life, spending time with them and their developing families. In later years, they were in daily contact by telephone.
June leaves behind her children Michael Graham and his wife Hulene Montgomery, and Karen Finch and her husband Brad Finch, plus her grandchildren Simon Finch (Shaylene), Susan Finch (Dustin Spitzley) and Heather Montgomery (Tom Hudacin), great-grandchildren, a great-great-granddaughter, in addition to several nieces and nephews on both sides of her family.
June was blessed with good friends Charla Murray and Muriel Westmoreland who spent many happy times together in her later years. She was predeceased by her husband Robert Lynn Graham and her younger sisters Kay Fisher and Helen McFarlane. She is survived by her brother Bob Miller in Phoenix, Arizona who was in regular telephone contact and kept her well supplied with flowers and chocolates!
June's family and friends were very grateful for the excellent and loving care she received in the last stages of her full life at her final home at Idlewyld Manor.
You are welcome to participate in a Celebration of Life on Sunday, October 1, 2023 at the Garth Trails Clubhouse at 45 Abbotsford Trail, Hamilton, from 1- 4 p.m. There will be a brief programme at 2 p.m.
June would have been pleased for you to make a donation to the charity of your choice which may be arranged through www.erbgood.com
Celebration Of Life
1:00 pm - 4:00 pm
Sunday, October 1, 2023
Garth Trails Clubhouse
45 Abbotsford Trail
Hamilton , Ontario, Canada

Get Directions