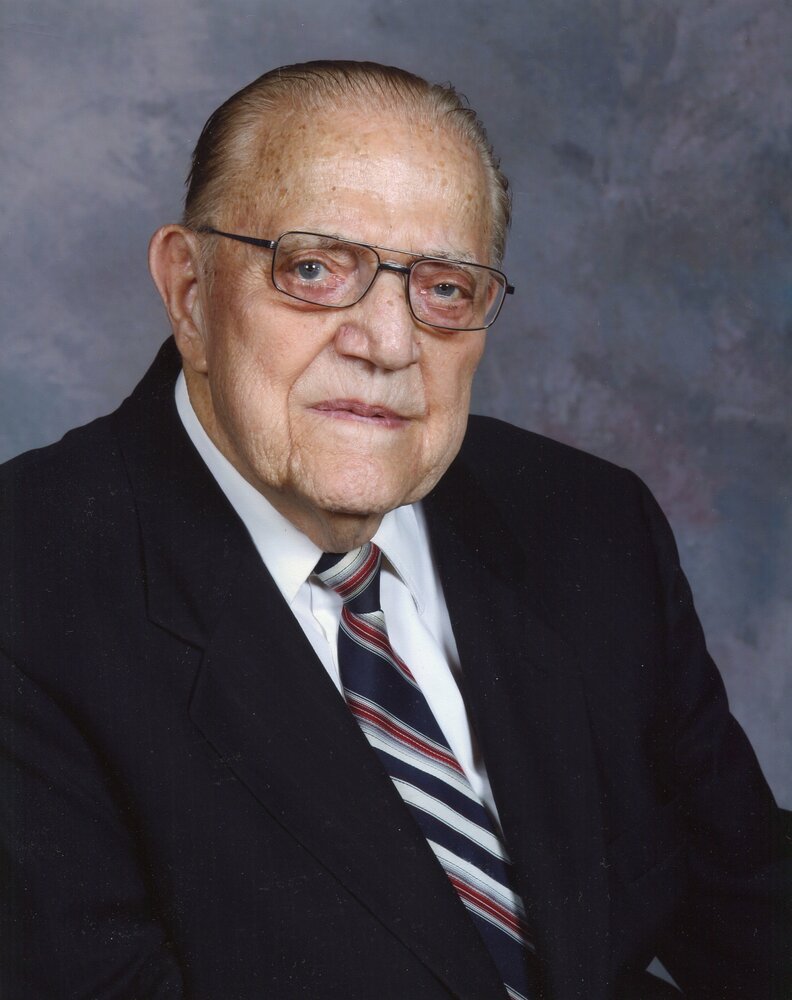 Share Your Memory of
Jerome


Obituary of Jerome Joseph Reitzel
To view the livestream of the Vigil Prayers, please CLICK HERE
After over a century of life, surrounded by dearest family, Jerome Reitzel died peacefully in his sleep in the early morning of September 5, 2023, at Ross Memorial Hospital in Lindsay, Ontario. He joyfully celebrated his 100th birthday on July 9, 2023, at Kawartha Lakes Extendicare where he had been living since 2019.
Jerome is predeceased by his loving wife, Margaret (Wey), parents Clayton and Cecilia, and five siblings Albert, Robert, Sr. Cecilia SSND, Leo, and Dianne Dalton. He is survived by seven siblings, Stan (Lorain), Sr. Marcella SSND, Dolores Brandon, Fr. Ray CR, Louis (Carole), Fr. Harry CR, and Lorne (Ann).
He will be dearly missed by his five children: Mary Jane van Velsen (Fred), Clayton Reitzel (Marie), Tony Reitzel (Angela), Theresa Moreside (Scott) and Herb Reitzel (Cathy). His adoring grandchildren will miss his playful, cheerful, good humour; Marika, Erica (Fred), Andrew (Jessica), Leanne (Chris), Taylor, Jacob (Dani), Ben (Sarah), Melanie (Jesse), Will, Emily (Brad), Patrick, Emma, Laura, Luke, Sarah, Mary Elizabeth, Bethany and Madeline.He was pleased to meet his great-grandson Jensen at his birthday party this year. He has several more great-grandchildren; Malcolm, Zoey, a newborn, and another expected in October. Jerome was a devoted husband of 30 years and widowed another 39, a caring dedicated father and loving grandfather unwaveringly committed to his faith above all. He demonstrated this in all areas of his life.
After some years in the construction business and serving the war effort, Jerome was the proprietor of his own service and repair enterprise for 25 years, eventually joining his brothers in their heating and air conditioning business for another 34 years. His incredible and unfailingly cheerful demeanour always brightened the day of anyone in his presence. It was said he had well over 70 years of on-the-job experience. He retired in 2014 when he was 91 and continued to reside in the home he purchased in 1957, until he moved to long term care in Lindsay, at age 95.
He followed the example of faith in all his endeavours from his service at church – he regularly serviced the furnace at Our Lady of Lourdes church where he was a member for 62 years – to faithful mass attendance, rosary, eucharistic adoration, reading many Catholic as well as secular publications, attending and coordinating retreats, and always demonstrating as much generosity and consideration whenever he could, wherever he was able.
When he could no longer attend mass due to mobility issues, he would say his ritual of daily prayers at his home shrine, generally taking over an hour or more, often long into the night. Much of the ritual was devoted to Margaret.
He loved playing cards, especially Pinochle, Solo and Hearts, swimming, wine making, growing his prized tomatoes, walks, and there was nothing like a good chat to solve the world's problems. He was a consummate problem solver with a mind that creatively found innovative solutions and clever MacGyver type repairs. Above all, Jerome demonstrated a life of unwavering commitment to faith, family and friends.
Dad, Papa, Grandpa, Bubba, Brother, Uncle, Friend; immeasurably missed by us all.
"Well done, my good and faithful servant."
Visitation will be held at the Erb & Good Family Funeral Home, 171 King St. S., Waterloo on Monday, September 11, 2023 from 2 p.m. to 4 p.m. and 7 p.m. to 9 p.m. The Knights of Columbus prayer service will be held at 2 p.m. and Fr. Ray Reitzel will lead Vigil Prayers at 8:45pm. The Mass of Christian Burial will be celebrated at Our Lady of Lourdes RC Church,173 Lourdes St., Waterloo on Tuesday, September 12, 2023 at 10 a.m., with Fr. Rafal Tomon officiating and Fr. Ray Reitzel and Fr. Harry Reitzel co-celebrating. Interment to immediately follow at Parkview Cemetery, 335 University Ave. E., Waterloo. A reception will be held in the parish hall following the interment. A livestream link and recording of the evening prayer service will be published on Jerome's obituary page at www.erbgood.com
Condolences for the family and donations to Daily TV Mass, https://dailytvmass.com/ , Priests for Life Canada https://priestsforlifecanada.com/donate, or Our Lady of Lourdes Parish, Waterloo https://www.ourladyoflourdeschurchwaterloo.com/ may be arranged by contacting the funeral home at 519-745-8445 or www.erbgood.com
Visitation
2:00 pm - 4:00 pm
Monday, September 11, 2023
Erb & Good Family Funeral Home
171 King Street South
Waterloo, Ontario, Canada
Visitation
7:00 pm - 9:00 pm
Monday, September 11, 2023
Erb & Good Family Funeral Home Chapel
171 King Street South
Waterloo, Ontario, Canada
Mass of Christian Burial
10:00 am - 11:00 am
Tuesday, September 12, 2023
Our Lady of Lourdes RC Church
173 Lourdes Street West
Waterloo, Ontario, Canada
Interment
11:30 am
Tuesday, September 12, 2023
Parkview Cemetery
335 University Ave, E
Waterloo, Ontario, Canada
519-725-9280
The Knights of Columbus prayer service will be held on Monday September 11, 2023 at 2 p.m. and Fr. Ray Reitzel will lead Vigil Prayers at 8:45pm