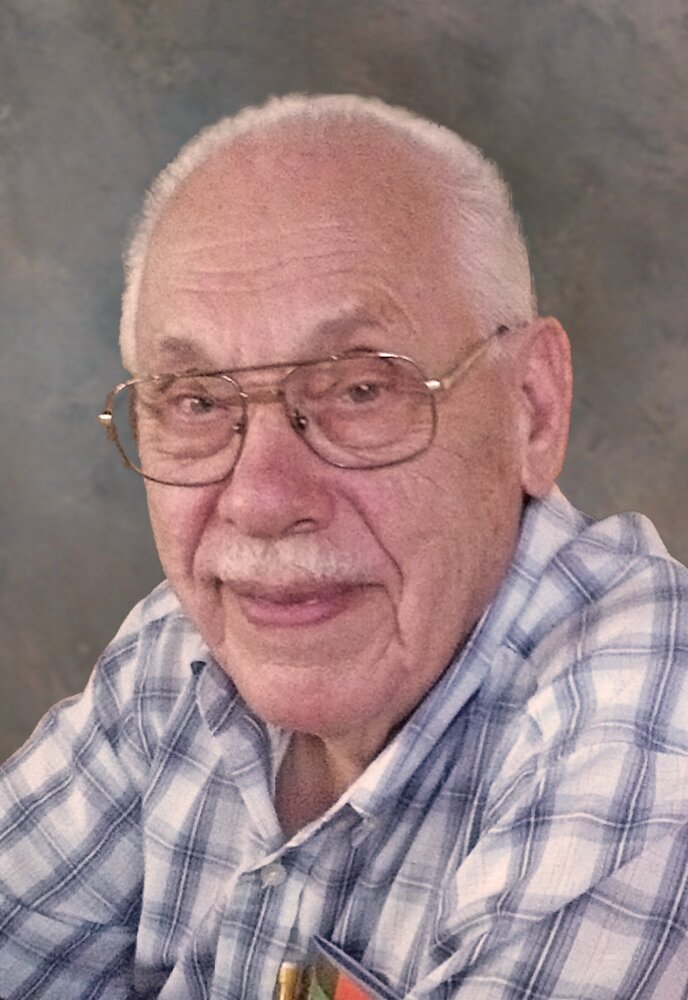 Share Your Memory of
Peter


Obituary of Peter J. Hildebrand
To view the livestream of the service, please CLICK HERE
Peter J. Hildebrand (1931-2023) passed away peacefully in the Lord on September 13, 2023 at Fairview Mennonite Home in Cambridge, age 92. He was predeceased by his parents Nicolai and Helena (nee Reimer), brothers Nick and Jake, and sister Helen. He leaves to mourn his passing his beloved wife of 69 years, Elfrieda (nee Unruh); 4 children, Patricia, Sharon (Jim Brown), Peter, and Sandi (Bob Schellenberg); 6 grandchildren, Jacob (Mary), Peter (Jess), David, Brianna (Joshua), Lyn, and Angus; 1 great-grandchild, Jasper; and his dear sister, Betty Hamm (Eugene).
Peter was born on June 12, 1931 in Winnipeg MB, the youngest child in his family and the only one to be born in a hospital. He grew up in the North End of Winnipeg where he got his first job before the age of 10 selling newspapers on one of the windiest corners in Canada. Being part of a new immigrant family, he failed first grade because he could only speak German. Undeterred, he went on to learn a trade, finish his education and enjoy a long rewarding career as a high school teacher thanks to his characteristic perseverance and determination.
Peter experienced loss at a very young age with the death of his Uncle Bernard who he spent many happy summers visiting in Morden, MB. His Uncle Bernard and Aunt Lizzie loved him like a son. Peter and Aunt Lizzie always remained close. Not many years later and only shortly after his family moved to Ontario, Peter lost his mother to cancer. At the age of 14, this was a huge loss, but it drew him closer to his brothers and especially his sisters Helen and Betty, who were always a great support and encouragement in his life.
Peter grew up in the Mennonite community and became a faithful Christian at a young age. An important part of his faith journey included attending Eden Christian College in Niagara where he met his future wife, Elfrieda. After high school and becoming a certified sheet metal worker, Peter began making regular trips to visit Elfrieda in Hamilton ON. Her father liked Peter and before long Peter and Elfrieda were engaged. On September 18, 1954, they were married at W-K United Mennonite Church in Waterloo, ON where they attended and participated as faithful members for most of their married life. They were part of 'The Gang' there, which was made up of their nearest and dearest friends. Peter taught Sunday School, sat on many committees, acted as church treasurer, carved turkey for the annual turkey dinner, and attended church faithfully. Living out his faith in very practical ways was important to Peter. He died faithful to the end trusting in God's love and promise of salvation.
Peter was a very active person, full of energy and ideas. While still in grade school his creative abilities were recognized. Throughout his life, he always had one or more projects on the go. Just some of these included: building a garden house, landscaping, home renovations, building clocks, refinishing furniture, and much more. He loved gardening, swimming, fishing, and serious walking. He had a passion for life and was always looking towards the future with optimism and hope. Everything he undertook to do had to be done well. In spite of many good times, life also brought hardship and disappointments, but Peter never gave up. As his health began to decline and Elfrieda was unable to communicate anymore, Peter took care of her and began to show his more sociable side with staff and residents in the nursing home. His last words were full of thanks for the caregivers who looked after him so well and love for his family.
Visitation will be held at the Erb & Good Family Funeral Home, 171 King St. S., Waterloo on Sunday, September 17, 2023 from 2 p.m. to 5 p.m. and Monday, September 18, 2023 from 12:30 p.m. to 1:15 p.m. The funeral service will follow in the chapel of the funeral home at 1:30 p.m. Interment will be held at Mt. Hope Cemetery, Waterloo.
In lieu of flowers, condolences for the family and donations to a charity of choice may be arranged through the Erb & Good Family Funeral Home, 171 King Street S. Waterloo at 519-745-8445 or www.erbgood.com