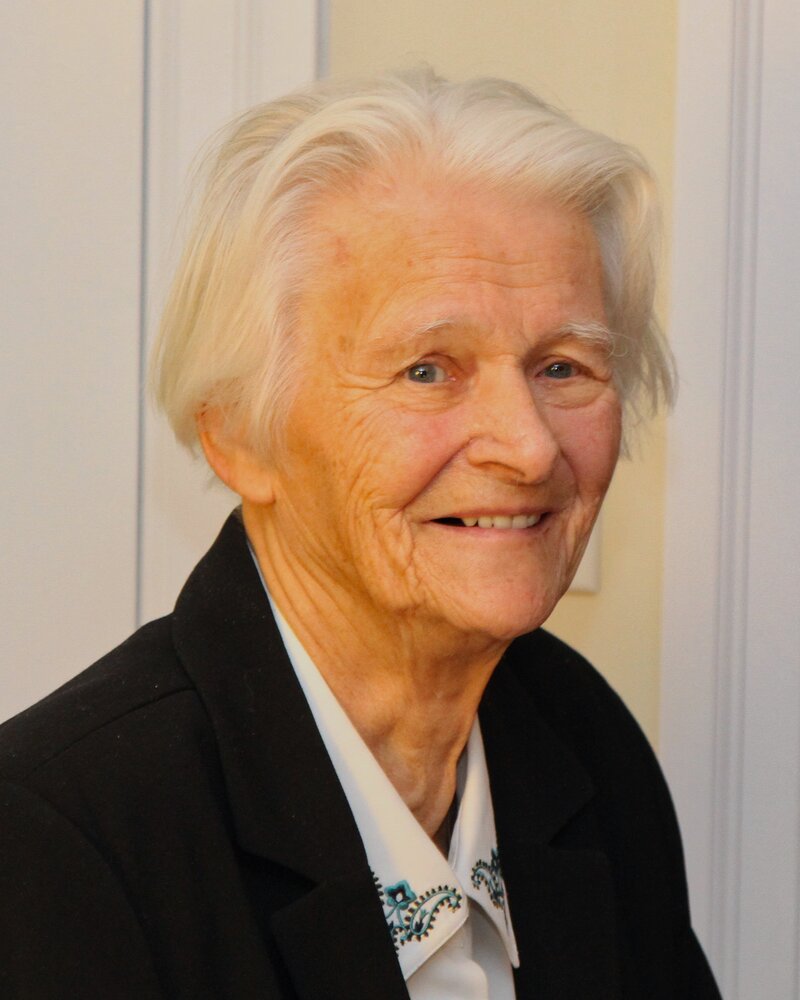 Share Your Memory of
Ingrid


Obituary of Ingrid Gertrud Anna Adele Schubert (née von Karpowitz)
Ingrid Gertrud Anna Adele Schubert (née von Karpowitz)
December 27, 1928 - September 3, 2023
Ingrid passed away with her family by her side, at the age of 94. Her last few days were filled with cherished memories and lots of laughter, and Ingrid was very much at peace during this time.
She was predeceased by her husband of 63 years, Rudolf Bernhard Schubert (October 9, 1925 - December 10, 2017), by her mother, Gertrud Friederike Emma Hedwig von Karpowitz (née Kuhle), by her father Eitel-Friedrich Wilhelm Heinrich Felix von Karpowitz, and by her sister Christa Gertrud Johanna Margarete Schoonhoven (née von Karpowitz). She is also predeceased by two daughter-in-laws, Yvette Geneau and Tina Schubert (née Vanden Top).
Ingrid leaves behind her children, Erik Schubert (Selma Amaral), Margret Schubert (Daryl Williams), Ingrid Schubert (Robert Faulhammer), and Harald Schubert (Doris Livingston). She will be fondly remembered by her brothers and family in Germany, Johann von Karpowitz (Annegret) and Michael von Karpowitz (Eva). She was a loving Oma to her grandchildren, Eric Schubert, Elias Williams, Madelynn Williams, Maximilian Faulhammer, Danika Faulhammer, and Katiana Faulhammer.
Ingrid was born in Dessau, Germany in 1928. She excelled at learning languages and became a translator, later employed by the British military in Düsseldorf, Germany, after World War II. Ingrid immigrated to Canada in 1953, settling in Toronto, Ontario, where she met her husband, Rudi. They married in 1954 and spent a year living on Toronto Island. They left Toronto after having their first child, Erik, and settled in Hornby. Three more children followed, Margret, Ingrid, and Harald. Their dream was to live on a property that would sustain their growing family. In 1966, they fulfilled this dream when they moved onto a farm in Speyside, Ontario. It was here that they lived out the remainder of their lives. Ingrid and Rudi quickly adapted to farm life raising cows, sheep, goats, chickens, ducks, geese, horses, a donkey, guinea hens and rabbits, all while tending to a huge organic vegetable and fruit garden. During this time, Ingrid and Rudi also expanded their landscaping company, White Oak Landscaping, Ltd. (founded in 1960). Even after the company was taken over by Harald, Ingrid continued to work as a bookkeeper for White Oak Landscaping, well into her 80s.
Ingrid and Rudi had an active social life with the Hubertus Hunting Club, founded in Milton in the 1970's. They also maintained friendships over many, many decades with close family friends. During their later years, Ingrid and Rudi travelled throughout North America, visited Costa Rica, and enjoyed returning to Europe and visiting their childhood towns and homes.
In Ingrid's last few years, despite failing eyesight and hearing loss, she continued to avidly watch Jeopardy and Wheel of Fortune, and she continued to seed new garden plants, each spring. Her house became an indoor greenhouse, and she lovingly watched over and took care of her little seedlings on a daily basis. She also kept in close contact with her friends and was always considered to be a great conversationalist. Her excellent memory impressed everyone she met. As a personal treat, Ingrid enjoyed indulging in the occasional Lindt chocolate. Right to the very end, Ingrid communicated to us how she had been eternally grateful for the opportunities she had in Canada, and that she was happy about the full life she had lived.
We will miss and cherish memories of homemade tortes, traditional German Christmas baking, red currant jelly and wine, home-cooked meals from scratch, long conversations, games of Scrabble and Skat, her warmth, wisdom, and humour, and the classical music that filled our home as we grew up. The German language and culture she bestowed upon us will also continue to be cherished by her children and grandchildren.
We miss her dearly.
"Sucht mich nicht im Grab, sondern in Eurem Herzen, dann hab' ich nicht umsonst gelebt."
"Don't search for me in the grave, but in your hearts, because then my life had meaning."
A Celebration of Life will take place on Ingrid and Rudi's farm (11374 Nassagaweya-Esquesing Townline, Acton) at 3 p.m. on Sunday, September 17, with a reception to follow.
Celebration of life
3:00 pm - 4:00 pm
Sunday, September 17, 2023
Ingrid and Rudi's Farm
11374 Nassagaweya-Esquesing Townline
Acton, Ontario, Canada

Get Directions