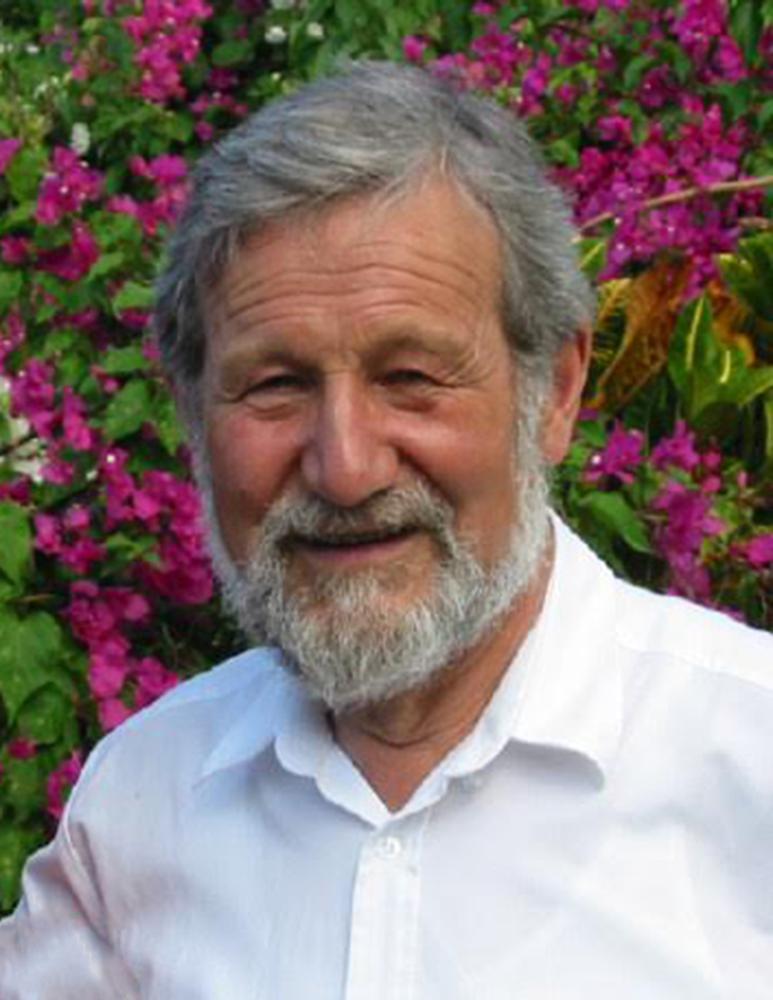 Obituary of Graham Maurice Leslie Gladwell
GLADWELL, Graham Graham Gladwell died on Saturday, March 11, 2017 at St. Mary's General Hospital in Kitchener. He was the husband of Joyce Gladwell, father of Graham Jr., Geoffrey and Malcolm, father-in-law to Beverly Suderman-Gladwell, grandfather to Nathan and Maria, and mentor and inspiration to countless others. He was an expert in three things: the Bible (which he read every morning), mathematics, and gardening. On pretty much everything else, he was open to suggestion. He was a great friend to small children and dogs. He was generous and unpretentious and had a highly- developed sense of the absurd. He loved to take long walks and saw in nature a reflection of God's glory. Graham Gladwell was born in Otford, Kent, England on February 21, 1934, the second child of Basil and Doris Gladwell. He graduated first in mathematics at University College London in 1954 at the age of twenty and later received a Ph.D. and a D.Sc. from the same institution. He taught at the University of West Indies, the Massachusetts Institute of Technology, Southampton University, and in the Engineering Department of the University of Waterloo from 1969 until his retirement. He was a fellow of the Royal Society of Canada, the American Academy of Mechanics, the Institute of Mathematics and its Applications, and the recipient of a lifetime achievement medal from the Canadian Congress of Applied Mechanics. He was the author of five books about inverse problems, the theory of elasticity and the theory of vibration, all of which were entirely incomprehensible to anyone outside of his rarified corner of academia. He was also the author of countless works of doggerel (some of which were published in local newspapers), a prose poem that will be read at his memorial, a beautiful feminist hymn (a "Her" as he put it), and an essay to his auto mechanic written in the voice of his car after the dealership repeatedly failed to fix the car's problems. (The dealership returned the essay with a grade of A minus). Even in his final days, he brought humor and joy to all those he encountered. He would have been amused by the fact that the date of his death was a rare sequence of three prime numbers: the 11th day of the 3rd month of the 2017th year. A visitation for family and friends will be held on Tuesday, March 21, 2017 from 2 to 4 p.m. and 6:30 to 8:30 p.m. at Waterloo North Mennonite Church, 100 Benjamin Road, Waterloo. A memorial service will be held at Waterloo North Mennonite Church at 2 p.m. on Saturday, March 25, 2017. The Gladwells are deeply grateful to the staff at St. Mary's Hospital who cared for Graham with warmth and sensitivity. He was able to stay at home until very close to the end because of the help of many friends and volunteers and the dedicated staff from Home Instead. In lieu of flowers, the family welcomes memorial donations to the Mennonite Central Committee. Donations and condolences for the family may be arranged through the Erb & Good Family Funeral Home, 171 King St. S., Waterloo at www.erbgood.com or 519-745-8445.
Visitation
2:00 pm - 4:00 pm
Tuesday, March 21, 2017
Waterloo North Mennonite Church
100 Benjamin Road (at Weber St.N.)
Waterloo, Ontario, Canada
Visitation
6:30 pm - 8:30 pm
Tuesday, March 21, 2017
Waterloo North Mennonite Church
100 Benjamin Road (at Weber St.N.)
Waterloo, Ontario, Canada
Memorial Service
2:00 pm
Saturday, March 25, 2017
Waterloo North Mennonite Church
100 Benjamin Road (at Weber St.N.)
Waterloo, Ontario, Canada
Reception
A reception will immediately follow the service at the church.


Share Your Memory of
Graham