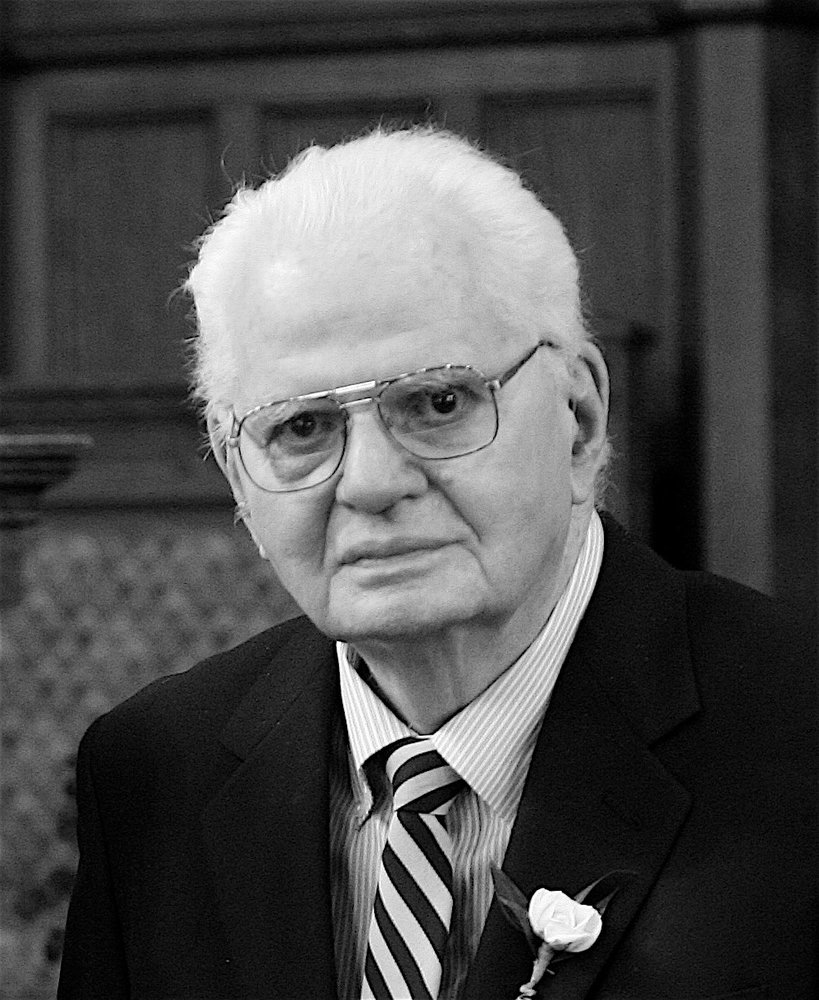 Obituary of George Nichol Soulis
SOULIS, George Nichol​
1925 - 2018
George Soulis, a longtime professor and administrator in the Faculty of Engineering at the University of Waterloo, passed away on January 19, 2018 after a brief illness at the Village of Winston Park in Kitchener.
He was predeceased by his wife of 54 years, Kathryn Josephine Colwell (2002), his parents George Roy Soulis (1945) and Grace Emma Jane Nichol (1982), and an infant son (1951). He is survived by his son Ric, his wife Carol Moogk-Soulis, and their sons Neal (Melissa) Moogk-Soulis and Graham (Michelle) Moogk-Soulis and their son Brendan; his son Glen, his wife Helen Basson, and their children Nicky (Shane) Breeze and Harold (Stephanie) Soulis, and theirchildren Gwen, Jack, and Griffin; his daughter Mary Soulis, and daughters Laura(Carsten) Sievers, their daughter Natalie, and Jane (Michael) Robinson and their children Teresa and Alec; and his daughter Christine Harten, her husband Jamie,and children Claire (Mark) Crawford and Jeremy Baisley, his son Dylan, and Joshua Baisley (Chad).
George was born in Winnipeg, Manitoba and grew up in Saint John, New Brunswick. He attended Saint John High School, and the University of Toronto School. He trained with the Royal Canadian Air Force and the Royal Navy's Fleet Air Arm during the Second World War. After the War, he studied Industrial Engineering at the University of Toronto, graduating in 1950. He married Kathryn Colwell in 1947. They lived in Toronto, Saint John, and finally settled in Kitchener. He worked in industry for nine years before he was recruited by Doug Wright to teach design to engineers at the fledgling University of Waterloo. To prepare for his university teaching career he took his family to Germany while he studied design at the Hochschule für Gestaltung in Ulm, Germany in 1960. He joined the University as an assistant professor in the department of Mechanical Engineering in February 1961. Special projects included founding the Systems Design department, sitting on the committee which drafted the University coat of arms, and creating Expo 67 pavilions including the colorful Kaleidoscope pavilion. George and his family were members of Kitchener's King Street Baptist Church. He was on the building committee when the congregation moved to Highland Road to become Highland Baptist Church. He was a long-time Sunday School teacher, committee member, and deacon. Special projects included sponsoring refugees, staging pageants and plays, and assisting with the creation of two large quilted hangings by Nancy Lou Patterson. Design and craftsmanship were central to his life including as a founding member of the Waterloo Potters Workshop, supporting Kathryn with her weaving projects, designing houses for family and friends, or imaginative and practical woodworking projects. Wherever he lived, the Maritimes remained central to his life. Summer vacations and sabbaticals were often spent Down East. George and Kathryn owned a succession of boats and later a renovated schoolhouse in Codys, New Brunswick. George retired from the University in February 1991 as a full professor, having held faculty positions in the Mechanical, Systems Design and Management Sciences Engineering Departments. In 1998 he was named an Honorary Member of the University. He was a popular teacher and mentor for undergraduate and graduate students as well as to his many friends and colleagues. He welcomed and encouraged family discussions on design, current affairs, universities and education, church life, history and life in general. He was devoted to his family, his church, the University and his community. He valued home, family and acceptance above all, and was happiest when surrounded by friends and family. He gave generously whenever asked for his help, but rarely asked for anything himself. He was proud of everything his children, grandchildren and great-grandchildren did, humble about his own accomplishments, but just as pleased whenever he received a compliment, award or honour.
A visitation will be held at the Erb & Good Family Funeral Home, 171 King St. S., Waterloo on Sunday, February 4 from 2:00 p.m. to 4:00 p.m. and from 7:00 p.m. to 9:00 p.m. A funeral will be held at Highland Baptist Church, 135 Highland Rd W, Kitchener on Monday, February 5 at 11:00 a.m. with a reception to follow. Memorial donations to Children's Need Distribution Centre at Highland Baptist Church may be arranged by contacting the funeral home at www.erbgood.com or 519-745-8445.