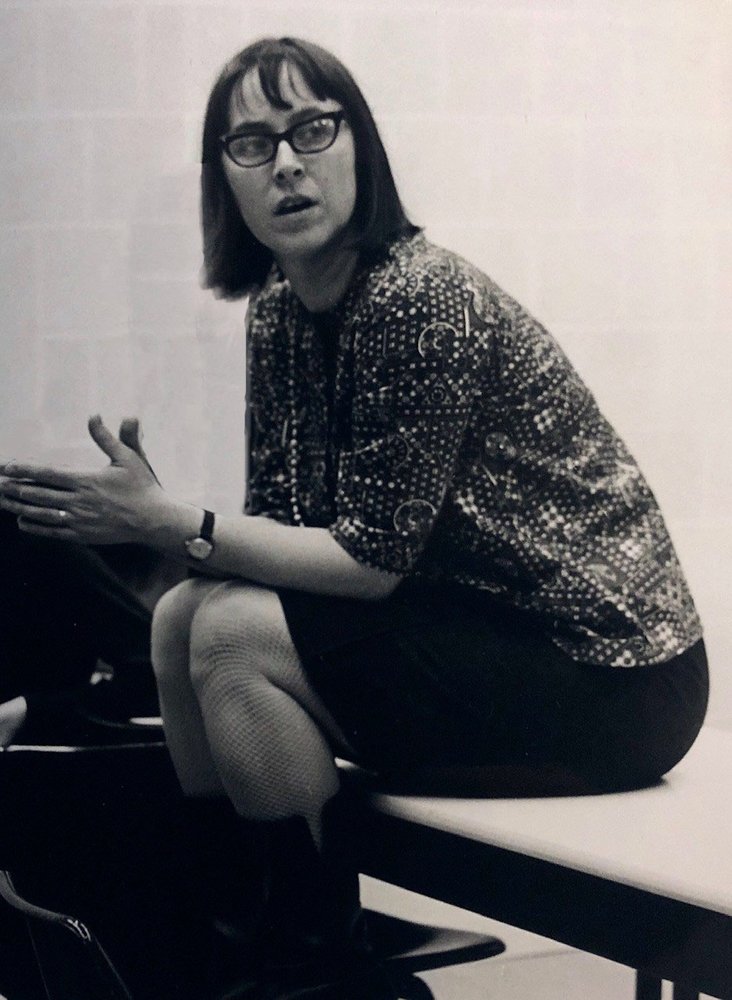 Obituary of Nancy-Lou Patterson
September 5, 1929 - October 15, 2018
"...the candle is a star, and the gilded angel/ Spreading its wings at the summit of the tree/ Is not only a decoration, but an angel." T.S. Eliot
Nancy-Lou Patterson - professor, writer, artist, scholar, teacher, novelist, poet, wife and mother - whose educational and artistic career spanned five decades, died peacefully after fifteen years with Alzheimer's, surrounded by her children. The daughter of academic parents, she was born in 1929 in Worcester, Massachusetts. In 1951, she earned a Bachelor of Arts from the University of Washington, graduating Phi Beta Kappa magna cum laude, and married Dr. E Palmer Patterson II. She worked for two years as a scientific illustrator at the University of Kansas and the Smithsonian, and then for eight years as a lecturer at Seattle University. In 1962, she and Palmer moved to Waterloo when he took a job at St. Jerome's College at the University of Waterloo. In 1964, Nancy-Lou became the first Director of Art and Curator of the University of Waterloo's Gallery of the Theatre of the Arts. In 1966, she taught the University of Waterloo's first Fine Arts course, and in 1968, she founded the Department of Fine Arts, twice serving as Department Chair. In 1993, she was named the University of Waterloo's first Distinguished Professor Emerita, Doctor of Literature Fine Arts, honoris causa, Wilfrid Laurier University, in recognition of "a life dedicated to expression", and Honorary Senior Fellow, Renison College. She was a Waterloo Region Hall of Fame Inductee, and the first K-W Oktoberfest Woman of the Year.
As an artist, Nancy-Lou was well known for numerous local commissions, involving textiles, stained glass, wood, metal, ceramics and calligraphy, including her stained glass windows at Conrad Grebel Chapel, Beth Jacob Synagogue and the Pioneer Park branch of the Kitchener Public Library, her banner at St. Peter's Lutheran Church, Kitchener, and her extensive artistic contribution at St. Columba's Anglican Church, Waterloo. As a scholar, she wrote in the area of mythopoeic art and literature, with particular focus on the works of C.S. Lewis, J.R.R. Tolkien, George MacDonald, Charles Williams and Dorothy L. Sayers. She also wrote on the art of First Nations and Inuit peoples, and the traditional arts of Swiss German and Dutch German Mennonites in Waterloo County. She was a huge support to Kitchener's Joseph Schneider Haus, from its inception. She published both poetry and fiction, including Apple Staff and Silver Crown (1985).
Nancy-Lou's partner in everything was her devoted husband, Palmer, who survives her. Together, they created a family of nine children: Jennifer, who predeceased her; Barbara (Shawn Lyons); Dolores; Francesca (Peter Rozee); Emmanuel (Julie Thompson); Patrick; Samantha (Larry Vaughn); Melanie (Steve Wawryk); and Jordan, and eighteen grandchildren: Donovan, Shaughnessy, Anastasia, Craig and Drew; Kathleen and Nicholas; Clara, Maud and Honor; Elizabeth, who predeceased her; Ava and Gillian; Samuel, Palmer and Violet; Roman and Magnus; and Crystal and Maya, as well as several great-grandchildren.
The family would like to thank Mary Ronzio, Linda Schryer and the staff at AR Goudie Eventide Home, Kitchener, who gave Mom such loving care in the last years of her life.
Her funeral will be held on Saturday October 20 at 3 p.m. at St. Columba Anglican Church, 250 Lincoln Road, Waterloo, with a reception to follow. There will be a visitation beforehand from 10 a.m.-noon. In lieu of flowers, donations may be made to St. Columba Anglican Church and may be made by contacting Erb & Good Family Funeral Home, 171 King Street South, Waterloo at 519-745-8445 or www.erbgood.com.
Visitation
10:00 am - 12:00 pm
Saturday, October 20, 2018
St. Columba Anglican Church
250 Lincoln Road
Waterloo, Ontario, Canada

Get Directions
Funeral Service
3:00 pm - 4:00 pm
Saturday, October 20, 2018
St. Columba Anglican Church
250 Lincoln Road
Waterloo, Ontario, Canada

Get Directions
Reception
Reception following the service in the St. Columba's Anglican Church Hall.