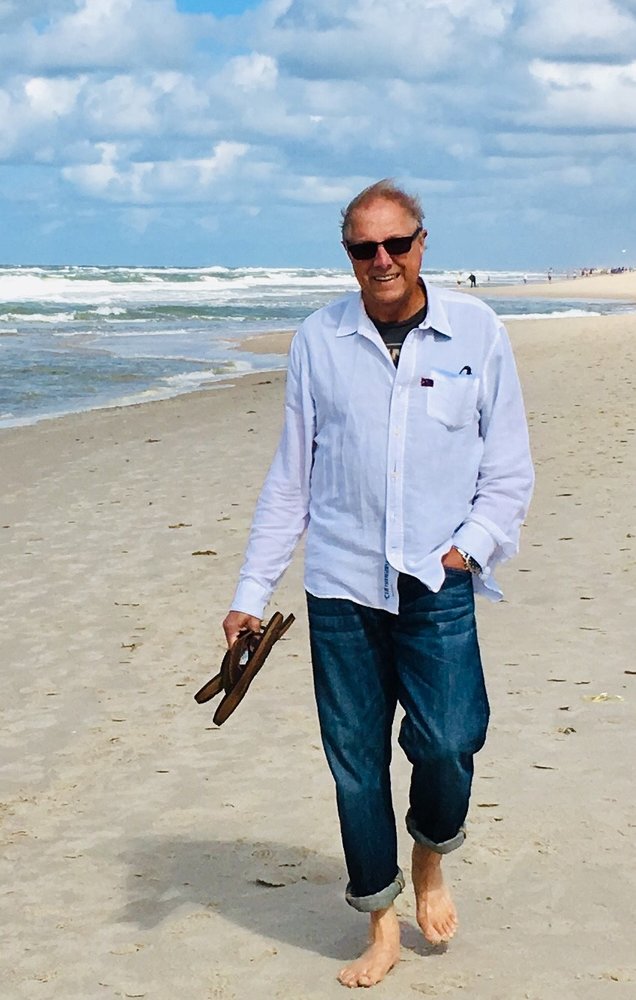 Obituary of Ronald George Watson
October 23, 1956 – January 17, 2019
A beautiful light has gone out.
On January 17, 2019 after 21 years of Sisyphean battles with Multiple Myeloma, Ron Watson of Waterloo left the world he so loved for a world without pain.
Terribly, achingly missed by his wife Tina Jensen and their children, Paul, Brianna and Thomas Mantynen. Predeceased by his parents George MacKenzie Watson and Inez (nee Weber). Lovingly remembered by his siblings Sandra Berlet (Wayne), Judy Watson, and Reg Watson. Also remembered by Joseph and Kylie Watson.
Ron was an inspiration to everyone who had the good fortune of meeting him. He was remarkable not only for the gentle hand he extended to friends and strangers alike, Ron was a 21 year survivor of Multiple Myeloma. Diagnosed in 1997, he was steadfast in his determination to squeeze every joyful moment out of life, knowing his time was limited. And he did it with a flourish.
A gift beyond price, 14 healthy years were the result of an allogeneic bone marrow transplant from his brother in 1998. These years were entirely treatment-free, and Ron often forgot he had cancer. Eternal thanks Dr. Jeffrey Lipton and the late Dr. Hans Messner who took a significant risk to perform this successful transplant at Princess Margaret Hospital, Toronto. We are equally grateful and indebted to Dr. Bob Stevens, nurse Kathy Sawyer and the team at the Grand River Cancer Center for gently and generously managing Ron's care for so many years both locally and in tandem with Dr. Suzanne Trudel and Dr. Donna Reece at Princess Margaret Hospital.
A true Renaissance man, Ron loved and celebrated the arts. His Gibson SG gave him great joy and had been a companion to him since the 1970s. Ron was a founding member of the band Helix, and played guitar in Verticle and Room of Fools in the 80s. In the last decade of his life he reunited with some former band members to form The Heinz Peper Band and the Rockervilles.
Ron's career focused on women's fashion footwear, beginning with a buying position for Dolan's footwear in Kitchener which introduced him to Italy and Spain and all the great artistic adventures they hold. He never tired of doing "market research": sitting on a bench watching pretty ladies walk by in fancy shoes. He later greatly enjoyed his career and colleagues at Indeka.
Knowing his time was limited, Ron tried to revel in all the great sights, sounds and flavours life has to offer. In the last few years he enjoyed Vancouver Island, Tofino, Italy, Denmark, and the Maritimes between chemo treatments. He celebrated the people in his life for whom he held a great and enduring love. He brought neighbours together for block parties, played road hockey with local children, inspired a fall "schnitzengruben" bar-b-q, and happily initiated many summer night wiener roasts.
Ron taught us to value our time in the world and our time with each other. He showed us how to saw a board straight, tie a sound fish hook and how to wash a floor with enthusiasm. His orderliness is legendary. He taught us the importance of humility, and of caring for the little things so the big things could fall into place. He taught us faith, and unconditional love.
In the end, Ron tried to touch everyone he knew and prepare them very frankly for his death. It was his final, gracious, selfless act.
Let slip the darkness my love, and go into the light. Godspeed.
Cremation has taken place. Visitation to be held on Friday, January 25, 2019 from 3-5 p.m. at the Erb & Good Family Funeral Home, 171 King St. S., Waterloo. Memorial service and interment will be held on Saturday, January 26, 2019 at 2:00 p.m. at St. Matthews Lutheran Church, 131 Flax Mill Dr., Conestogo, Ontario.
Condolences for the family and donations to the new hospice to be built in Waterloo, c/o Hospice of Waterloo Region, may be arranged through the funeral home at www.erbgood.com or 519-745-8445.
Visitation
3:00 pm - 5:00 pm
Friday, January 25, 2019
Erb & Good Family Funeral Home
171 King Street South
Waterloo, Ontario, Canada
Memorial Service
2:00 pm
Saturday, January 26, 2019
St. Matthews Evangelical Lutheran Church
131 Flaxmill Drive
Conestogo, Ontario, Canada
Interment
3:00 pm
Saturday, January 26, 2019
St. Matthew's Lutheran Cemetery
131 Flax Mill Drive,
Conestogo, Ontario, Canada