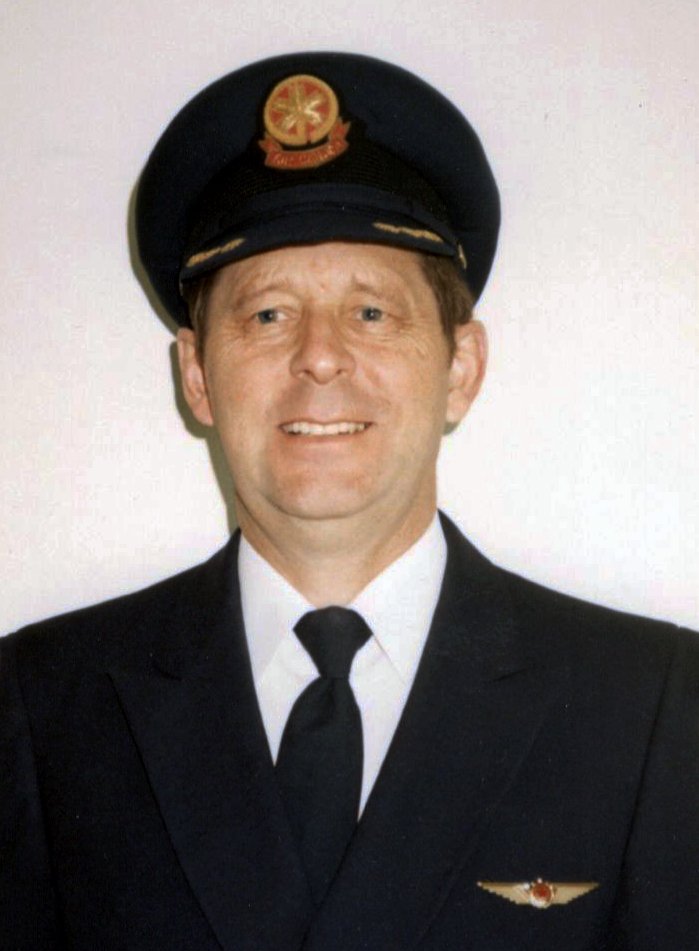 Obituary of David Allan Crow, CD
RAF, RCAF, Air Canada
June 29, 1932 – June 3, 2019
"Per Ardua ad Astra"
It is with great sadness that the family of David Allan Crow announces his passing on Monday, June 3, 2019 at the K-W Health Centre of Grand River Hospital in his 87th year.
He was predeceased by his parents, Henry and Dorothy Crow and by his brother James Crow. He will be sadly missed by his beloved wife Carolyn of 58 years. Loving father of three daughters, Deborah and her husband Ron Repke, Catherine Luscombe, and Susan and her husband Donald Monkman. Loving grandfather of James Monkman and his wife Renée, Jonathan Monkman and his wife Abi, Stephanie and her husband Daniel Biswell, Eric and Julia Repke, Ian Luscombe, and great-grandfather to Tekoa and Roman Monkman and Poppy and Theo Biswell.
David Allan Crow was born in London, England in 1932. His flying career spanned almost 40 years, during which time he flew aircraft ranging from the venerable DH 82A Tiger Moth to the highly sophisticated CF 101 "Voodoo" interceptor. He was conscripted into the RAF in 1951 and served with No. 20 Ground Attack Squadron in Germany flying Vampire and F86 Sabre aircraft. In 1955, he emigrated to Canada where he trained as a jet flying instructor on T-33 aircraft. He subsequently trained NATO students at RCAF Gimli, Manitoba and received his A1 Instructor's rating in 1959. In 1960, he was transferred to No. 410 All Weather Fighter Squadron at RCAF Uplands in Ottawa where he flew CF 100 and CF 101 interceptor aircraft. He attended RCAF Staff School and served with the Directorate of Air Defence and Strike Operations at National Defence Headquarters in Ottawa from 1963 until 1966. In October, 1966, he joined Air Canada and flew as an airline pilot for almost twenty-five years. He was promoted to Captain in July, 1979.
His hobbies included sailing, cartooning and painting in watercolor. His "Orv and Wilbur" cartoons were a regular feature of "Pilot" magazine for over 20 years. He actively promoted fine arts in the Waterloo Region and was President of the Kitchener-Waterloo Society of Artists from 1985 until 1987.
Burial has already occurred. A family memorial will be held at a later date. In lieu of flowers, donations may be made to Grand River Hospital Foundation, St. Mary's General Hospital Foundation, or a charity of your choice.
"Through adversity to the stars."
To send flowers to the family of David Crow, CD, please visit Tribute Store
Additional Information
Burial has taken place and a family memorial will be held at a later date.